October 16, 2023 — By

a Blue Parallel Travel Expert
A Taste To Remember: The Best Culinary Experiences In The Mediterranean
The Mediterranean has an illustrious gastronomic scene with a wide range of unique culinary experiences. A region renowned for its time-honored traditions, sublime local ingredients and cultural diversity, the Mediterranean has a lot to offer food lovers and makes an ideal destination for travelers seeking extraordinary gourmet offerings.
The best culinary experiences in the Mediterranean invite you to remarkable settings to savor authentic, regional cuisine that is deep-rooted in tradition. With access to some of the finest local ingredients and endless beautiful landscapes, the region promises enhanced dining experiences you'll never forget.
From Spain, Portugal, Morocco and Corsica to Sicily, Croatia, Turkey and Greece, journey across the Mediterranean and discover our insider access to hidden culinary experiences in each country.
Taste Jamón Ibérico In Spain
Jamón Ibérico, or Iberian ham, is a delicious Spanish delicacy and an integral part of Spanish cuisine. It is a cured ham that comes from the Iberian pig, a breed native to the Iberian Peninsula.
Jamón Ibérico is highly regarded for its outstanding flavor and texture and is considered one of the best hams in the world. Therefore, no tour of Spain would be complete without trying this famous delicacy.
Andalucia's climate and natural surroundings make an ideal setting for the Iberian pigs. On your tour of Andalucia, we will arrange a private tour of a local farm where you can see the region's free grazing, acorn-fed pigs. Then enjoy an exclusive tour of C5J, the best Iberian ham company in the region known for its premium products. During your tour, a 'ham-carving expert' will shave off slices of the finest ham Spain has to offer for you and your party to savor.
Cook Traditional Tagine In Morocco
Tagine is one of Morocco's most famous dishes. Named after the special clay pot in which it is cooked, this traditional North African meal is a slow-cooked stew with a blend of traditional, aromatic spices.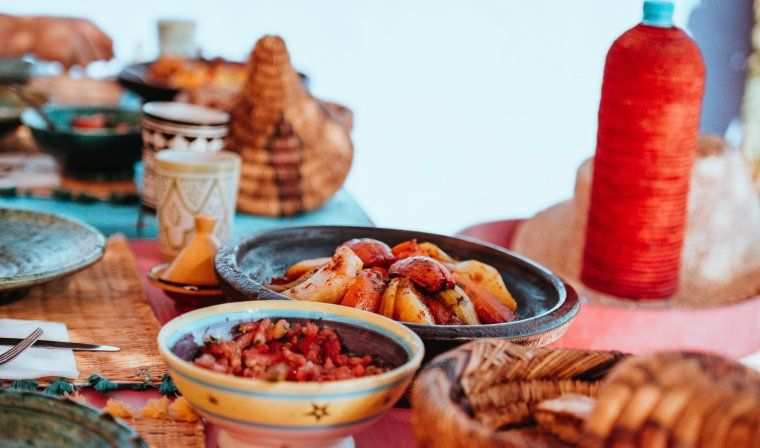 As you travel Morocco, you'll have plenty of opportunities to indulge in this local delicacy. However, we recommend taking a private cooking class for a better understanding of this traditional cuisine and its history.
During your tour of Marrakesh, we will take you to the city's community oven where you will first get to see how locals bake delicious Moroccan flatbread. Then, you will enjoy a private cooking class at the elegant Maison Arabe where you will learn to make tagine.
Enjoy An Authentic Barbecue In Turkey
Turkish barbecue, also known as "mangal," is a popular and beloved way of grilling meats over charcoal or wood fires. The achieved smokey and authentic Turkish flavor is often complemented by traditional marinades of olive oil, yogurt, garlic, lemon juice and Mediterranean spices.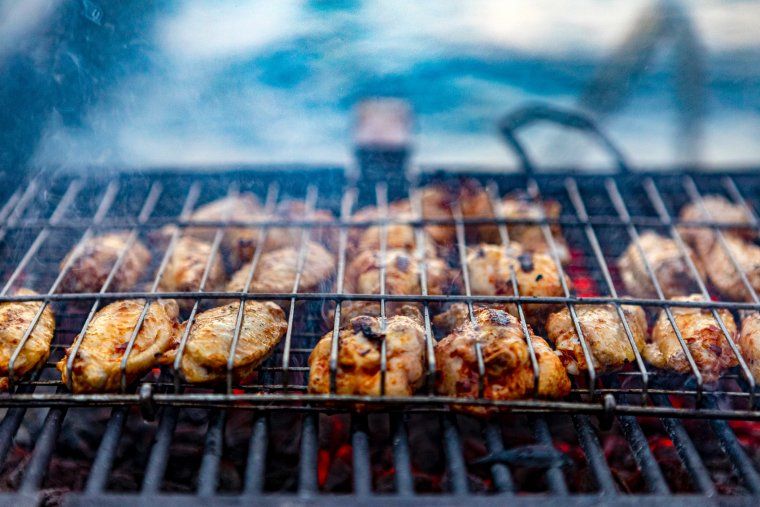 An integral part of Turkish culinary culture, traditional barbecues are enjoyed in many restaurants. However, for a truly unforgettable experience, we recommend visiting Cappadocia on your tour of Turkey…
After hiking through the White Valley, your expert guide will find a private spot with superior views of the beautiful natural landscapes that surround you. Here, we will arrange for a private outdoor Turkish barbecue to be prepared just for you.
Try Fresh Oysters In Croatia
The Mediterranean is known for its exquisite seafood, with different countries boasting a delicious and diverse selection of fish and shellfish. The fresh oysters in Croatia's fortified town of Ston are some of our favorites and cannot go amiss!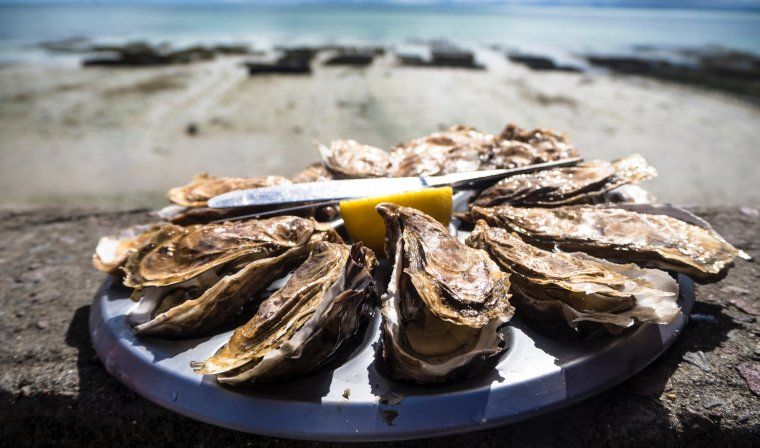 Ston is located on the Pelješac Peninsula in Croatia where river Neretva and other underground freshwater sources flow into the Adriatic, regulating the temperature and increasing the amount of nutrients in the water. An ideal environment for growing mussels and oysters, it's no surprise Ston has some of the best oysters in the world.
On your luxury tour of Croatia, we'll organize a unique culinary experience in a spectacular and private setting with stunning ocean views. First, watch your host carefully hand-pick oysters from the water and then enjoy the fresh catch there and then. You can also enjoy freshly-caught mussels cooked al fresco.
Indulge On A Culinary Tour Of Porto
Gastronomy in Portugal is constantly evolving, yet its cuisine continues to celebrate authentic flavors and cooking techniques. Porto is a great example of this, boasting a diverse culinary scene that is deeply rooted in tradition but also embraces innovation.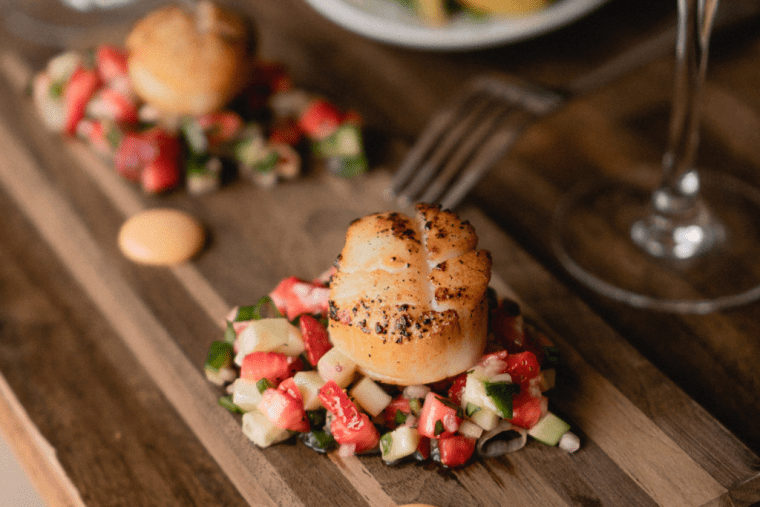 The best way to experience the food in Porto is with an authentic culinary tour. During your visit to Portugal, wander the streets and stop at small boutique shops to sample the finest local cheeses, meats, breads, wines and more!
Sample Local Goat's Cheese In Corsica
Corsica, a stunning island in the Mediterranean Sea, is well known for its variety of delicious goat's cheese. Brocciu, Tomme de Chèvre and Niolo are the most popular, each offering a unique flavor and texture.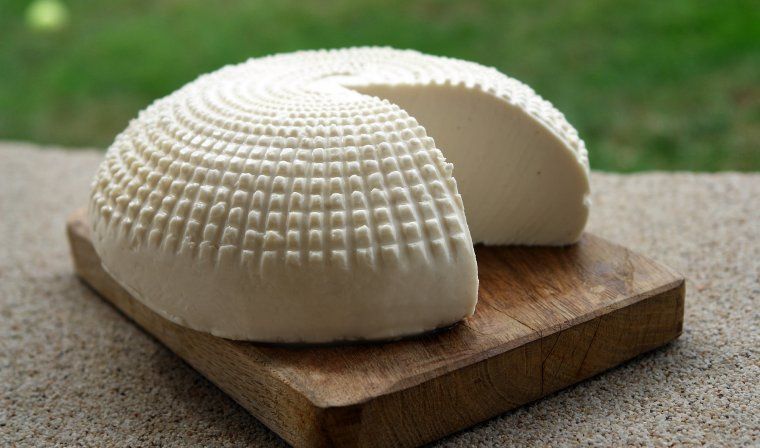 While journeying through Corsica, we recommend trying Brocciu. Brocciu is the most famous Corsican cheese and is made from the whey of sheep's and goat's milk. It's a fresh cheese with a crumbly texture and a slightly tangy and mild flavor.
Enjoy a morning hike up Corsica's Alta Rocca mountains before heading to a picturesque mountain retreat. Here you can reward yourself with a traditional and authentic "menu du jour" made with fresh ingredients, including local Brocciu.
We'll also take you off-the-beaten track to quaint rural villages where you'll visit historic olive mills and enjoy private tastings of Corsica's prized olive oil.
Savor Pani Cunzatu In Sicily
The Aeolian Island of Salina is known for its volcanoes, verdant mountains, clear blue seas…and its pani cunzatu.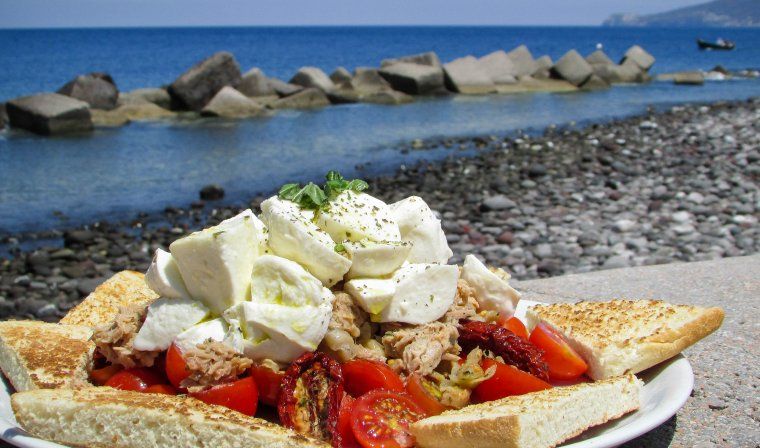 Pani cunzatu is a traditional Sicilian dish that translates to "seasoned bread." Its simple yet delicious preparation involves dressing or seasoning a slice of rustic bread with a variety of Mediterranean ingredients, like fresh mozzarella, capers, garlic, cherry tomatoes, giant green olives and anchovies.
On your tour of Sicily, we will arrange a private picnic atop one of the island's extinct volcanoes. While overlooking the shimmering Mediterranean Sea, you can savor the fresh taste of this local delicacy.
Feast On The Freshest Seafood In Greece
Greek cuisine is also known for its rich and diverse flavors; it reflects the country's long history, Mediterranean climate and abundance of fresh, high-quality ingredients.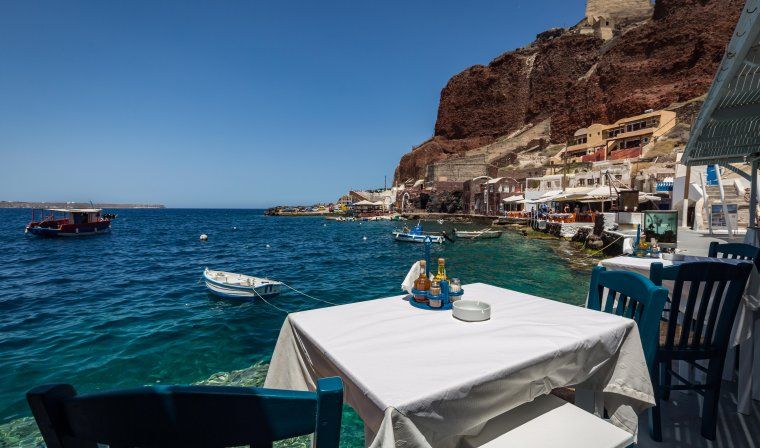 There's ample opportunity to enjoy the finest cuisine as you travel across Greece, from private cooking classes in Paros to a traditional dinner at a country estate farm in Crete. However, one of our favorite standout culinary experiences in Greece is available in Amoudi Bay in Oia, underneath Santorini's dramatic red cliff.
A cluster of traditional Greek tavernas on the water's edge serve up whatever the fisherman has just brought in from sea. Here, the catch of the day is typically served grilled, whole, sprinkled with salt and a drizzle of olive oil. It's as simple and as fresh as it gets, and tastes even better when looking out towards the colorful fishing boats and turquoise waters of the Aegean Sea.
Tailor-Made Itineraries To

The Mediterranean

Contact us to start planning your next once-in-a-lifetime journey to the Mediterranean