Andalucia Luxury Tours, Spain
Exclusive insider access experiences in Southern Spain
LUXURY TRAVEL ANDALUCIA
Begin your Andalucía luxury tour in Granada. Here, you will get a taste of Spain's Moorish history while visiting the Arab Quarter and the famous Alhambra, where Blue Parallel can arrange an exclusive, private tour after it has closed to the public for the day. Your private tour of Andalucía continues in Cordoba where your expert guide will accompany you to highlights such as the Casa de Sefarad and the city's iconic Mezquita, a Cathedral that was built as a Mosque. Blue Parallel has insider access to this UNESCO World Heritage site and can arrange for a private tour so you can enjoy this stunning landmark without the crowds. Next, visit notable landmarks in Seville such as the Giralda Minaret and Plaza de España. During your stay in Seville, take a day trip to the countryside, where Blue Parallel can arrange unique insider access experiences, such as attending the famous equestrian show at Jerez from VIP seats, visiting a traditional bull farm, or touring a top jamón ibérico producer. End your luxury Andalucía tour in Ronda, a destination Hemingway treasured for its quaint streets and dramatic seaside cliffs. There, take a scenic bike ride through one of the region's picturesque "white villages," where you will have beautiful views of the surrounding countryside and mountains.
A Taste of Blue Parallel's Insider Access
Private openings of UNESCO Sites such as the Alhambra and the Mezquita
Exclusive tour of C5J Iberican ham factory and fields
Access to extraordinary private art collections
Exclusive access to Palacio de Marques de Salvatierra
VIP seating at the Jerez horse show
Exclusive access to a bull farm
The Discovery
Granada
Córdoba & surroundings
Seville & surroundings
Ronda & White Villages
The Adventure
Hiking
Biking
Horseback riding
PRIVATE TOUR ANDALUCIA
Note: This private Andalucίa tour is an example, as all of our luxury journeys are custom-made.
Note: This private Andalucίa tour is an example, as all of our luxury journeys are custom-made.
Granada (2 nights)
Upon arrival to Granada, your personal host will take you to Palacio de los Patos, a refurbished 19th century palace. Enjoy a guided walk through the Arab quarter (a UNESCO World Heritage Site) and other significant neighborhoods. In the evening, enjoy a tapas tour with your personal guide, tasting the authentic dishes of the region.
On the second day of your private Andalucía tour, see some of Granada's main highlights such as the Cathedral and the Royal Chapel. No luxury Andalucía trip is complete without visiting one of its most famous historical landmarks: the Alhambra. You will have the option of exclusive access to this fascinating 10th century structure, as it will open its doors just for your party. In the evening, dinner will be served at a restaurant with views of the Alhambra lit up at night.
Read less
Read more
Córdoba (1 night)
Your luxury Andalucía tour continues with a private transfer to Córdoba where you can see the city's highlights, including a stroll through the famed Jewish quarter of the city. You can also visit an old synagogue with your private guide. Later, learn about the famous Jewish philosopher of the region, Maimonides, as you visit Casa de Sefarad. Following this, enjoy a private guided tour of the famed Mezquita. Both of these visits can be arranged exclusively for your party with Blue Parallel's insider access.
Seville (3 nights)
Enjoy a private transfer to Seville to spend three remarkable days discovering the city's rich history and culture. Embark on a family-friendly biking tour of Seville with your personal guide. Later, enjoy a tapas tour with your expert guide.
The following morning, you will have the option to visit Jabugo, a nearby village, to learn about the famed jamón ibérico of the region. You will have an exclusive tour of C5J, the best Iberian ham company in the region. Alternatively, visit the town of Jerez and enjoy the celebrated Jerez equestrian show from your VIP seats. Another option for your day excursion is a visit to a private bull farm to witness the famous fighting bulls grazing in the field as they are prepped for their bullfight. Upon your return to Seville, watch a flamenco show at the Flamenco History Museum. You will have the opportunity to meet the dancers backstage after the show. 
On your last day, experience a private guided tour of Seville's highlights including the Alcazar and the Cathedral, both UNESCO World Heritage Sites. In the afternoon, take advantage of the luxurious amenities of your hotel including an outdoor pool.
Read less
Read more
Ronda (2 nights)
Your journey through Spain ends in Ronda. Reach Ronda by private transfer as you drive through a series of towns and large villages known as the Pueblos Blancos or 'White Villages'. Ernest Hemingway spent many summers in his house in Ronda's old town quarter called La Ciudad. He wrote about Ronda's beauty and famous bullfighting traditions, and was inspired by Andalucian history and culture. Stay at Ronda Parador where you will enjoy spectacular views from your suite. After lunch at a restaurant overlooking the city, begin your guided sightseeing tour of Ronda. You will go on a gentle hike through the outskirts of Ronda.
The next day, begin your private biking excursion with your expert guide from Ronda towards Setenil, a charming white village. Along the way, take in great views of the mountain range and countryside that surround the city. Enjoy lunch at Setenil followed by a private transfer back to Ronda to relax for the afternoon. On the last day of your luxury Andalucía tour, you will be privately transferred to Málaga for your international flight departure.
Read less
Read more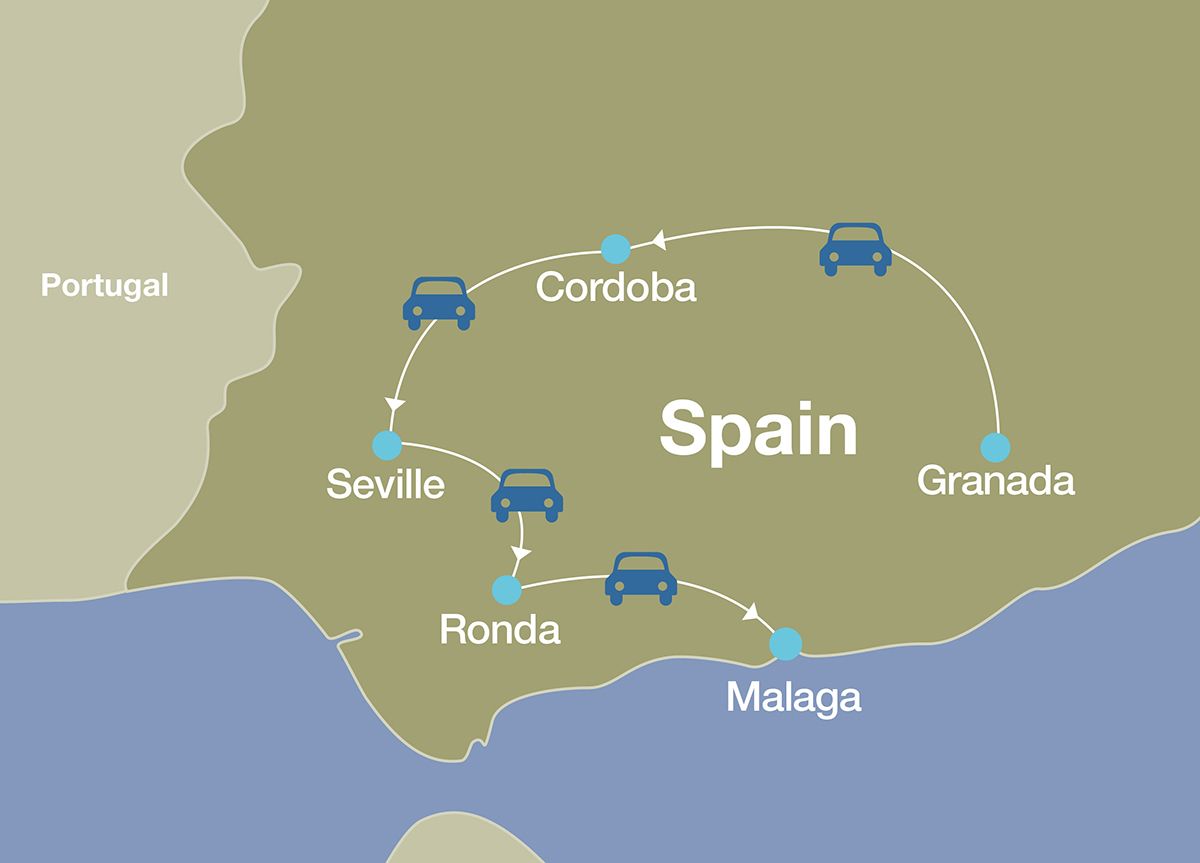 DESTINATIONS
TRAVEL TIME
GRANADA
CORDOBA
2 hrs
CORDOBA
SEVILLE
1 hr 30 min
SEVILLE
RONDA
2 hrs
MAKE THIS ITINERARY YOURS
Contact us to tell us more about your preferences and your ideal trip to Andalucia.
We will create a tailor-made itinerary for your review.
START PLANNING
PRICE REFERENCE
Recommended stay
8-11 days
Price reference


(9 days, private party of 2)

Starting at $21,000 per passenger
Price reference


(9 days, private party of 4)

Starting at $14,000 per passenger
Price reference


(9 days, private party of 6)

Starting at $12,000 per passenger
Note: Prices will vary based on the specifics of your itinerary and the number of passengers in your party.
What is included in your private Spain tour:
Luxury accommodations at

Palacio de los Patos (Granada)
Palacio del Bailio (Cordoba)
Alfonso XIII Hotel (Seville)
Hotel Ronda Parador (Ronda)

Services of Blue Parallel hosts and private specialized guides throughout the journey
All special events, private guided tours and excursions, private outdoor activities, spa treatments, entrance fees
A Blue Parallel team composed of a personal travel expert, private hosts in each destination, and a "behind the scenes" logistical expert who monitors every step of your luxury Spain tour. The team is on call 24-hours a day during a trip
All internal transportation
Exclusive access to a number of special sites
Most meals
A Blue Parallel customized travel kit that you will receive prior to departure