Morocco Luxury Tours
Discover the magic of Morocco by private air
TAILOR-MADE TOURS MOROCCO
Your Morocco luxury tour will be a sensory experience that combines the natural, historical, and cultural highlights of this fascinating country, customized to your interests. After receiving VIP assistance during your international arrival into Casablanca, you will be transferred to Fes, where you will explore the ancient medina and immerse yourself in the sights, sounds, and textures of traditional Moroccan life. From there, your luxury tour of Morocco continues to Kasbah Tamadot, Richard Branson's resort in the heart of the Atlas Mountains, via a domestic flight to Marrakesh. Spend the following day hiking or biking through the stunning scenery of the Atlas Mountains, enjoying incredible views of a snow-capped Mount Toubkal, Morocco's tallest mountain, along the way. After the day's adventures, indulge in a traditional hammam treatment at the resort's luxurious spa. Next, your private tour of Morocco continues in Marrakesh, where you will experience everything the former imperial city has to offer, from ancient palaces to modern art galleries and fine dining to street food in Jemaa el-Fna square. Experience a once-in-a-lifetime helicopter transfer to Dar Ahlam, a 5-star retreat nestled in the palm oasis of the Skoura Valley, where you will have the option to explore olive or pomegranate groves, or take a sunset camel ride to a traditional tea ceremony.
A Taste of Blue Parallel's Insider Access
Plane and helicopter transfers within Morocco
Refreshments with a Berber family in the Atlas Mountains
Private cooking class in Marrakesh
Insider shopping experience in Marrakesh
Your own private camp in the Sahara Desert
Exclusive fully serviced dinners and picnics in spectacular natural settings
Exclusive access to the private home (Villa Oasis) of the late Yves Saint Laurent
Sufism lecture with renowned scholar
The Discovery
Fes
Atlas Mountains
Marrakesh
Sahara Desert
Skoura Valley, Ouarzazate
The Adventure
Hiking
Mountain biking
Camel trekking
A night in the Sahara Desert
PRIVATE TOUR MOROCCO
Note: This private Morocco tour is an example, as all of our luxury journeys are custom-made.
Note: This private Morocco tour is an example, as all of our luxury journeys are custom-made.
Fes (2 nights)
Your luxury Morocco tour starts with your arrival at Fes or Casablanca airport (where you will receive VIP assistance with customs and luggage). You will be greeted by your personal Blue Parallel guide and taken to your luxury hotel in the charming city of Fes. Begin your private Morocco tour with a visit to the stunning gates of the Royal Palace located outside the old city. Move on to the city's Jewish quarter called the Mellah, home to a historical Jewish cemetery and synagogue. In the evening, enjoy a traditional Moroccan dinner at a beautiful riad.
The next day, explore the Medina of Fes with your expert guide. This UNESCO World Heritage Site is one of the world's largest car-free urban areas. Stroll through the famous leather tanneries and experience them from above on a lookout terrace.
Read less
Read more
Atlas Mountains (2 nights)
In the morning, your personal guide will escort you to the airport for your flight to Marrakesh. From here, you will continue by private car transfer to Kasbah Tamadot, Richard Branson's luxurious retreat in the heart of the High Atlas Mountains. Embark on an introductory hike for sweeping views over the property before enjoying tea and refreshments on the rooftop terrace of a traditional Berber house. In the evenings, relax over delicious Moroccan meals.
The next day, choose from an array of exciting outdoor activities, such as downhill mountain biking through the Ouirgane Valley and the Mount Toubkal National Park, then through remote Berber villages nestled in the mountains. Alternatively, discover the High Atlas Mountains during a hike featuring a gradual climb and panoramic views. Stop for lunch in a local restaurant in a remote village, dining on the terrace with the breathtaking mountains towering above you. Return to the hotel to relax by the infinity pool of the property or your luxury suite tent, complete with a private terrace overlooking remote mountain villages.
Read less
Read more
Marrakesh (3 nights)
Your luxury tour of Morocco continues with a private transfer to Marrakesh. On the way, discover Anima, Austrian artist Andre Heller's whimsical botanic garden. At sundown, after settling into your luxurious hotel which is an oasis of calm in the vibrant city, head to the famed Jemaa el-Fna square, a UNESCO World Heritage Site. There, you will enjoy a taste of authentic Moroccan street food before exploring Morocco's magical side, including snake charmers, amazing acrobats, mesmerizing storytellers, magicians, joker monkeys, and peddlers of traditional medicine.
The next day, your expert guide will introduce you to the "Red City" as you explore the various phases of Marrakesh's history and visit its most celebrated highlights. Enjoy lunch in the trendy Nomad eatery before exploring the famous souks. End the day with a delicious dinner at one of Marrakesh's many modern restaurants, with optional cocktails to follow.
The following day, experience the best of modern Morocco by visiting Majorelle Gardens and the Berber and Yves Saint Laurent Museums. If you wish, your guide can take you on an insider shopping experience, where you will have exclusive access to high-quality rugs and other beautiful treasures. Later, take part in a private Moroccan cooking class conducted by a traditional chef.
Read less
Read more
Skoura Valley, Ouarzazate (2 nights)
Take a private helicopter ride to Ouarzazate, where your guide will be waiting to greet you for your short drive to the gorgeous Dar Ahlam Kasbah. This luxury boutique property was built in the traditional architecture of the region: a red fort with a labyrinth of mysterious hallways. Upon your arrival, enjoy a private picnic lunch under the shade of the olive trees, with your feet in a flowing stream. In the late afternoon, experience a camel trek to Ksar Ali where you will enjoy spectacular 360° views of the valley and oasis. Take part in a Moroccan tea ceremony followed by gourmet aperitifs as the sun sets. In the evening, enjoy a delicious themed dinner at Dar Ahlam.
The following morning, go for a nature walk through the Almond Valley with your expert guide, walking along paths lined by pomegranate, almond, and olive trees tended by local families. Stumble upon an abandoned Kasbah that dates back to the 11th century. As you walk through the impressive ruins, learn about the history of the region. For lunch, return to Dar Ahlam and enjoy a private gourmet meal prepared especially for you. At the property, take a refreshing dip in the pool and spend the remainder of the afternoon at leisure. Later in the evening, transfer to the Gorges of Sidi Fla for a stunning candle-lit dinner by ancient rock formations alongside the river as the sun sets.
On the last day of your private Morocco tour, you will take a private transfer to the Ouarzazate airport for your flight to Casablanca where you will catch your international flight home.
Read less
Read more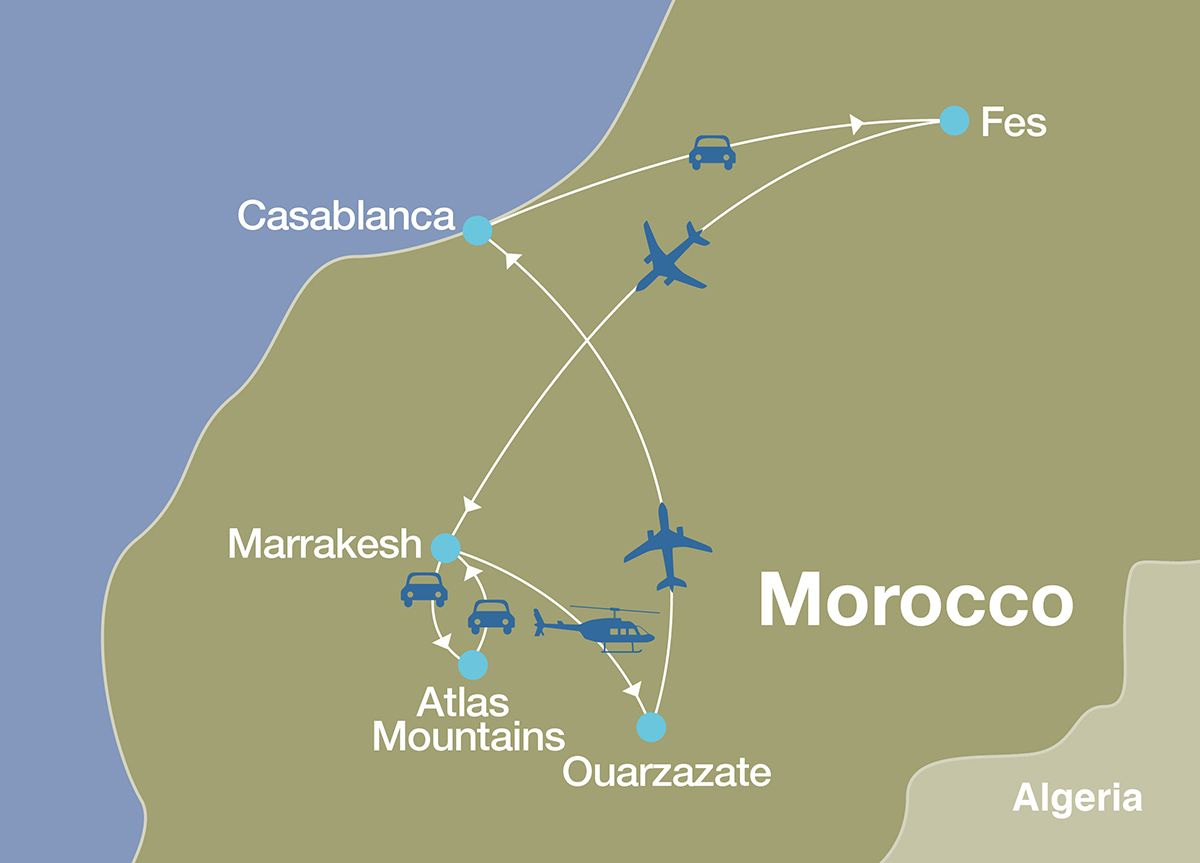 DESTINATIONS
TRAVEL TIME
FES
ATLAS MOUNTAINS
1 hr 30 min
ATLAS MOUNTAINS
MARRAKESH
1 hr 30 min
MARRAKESH
OUARZAZATE
1 hr 30 min
OUARZAZATE
CASABLANCA
1 hr
MAKE THIS ITINERARY YOURS
Contact us to tell us more about your preferences and your ideal trip to Morocco.
We will create a tailor-made itinerary for your review.
START PLANNING
PRICE REFERENCE
Recommended stay
8-12 days
Price reference


(10 days, private party of 2)

Starting at $25,000 per passenger
Price reference


(10 days, private party of 4)

Starting at $21,000 per passenger
Price reference


(10 days, private party of 6)

Starting at $16,000 per passenger
Note: Prices will vary based on the specifics of your itinerary and the number of passengers in your party.
What is included in your private Morocco tour:
Luxury accommodations at

Karawan Riad, Hotel Sahrai or Riad Fes (Fes)
Kasbah Tamadot (High Atlas Mountains)
La Mamounia Hotel, Royal Mansour, or a traditional riad (Marrakesh)
Dar Ahlam (Skoura Valley, Ouarzazate)

Internal flights and helicopter transfer in Morocco
Services of Blue Parallel hosts and private specialized guides throughout the journey
All special events, private guided tours, private excursions, private outdoor activities, entrance fees
A Blue Parallel team composed of a personal travel expert, private hosts in each destination, and a "behind the scenes" logistical expert who monitors every step of your luxury Morocco tour. The team is on call 24-hours a day during a trip
All internal transportation
Some meals
A Blue Parallel customized travel kit that you will receive prior to departure