Turkey Luxury Tours
East meets West in a land of awe-inspiring landscapes and mesmerizing cultural sites
TAILOR-MADE TOURS TURKEY
Explore one of the most culturally rich and historically significant countries of the world during your Turkey luxury tour. Begin in Istanbul, where your daily sightseeing will be organized around the different eras of this legendary city's history. Beginning with its Byzantine past, continuing through its Ottoman glory, and ending with the modern state that arose in the 20th century, your local guide will give you a comprehensive tour of the city's many highlights. Next, your private tour of Turkey continues in breathtaking Cappadocia. Take a sunrise private hot-air balloon ride for a panoramic view of the area before visiting the mysterious Open-Air Museum, a site of ancient churches carved into the rock. Admire the chimney rock formations as you hike through Tokalı Kilise, and get a glimpse of traditional culture in Avanos, where you will find whirling dervishes and local artisans hard at work. Head to Izmir next, where you will stop by the ancient Greek city of Ephesus before arriving at the final destination of your tailor-made tour of Turkey: the stunning Aegean Coast. Enjoy luxurious accommodations at a seaside resort as you relax on the beaches of Turkey's "Turquoise Coast." Spend a day exploring coves and inlets aboard a private gület, a traditional Turkish sailboat.
A Taste of Blue Parallel's Insider Access
Exclusive private access to Hagia Sophia, Topkapi Palace, the Basilica Cistern,
and Göreme Open Air Museum, Ephesus, and many other monuments upon request
Private boating off the Turquoise Coast
Private hot air balloon ride over the rock valleys of Cappadocia
Special appointments with the most reputable vendors for jewelry and rugs in Istanbul
Private barbecue in the White Valley of Cappadocia
The Discovery
Istanbul
Cappadocia
Ephesus Region
Aegean Coast
The Adventure
Hot air balloon ride
Hiking
Sailing
Snorkeling
Swimming
PRIVATE TOUR TURKEY
Note: This private Turkey tour is an example, as all of our luxury journeys are custom-made.
Note: This private Turkey tour is an example, as all of our luxury journeys are custom-made.
Istanbul (4 nights)
Your luxury Turkey tour begins in Istanbul, where you will be greeted at the airport and taken by private transfer to your hotel to relax. In the afternoon, your guide will give you an overview of the local history and culture over a Turkish tea.
Enjoy an exploration of the city where you will discover the different periods of Turkish history: from the Byzantine Empire and the rise of the Ottoman sultans, to the establishment of its modern-day society. Each day focuses on one of these different eras. In the morning of your day experiencing the Byzantine period, visit the world-renowned Hagia Sophia. This site attracts nearly 9 thousand visitors per day, and with Blue Parallel, you may visit in private, prior to official opening hours. Later, see the other sights from the Byzantine period including the Basilica Cistern, the Alexander Sarcophagus, the Great Palace Mosaic Museum, the old city walls, and the Chora Church, which can also be arranged in private upon request.
After experiencing the Byzantine period, you will visit the landmarks from the Ottoman era including Topkapi Palace (which can be seen in private upon request), the Blue Mosque, Süleymaniye Mosque, and Rüstem Pasha Mosque. You will also be taken shopping in the city's famous markets of the Grand Bazaar and the Spice Bazaar. We can book special appointments for you with the most reputable vendors in jewelry, rugs, or other items.
Finally, see the sights from Turkey's modern era as it began to attract European influence in its architecture and style. Visit the residence of the last Sultans, Dolmabahçe Palace, and explore the vibrant Taksim district. You will also be taken on a Bosphorus cruise on a private boat, and as you go up this continental divide, you will take in views from the water of the historical mansions and palaces which dot the flanking hills. Later, enjoy the unique experience of a Turkish bath to relax after your excursions.
Read less
Read more
Cappadocia (2 nights)
Fly to the mysterious region of Cappadocia to enjoy the natural beauty of its striking rock formations and valleys, and to visit the incredible churches carved out of caves by the Byzantines. On your first afternoon, go on a hike in the White Valley, during which you will enjoy a Turkish barbecue prepared especially for you, as the sun goes down.
No luxury Turkey trip is complete without a private hot air balloon ride across the valleys. Start your following morning with your first overview of the area as you admire the rocky valleys from above. Later visit the Open Air Museum, a UNESCO World Heritage Site. Here, you will learn about the civilizations as you admire the ceiling paintings, frescoes and mosaics. Afterwards, explore the Tokalı Kilise, designated a UNESCO World Heritage Site in 1985, this site is known for its "fairy-chimney" rock formations, in which many Christian churches were carved directly out of the rock.

In addition to its historical ruins and natural beauty, Cappadocia is a center for living culture as well, having been a magnet for artisans, potters, and silk makers for millennia. We will take you to Avanos where you can enjoy a pottery & rug-making demonstration and later witness a performance of the famed whirling dervishes, which have been recognized by UNESCO as an element of cultural significance for humanity.
Read less
Read more
Ephesus Region (1 night)
Fly to Izmir, where you will be greeted and taken to the hillside town of Sirince for lunch. Later, visit the world-famous ancient Greek city of Ephesus with your expert guide. Ephesus was a hub of Mediterranean commerce and culture for many centuries, and its preserved Library of Celsus (built in 120 A.D.) is one of the most prominent examples of Greek civilization surviving today. The city itself is widely regarded as one of the most well-preserved ancient cities in the Western world.
Aegean Coast (3 nights)
The following day, depart Sirince and continue your journey to the Aegean coast, visiting Priene and Didyma. These Greek cities are noted for their historical beauty. You will arrive at the elegant Amanruya resort facing the Aegean Sea where you will spend the final days of your luxury Turkey tour relaxing. The property features private pavilions, pools and a serene beach club with multiple terraces to enjoy the beautiful views of the turquoise water.
You will be taken out in your private traditional Turkish schooner (known as a gület) to explore the nearby islands of Karaada and Orakada, enjoying an exquisite Mediterranean lunch aboard your vessel. Additionally, you will get to visit the jet-set beach spot of Göltürkbükü.
On your final day, fly to Istanbul, where you will be assisted with your international flight home.
Read less
Read more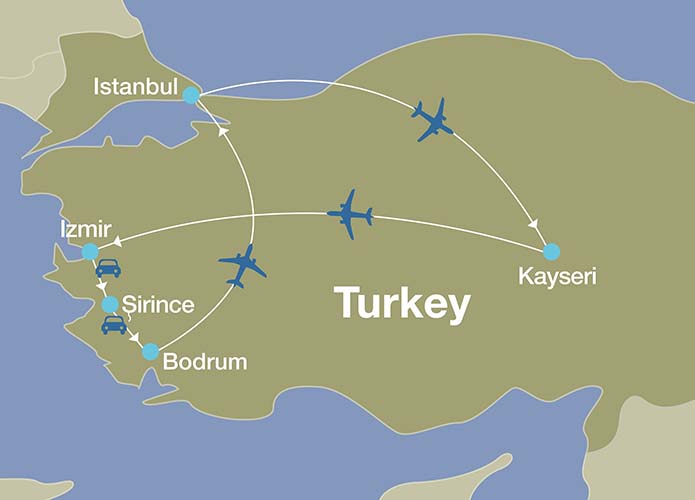 DESTINATIONS
TRAVEL TIME
ISTANBUL
KAYSERI
1 hr 15 min
KAYSERI
IZMIR
1 hr 30 min
IZMIR
ŞIRINCE
1 hr
ŞIRINCE
BODRUM
2 hrs 30 min
BODRUM
ISTANBUL
1 hr 10 min
MAKE THIS ITINERARY YOURS
Contact us to tell us more about your preferences and your ideal trip to Turkey.
We will create a tailor-made itinerary for your review.
START PLANNING
PRICE REFERENCE
Recommended stay
10-12 days
Price reference


(11 days, private party of 2)

Starting at $40,000 per passenger
Price reference


(11 days, private party of 4)

Starting at $30,000 per passenger
Price reference


(11 days, private party of 6)

Starting at $27,500 per passenger
Note: Prices will vary based on the specifics of your itinerary and the number of passengers in your party.
What is included in your private Turkey tour:
Luxury accommodations at

Four Seasons at the Bosphorus or Ciragan Palace (Istanbul)
Museum Hotel (Cappadocia)
Güllü Konaklari (Sirince)
Amanruya (Aegean Coast)

Services of Blue Parallel hosts and private specialized guides throughout the journey
All special events, private guided tours, private excursions, private outdoor activities, spa treatments, entrance fees
A Blue Parallel team composed of a personal travel expert, private hosts in each destination, and a "behind the scenes" logistical expert who monitors every step of your luxury Turkey tour. The team is on call 24-hours a day during a trip
All internal transportation
Exclusive access to a number of special sites in private
Some meals
A Blue Parallel customized travel kit that you will receive prior to departure
RECOMMENDED EXTENSIONS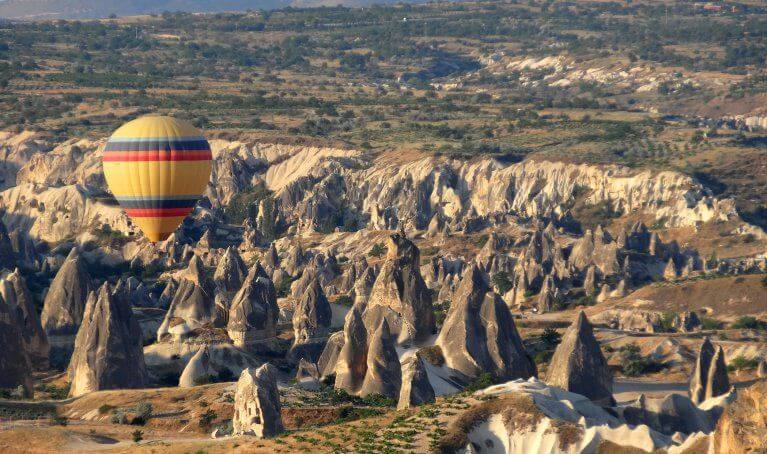 Turkey Luxury Travel
Take a private gulet (a traditional wooden sailing boat) along the Aegean Coast, discovering the inlets, islets and pristine beaches of the region.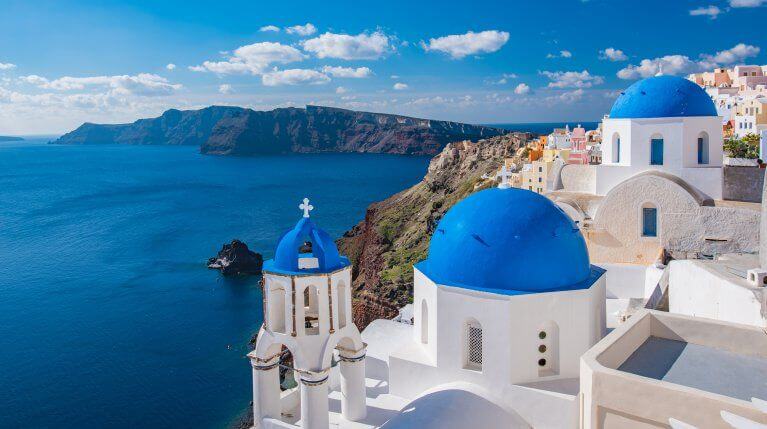 Greece Luxury Travel
Visit Athens, the heart of both ancient and modern Greece, and see iconic sites such as the Parthenon and Delphi.
Get a feel for the rhythms of the Greek countryside when you visit the pastoral Peloponnese peninsula.
Island hop through the Cyclades, volcanic islands known for their stunning natural beauty and rich cultural heritage. Our favorites include: Santorini, Mykonos, Sifnos, and Paros.
Take a private yacht charter to the Ionian islands, known for some of the most beautiful beaches in all of Greece.
Read less
Read more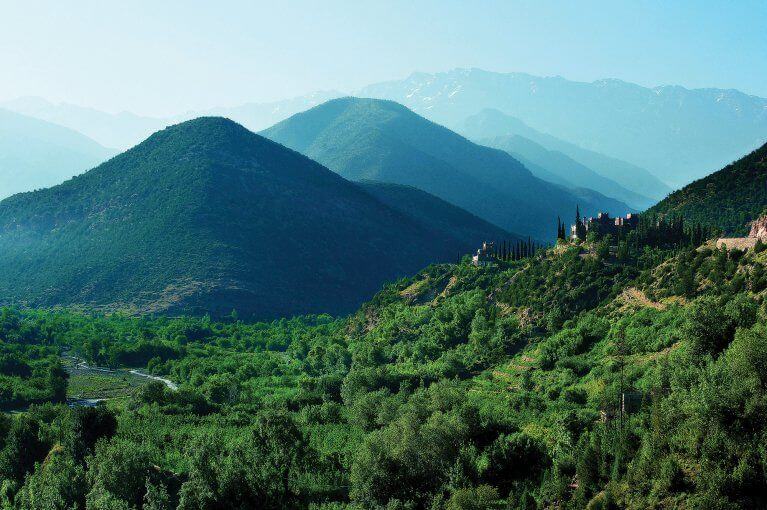 Morocco Luxury Travel
Wander through the labyrinth of Fes' ancient medina for a sensory experience.
Explore the beautiful landscapes of the Atlas Mountains: hike with incredible views of Mount Toubkal or take an exhilarating downhill mountain bike ride.
Visit historic palaces, indulge in delicious street food, and explore the colorful souks bursting with treasures when you visit Marrakesh.
Unwind at the luxurious Dar Ahlam as you explore the olive and pomegranate groves in the palm oasis of the Skoura Valley.
Enjoy the celebrated golden dunes of the Sahara Desert in your own fully staffed tent camp. Blue Parallel can arrange for private helicopter transfers in and out of your private camp.
Discover the coastal city of Essaouira, known for its charming medina and thriving contemporary art scene.
Read less
Read more