Norwegian Fjords Luxury Tours
Multi-adventures in the majestic Fjords of Norway
LUXURY TRAVEL NORWEGIAN FJORDS
Your Norwegian Fjords luxury tour will showcase Norway's summer highlights. From the stunning architecture and cultural attractions of the capital city, Oslo, to the breathtaking scenery of the Norwegian Fjords, Norway offers a delightful combination of man-made and natural sights and unbelievable experiences. Begin your luxury Norway tour with a taste of Oslo's deeply-rooted Viking history and visit a myriad of excellent museums, before heading to Alesund to explore the country's most impressive natural landscapes. Once there, embark on a once-in-a-lifetime private rib boat safari experience where you can visit a seal colony and the famous Runde Bird Island. Here, spend the rest of your time kayaking, biking and hiking. Your Norwegian Fjords luxury tour would not be complete without witnessing the incredible Geirangerfjord, a breathtaking 20-kilometer long fjord and UNESCO World Heritage Site. Later, you will have the once-in-a-lifetime opportunity to stay at your own exclusive island in a private lighthouse, where you spend your time relaxing at the sauna and crabbing with your personal chef. Finally, end your private Norway tour with an exciting helicopter ride back to the Alesund airport before heading back home via Oslo.
A Taste of Blue Parallel's Insider Access
Wildlife safari rib boat tour to quaint Norwegian villages

Private tour of traditional farm home 

Exclusive stay in a lighthouse on a private island 

Aerial tour via private helicopter over Fjords
The Discovery
Oslo

Alesund

Private Island with lighthouse
The Adventure
Hiking

Kayaking

Biking

Crabbing

Wildlife safari
PRIVATE TOUR NORWEGIAN FJORDS
Note: This private Norwegian Fjords tour is an example, as all of our luxury journeys are custom-made
Note: This private Norwegian Fjords tour is an example, as all of our luxury journeys are custom-made
Oslo (2 nights)
Norway's capital and the third-largest city in Scandinavia is a modern, clean and sophisticated metropolis. With its strategic coastal location, the city has grown rich from the shipping and oil industries, bringing beautiful architecture, shops, restaurants, and cultural attractions. Nature is a vital part of the city's appeal, and you're never more than a short car ride away from the forest. 
On the first day of your luxury Norway tour, you will discover Oslo with the help of your personal guide, who will reveal the very best that the city has to offer. Stop at the City Hall to see where the Nobel Peace Prize ceremony takes place each year, absorb the local culture as you stroll down Karl Johans Gate, marvel at the medieval Akershus Fortress that is now a royal residence, and soak in the architectural elegance of the Norwegian National Opera & Ballet House.
On your second day, you will have the opportunity to learn about the rich Viking culture that is so deeply embedded in Norwegian history. Visit the Kon-Tiki Museum and Fram Museum, where you will discover why Norwegians have adventure and exploration embedded in their DNA. Enjoy the rest of the day exploring Oslo's art scene, taking in the expressionist collection at the Munch Museum and the bizarre but thought-provoking sculptures at the Vigeland Sculpture Park. Alternatively, visit the observation deck located on top of the Holmenkollbakken ski jump for panoramic views of Oslo. You will then have the option to explore the ski museum to learn more than 4,000 years of skiing history. In the evenings, savor the exceptional flavors of some of the country's best cuisine at Oslo's finest restaurants.
Read less
Read more
Alesund (3 nights)
After checking out from your luxury hotel, you will go with your driver to the Oslo airport (approx. 35-minute transfer) for your early morning flight to Alesund. Upon arrival, you will be greeted by your personal host and transferred in private to the Brunholmen port for an exciting wildlife sea safari on a private rib boat with your expert guide. Witness breathtaking nature, including a seal colony and the famous Runde Bird Island. Afterward, return by boat and enjoy lunch overlooking the sea. Later, arrive at your hotel located in the outskirts of Glomset.
Continue your luxury Norwegian Fjords tour the following morning when you embark on a kayaking excursion, paddling through the breathtaking fjords of the Storfjord region. After disembarking your kayaks, hike to a historic mountain farm overlooking the fjord for a private tour. After enjoying a boxed lunch with beautiful views of the fjord, continue your hike to a lookout point with stunning views of the Sunnmøre Alps. In the evening, savor a recommended dinner back at Storfjord Hotel.
The next day, depart by private transfer the small Nordic village of Hellesylt (approx. 1.5 hour transfer). As you approach the village, you'll see Geirangerfjord, a breathtaking 20-kilometer long fjord and UNESCO World Heritage Site. The deep blue waters are surrounded by lush vegetation and waterfalls, including the famous "Seven Sisters," "The Suitor," and "The Bridal Veil." Upon arrival, embark on a hike originally used by the postal service to deliver mail between Bergen and Trondheim. Stop at the top of Ljøbrekka mountain to see stunning views of Geirangerfjord below. Hike back down and continue on an exhilarating biking excursion with your expert guide towards the Norangsdalen Valley. Often described as the wildest and most spectacular valley in Sunnmøre, Norangsdalen has withstood years of turmoil from the forces of nature. Disembark your bikes at Hotel Union Øye, one of the most unique hotels in Europe, for afternoon tea and light refreshments. Return to Storfjord Hotel by private boat, with an optional stop along the way at the beer garden of Christian Gaard. Located in the Hjørundfjord, this quaint pub is most famous for its legendary swing – ranked one of the most beautiful swings in the world.
Read less
Read more
Private Island (1 night)
During the last day of your Norwegian Fjords luxury tour, head by private boat to a remote lighthouse where you will spend the day and night. Located in the middle of the ocean on a small private island, this unique lighthouse was restored into a cozy retreat after more than 80 years of operation and comes fully staffed. Explore the property, enjoy the fresh catch of the day for lunch, and take advantage of the many amenities, including an outdoor wood-fired hot tub with uninterrupted views of the surrounding ocean, a natural seawater pool, a sauna, and a relaxation room. Additionally, with the guidance of an expert fisherman, you may try your hand at crabbing on the shore just outside the lighthouse.
Private Island/Oslo
Following an early breakfast in the dining room, end your luxury travel experience in Norway and return to Alesund by private helicopter. Once at the airport, board your domestic flight to Oslo. Check-in and luggage assistance will be provided.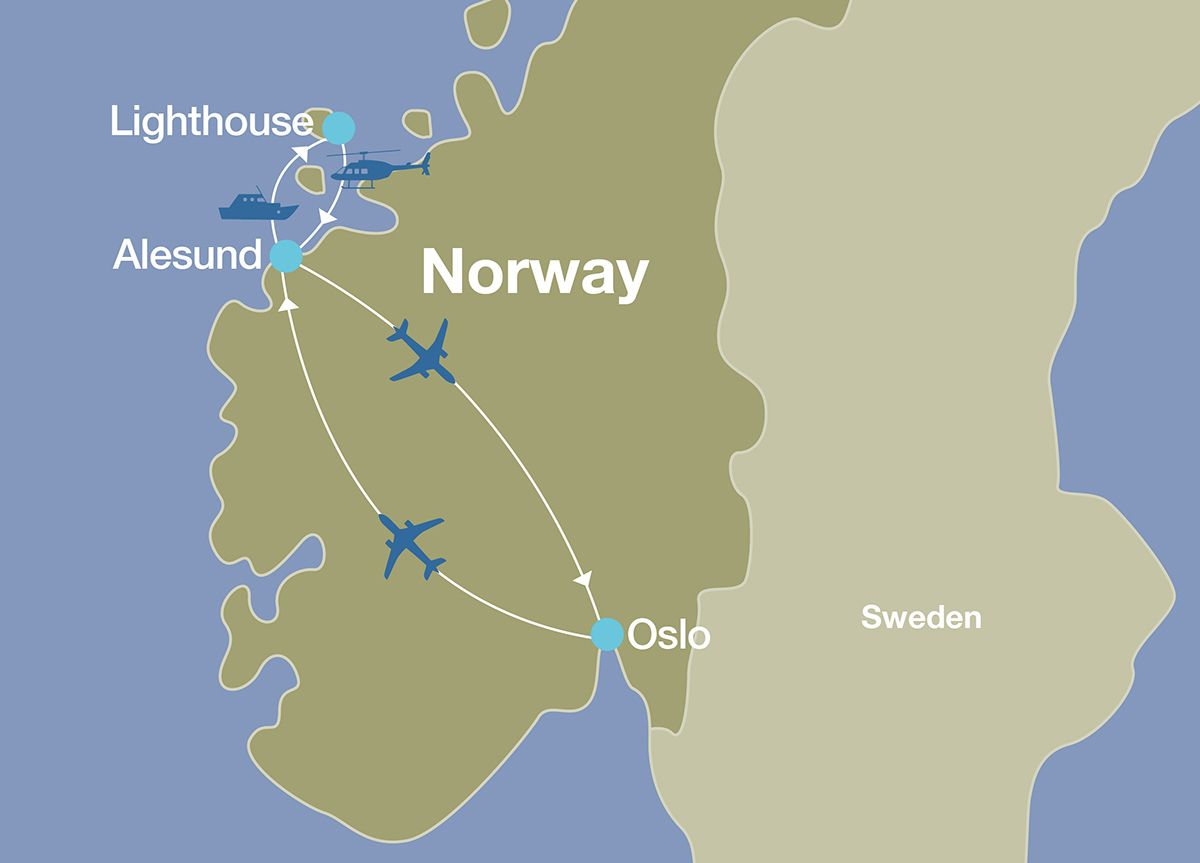 DESTINATIONS
TRAVEL TIME
OSLO
ALESUND
1 hr
ALESUND
LIGHTHOUSE
1 hr
LIGHTHOUSE
ALESUND
30 min
ALESUND
OSLO
1 hr
MAKE THIS ITINERARY YOURS
Contact us to tell us more about your preferences and your ideal trip to the fjords of Norway.
We will create a tailor-made itinerary for your review.
START PLANNING
PRICE REFERENCE
Recommended stay
7-9 days
Price reference


(7 days, private party of 2)

Starting at $22,500 per passenger
Price reference


(7 days, private party of 4)

Starting at $16,500 per passenger
Price reference


(7 days, private party of 6)

Starting at $14,000 per passenger
Note: Prices will vary based on the specifics of your itinerary and the number of passengers in your party.
What is included in your private Norway tour:
Luxury accommodations at

The Thief (Oslo)

Storfjord Hotel (Alesund)

Lighthouse on Private Island

Internal flights

Services of Blue Parallel hosts and private specialized guides throughout the journey

All special events, private guided tours, private excursions, private outdoor activities, entrance fees

A Blue Parallel team composed of a personal travel expert, private hosts in each destination, and a "behind the scenes" logistical expert who monitors every step of your luxury Norway tour. The team is on call 24-hours a day during a trip

All internal transportation

Some meals

A Blue Parallel customized travel kit that you will receive prior to departure
RECOMMENDED EXTENSIONS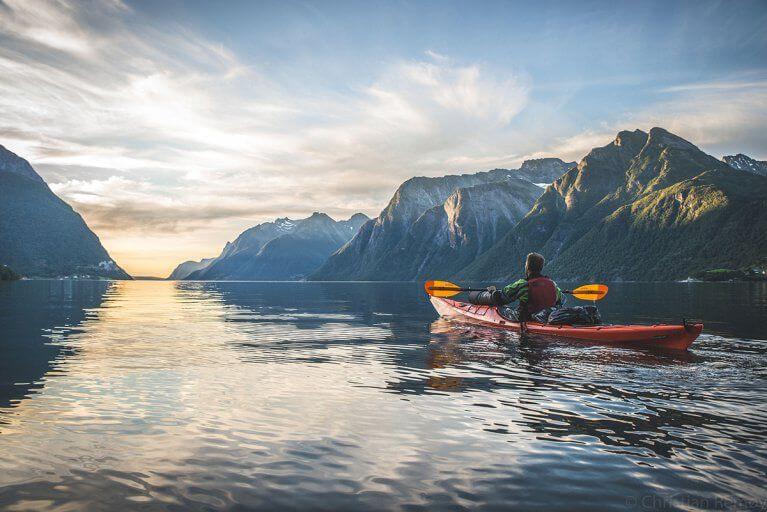 Norway Luxury Travel
Head north of the Arctic Circle and discover the spectacular Lofoten archipelago, considered one of the best places to see the Northern Lights.
Iceland Luxury Travel
Experience thrilling adventures in awe-inspiring landscapes characterized by glaciers, volcanoes, and waterfalls when you visit Iceland's southern coast.
Unwind on Iceland's northern coast, where you may indulge in relaxing spa treatments before and after active hiking and biking excursions on the Troll Peninsula.
Discover the iconic Blue Lagoon, a series of geothermal pools surrounded by a stark, volcanic landscape.
Wander through the colorful streets of Iceland's hip-yet-charming capital, Reykjavik, a town first settled by the Norse in the 9th century AD.
Read less
Read more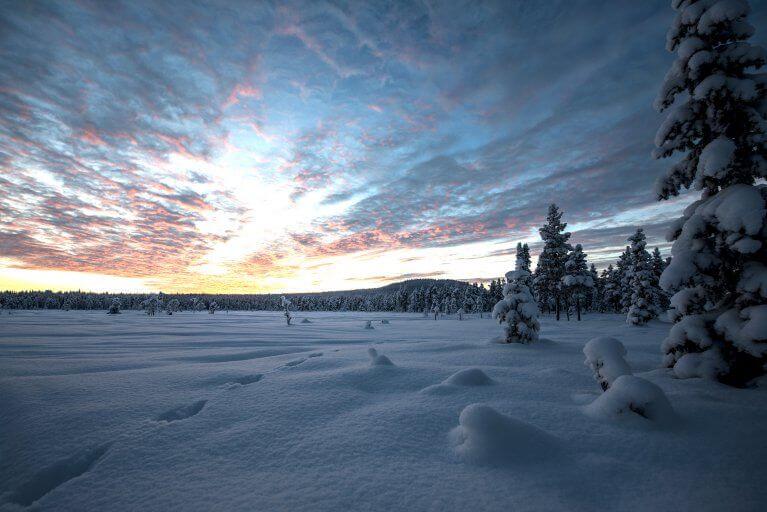 Sweden Luxury Tours
Discover the magic of Lapland, where you will explore the wilderness by ski, dog-sled, snowmobile, and more before spending a cozy evening at a remote lodge, ideally suited to viewing the Northern Lights.