Lofoten Islands Luxury Tours, Norway
A winter fairytale under the Northern Lights
LUXURY TRAVEL LOFOTEN ISLANDS
Your luxury Lofoten Islands tour will offer a warm welcome to Norway's western coast. From the stunning countryside and cultural attractions of Bergen in the south to the breathtaking, untouched scenery of the Lofoten Islands in the north, the coastal region of Norway offers unforgettable sights and experiences. Get a taste of Bergen's past while strolling through the historic Bryggen Wharf and see the stunning surrounding countryside on the iconic Flamsbana train. From Bergen, fly to Leknes in the Lofoten Islands, where you can stay at a beautiful lodge and participate in a private northern lights tour with an expert guide. During your luxury tour of the Lofoten Islands, a true playground for outdoor enthusiasts, spend your time exploring the region's beautiful beaches and fishing villages. Visit all the quaint and charming fishing villages that dot the coast in a private rib boat. Highlights include "the most beautiful place in the world", Reine, famous for its red and white fisherman huts. End your day with a scenic walk from Haukland to Uttakleiv, known for its scenic beauty and impressive natural landscapes. Continue the fun the next day with an Arctic Cod fishing experience, which ends with a goat cheese tasting at a local farm and a visit to the Viking Museum. During your time in the Lofoten Islands, end your days like a local with a relaxing sauna experience. End your luxury Norway tour with a visit to the charming village of Eggum, where you can kayak, snowshoe, hike, or ski with an expert guide. Finally, head to Leknes airport for your flight back home via Oslo.
A Taste of Blue Parallel's Insider Access
Private Northern Lights tour with an expert

Private rib boat tour to quaint Norwegian fishing villages

Organic goat and cheese farm visit 

Arctic Cod fishing on a private boat
The Discovery
Bergen

Lofoten Islands 

Northern Lights
The Adventure
Hiking

Arctic Cod Fishing 

Kayaking 

Snowshoeing
PRIVATE TOUR LOFOTEN ISLANDS IN WINTER
Note: This private Lofoten Islands tour is an example, as all of our luxury journeys are custom-made
Note: This private Lofoten Islands tour is an example, as all of our luxury journeys are custom-made
Bergen (2 nights)
Bergen is Norway's second largest city and is known for its charming, colorful wooden houses along the waterfront, as well as the stunning natural landscape which surrounds the city, including mountains and fjords. Your luxury tour of Norway begins here.
On your first afternoon, explore the historical areas of Bergen on a private walking tour with your personal guide. Visit the iconic houses Bryggen Wharf, a UNESCO World Heritage Site and an important historical site for Norway's trading exploits of the Middle Ages. Stop by the medieval Bergenhus Fortress and the historic fish market which dates back to the 1200s. Another highlight is St. Mary's Church, the oldest building in the city and one of the best examples of Romanesque architecture in Norway. 
The following day, head to Norway's countryside to take in the breathtaking fjords and landscapes. Travel to Gudvangen by private transfer before enjoying a ferry boat ride through Aurlandsfjord and Naeroyfjord on your way to the tiny village of Flam. In Flam, board the famed Flamsbana train that offers views of the grand mountain peaks and glacier-sculpted valleys that surround Bergen. In the evenings, savor delicious Norwegian dinners at Bergen's best restaurants.
Read less
Read more
Lofoten Islands (4 nights)
After checking out from your luxury hotel, take a private transfer to the Bergen airport (approx. 25 minute transfer) for your morning flight to Leknes, located in the Lofoten Islands. Upon your arrival, spend the afternoon relaxing at the lodge and, in the evening, enjoy a private northern lights tour. You will head into the wilderness that surrounds the lodge to witness the natural phenomenon yourself.
Continue your luxury tour of the Lofoten Islands the next day with a boating adventure along the Lofoten coast; embark on a private rib boat from right outside your accommodation. As you head west, stop first in the authentic fishing village of Nusfjord, famous for its buildings that were once a part of Norway's fish buying stations. Continue to the charming village of Reine, where you will disembark and enjoy a short walking tour of what is often referred to as "the most beautiful place in the world." Admire the red and white fisherman huts that dot the shoreline and the surrounding peaks of granite that rise into the sky. Finally, end in the village of Å, built nearly entirely on rocks. Afterward, time permitting, you will be taken by private transfer to Haukland Beach for a scenic walk to Uttakleiv Beach. This easy loop from Haukland to Uttakleiv offers beautiful views of Haukland's beaches and the fields of Uttakleiv.
The next day, you will head to the port for your Arctic Cod fishing excursion. Every winter, millions of Norwegian Arctic cod swim down from the Barents Sea to the Lofoten Islands to spawn. You will experience this incredible phenomenon firsthand onboard an authentic fishing vessel with local fishermen. Afterward, continue to an organic goat and cheese farm for a private tour of the property, followed by a delicious farm-to-table lunch. Next, continue to the Viking museum with your expert guide and witness the largest Viking-era house ever found in the history of humanity. Finally, enjoy the rest of the afternoon at leisure at your lodge before a dinner of fresh seafood.
On the fourth day of your private Lofoten Islands tour, head to the seaside fishing village of Eggum, where you will spend the morning kayaking and hiking. Alternatively, you can choose to go snowshoeing as well. Afterward, enjoy a picnic lunch in a beautiful outdoor setting before returning to your lodge to enjoy a relaxing hot sauna. Adventurous travelers may choose to go on a full-day snowshoeing experience on Mount Ryten in Flakstad or embark on a hiking excursion to the Mannen mountain trailhead.
On your final day, you will be transferred in private to the Leknes airport in time for your domestic flight to Bergen, followed by your international return flight. Check-in and luggage assistance will be provided.
Read less
Read more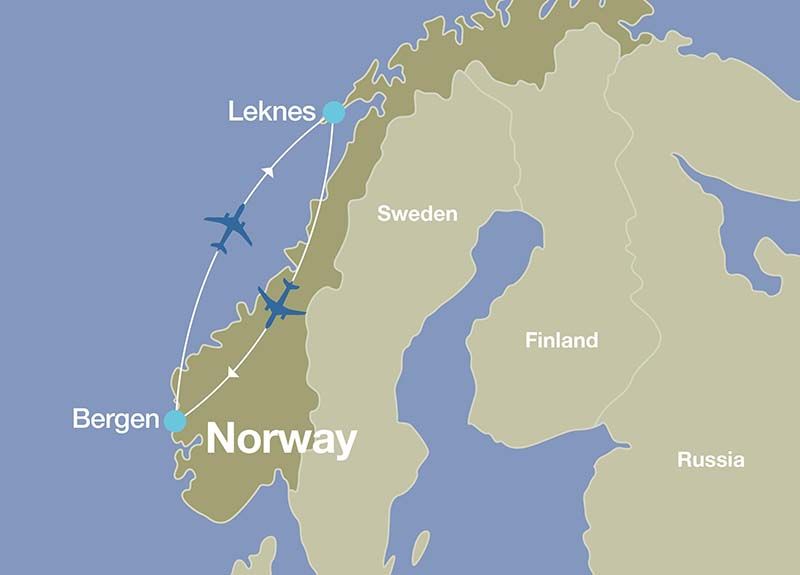 DESTINATIONS
TRAVEL TIME
BERGEN
LEKNES
2 hrs 30 min
LEKNES
BERGEN
2 hrs 30 min
MAKE THIS ITINERARY YOURS
Contact us to tell us more about your preferences and your ideal trip to Norway's Lofoten Islands.
We will create a tailor-made itinerary for your review.
START PLANNING
PRICE REFERENCE
Recommended stay
7-8 days
Price reference


(7 days, private party of 2)

Starting at $23,500 per passenger
Price reference


(7 days, private party of 4)

Starting at $14,000 per passenger
Price reference


(7 days, private party of 6)

Starting at $12,000 per passenger
Note: Prices will vary based on the specifics of your itinerary and the number of passengers in your party.
What is included in your private Norway tour:
Luxury accommodations at

Bergen Børs Hotel (Bergen)

Hattvika Lodge (Lofoten Islands)

Internal flights

Services of Blue Parallel hosts and private specialized guides throughout the journey

All special events, private guided tours, private excursions, private outdoor activities, entrance fees

A Blue Parallel team composed of a personal travel expert, private hosts in each destination, and a "behind the scenes" logistical expert who monitors every step of your luxury Norway tour. The team is on call 24-hours a day during a trip

All internal transportation

Some meals

A Blue Parallel customized travel kit that you will receive prior to departure
RECOMMENDED EXTENSIONS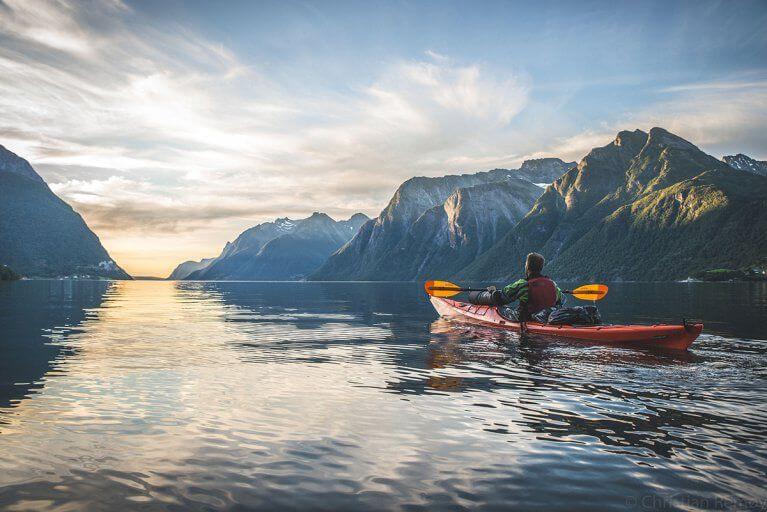 Norway Luxury Travel
Explore the breathtaking fjords that surround the charming town of Alesund, where tranquil waterways rise into impressive mountain landscapes.
Iceland Luxury Travel
Experience thrilling adventures in awe-inspiring landscapes characterized by glaciers, volcanoes, and waterfalls when you visit Iceland's southern coast.
Unwind on Iceland's northern coast, where you may indulge in relaxing spa treatments before and after active hiking and biking excursions on the Troll Peninsula.
Discover the iconic Blue Lagoon, a series of geothermal pools surrounded by a stark, volcanic landscape.
Wander through the colorful streets of Iceland's hip-yet-charming capital, Reykjavik, a town first settled by the Norse in the 9th century AD.
Read less
Read more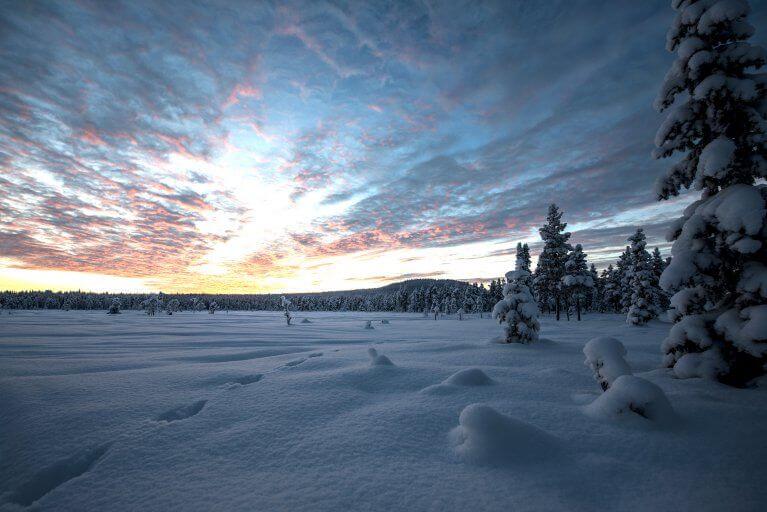 Sweden Luxury Tours
Discover the magic of Lapland, where you will explore the wilderness by ski, dog-sled, snowmobile, and more before spending a cozy evening at a remote lodge, ideally suited to viewing the Northern Lights.