Lapland Luxury Tours, Sweden
The ultimate winter wonderland experience from the comfort of private wilderness lodges
LUXURY TRAVEL LAPLAND
A spellbinding land of enchantment, Swedish Lapland awaits travelers who yearn for a sense of wonder. Starting in the regal capital of Stockholm, indulge in the historical gems of Swedish culture and explore this proud city. From the capital, head north to venture deep into the wild wilderness of Lapland, where your polar expedition will begin. From nordic skiing through a serene and snow-covered woodland to mushing your own team of huskies across the winter-white landscape, there are a host of thrilling outdoor experiences to be had. Using cozy wilderness lodges as your wintery bases from which to explore, discover the majesty of this region on an arctic adventure like no other during your luxury tour of Lapland.
A Taste of Blue Parallel's Insider Access
Access to private wilderness lodges

Gourmet dinner prepared exclusively by a private chef in the Lappish wilderness

Private insider tour of the iconic "Ice Hotel"

Meet with the local Sami people to learn and discover their customs firsthand

Guided dog sledding by one of Sweden's most illustrious mushers
The Discovery
Stockholm

Lulea – Lapland

Kiruna – Lapland

Northern Lights
The Adventure
Nordic skiing

Dog sledding

Snowshoeing

Snowmobiling

Ice-sculpting

Arctic fishing
PRIVATE TOUR LAPLAND
Note: This private Lapland tour is an example, as all of our luxury journeys are custom-made.
Note: This private Lapland tour is an example, as all of our luxury journeys are custom-made.
Stockholm (2 nights)
Upon arrival, your personal host will greet you before escorting you to your luxury hotel located in the cultural, centrally based neighborhood of Norrmalm. Over the next two days, you will discover Stockholm with the help of your private guide, who will reveal the very best that the city has to offer. Marvel at the sunken pride of the Swedish Imperial fleet at the Vasa Museum, absorb the history of the city exploring the winding streets of Gamla Stan, and witness the changing of the guard at the Royal Palace. In the evenings, savor some of the country's best cuisine at Stockholm's finest restaurants.
Lulea - Lapland (3 nights)
Your luxury tour of Lapland begins following a flight to Lulea. Upon arrival, you will be greeted by your personal host and taken by private transfer to your accommodation, stopping at the quaint church town of Gammelstad, a UNESCO World Heritage Site, along the way. During your time in Lulea, you will stay at one of our private wilderness lodges or the unique Treehotel. The Treehotel marries its ecological values with superior comfort and modern design, and gives you the chance to take in the spectacular surrounding vistas from the privacy of your cabin held high aloft the indigenous pine trees of a Swedish forest. The wilderness lodges offer an authentic yet luxurious option, with total privacy. Located in spectacular, secluded forests, our luxury lodges benefit from no light, sound or air pollution, giving you the opportunity to fully immerse yourself in unspoiled nature while enjoying your stay in a Swedish cabin fit with modern technology. Both luxury accommodations are excellent gateways to the vast outdoor adventures, iconic northern lights tours and breathtaking wintry landscapes the region has to offer.
After settling into your accommodation, you can embark on a privately guided Nordic ski tour to experience Sweden's traditional means of travel across the winter landscape. Watch for wildlife tracks and learn about the boreal forests of the arctic, with opportunities to spot moose in the winter landscape.
The following day, depart on an exhilarating, privately guided snowmobile ride through the Lappish snow-covered countryside. Head off into the pristine wilderness via frozen river routes and through a spellbinding forest trail before stopping to savor an exclusively cooked lunch prepared with locally sourced ingredients. After your breathtaking excursion through the snow-covered wilderness, return to your accommodation. There, take advantage of the private facilities and relax in the sauna, unwinding through this popular Scandinavian practice. In the evening, escape the cold with a delicious dinner of wonderful Swedish staples.
In the morning, your personal host will welcome you before you go by private transfer to begin a light walk to the Storforsen river. The Storforsen river has some of the highest unrestricted white-water rapids in Europe. In wintertime, these rapids partially freeze over, creating a wondrous natural spectacle. Here, you will enjoy a delicious outdoor barbecue lunch served near the waterfalls. In the afternoon, you can enjoy time to relax at leisure, with beautiful views from your room of the surrounding ice-capped landscape before a delicious meal at your accommodation.
Read less
Read more
Kiruna - Lapland (3 nights)
The next day, pass through the little town of Jokkmokk. Stop to meet a local Sami and discover their customs firsthand before savoring a traditional Sami lunch. Then, continue by private transfer to the small village of Jukkasjärvi to enjoy a private, insider tour of the iconic Ice Hotel. Following your exclusive tour, head out with a team of Alaskan Huskies, embarking on a night dog sledding excursion directly to Fjellborg Arctic Lodge.
During your stay at Fjellborg Arctic Lodge, you will experience a range of activities in the Lappish wilderness. Mush your own team of Alaskan Huskies as you race off into the Swedish outback, passing breathtaking scenery at every moment; head out with your expert guide to a frozen lake to learn the art of arctic fishing before enjoying your catch that evening for dinner; channel your artistic side with a private ice-sculpting lesson and speed effortlessly across the snow-covered Arctic landscape on a snowmobile tour. After the day's excursions, relax at your leisure, enjoying time to soak in the suspended outdoor hot tub of your exclusive cabin. Then, indulge in spectacular dinners served privately at your lodge or in the adjacent communal cabin. In the evenings, keep your eye out as night falls for a glimpse of the spectacular and elusive Northern Lights.
Read less
Read more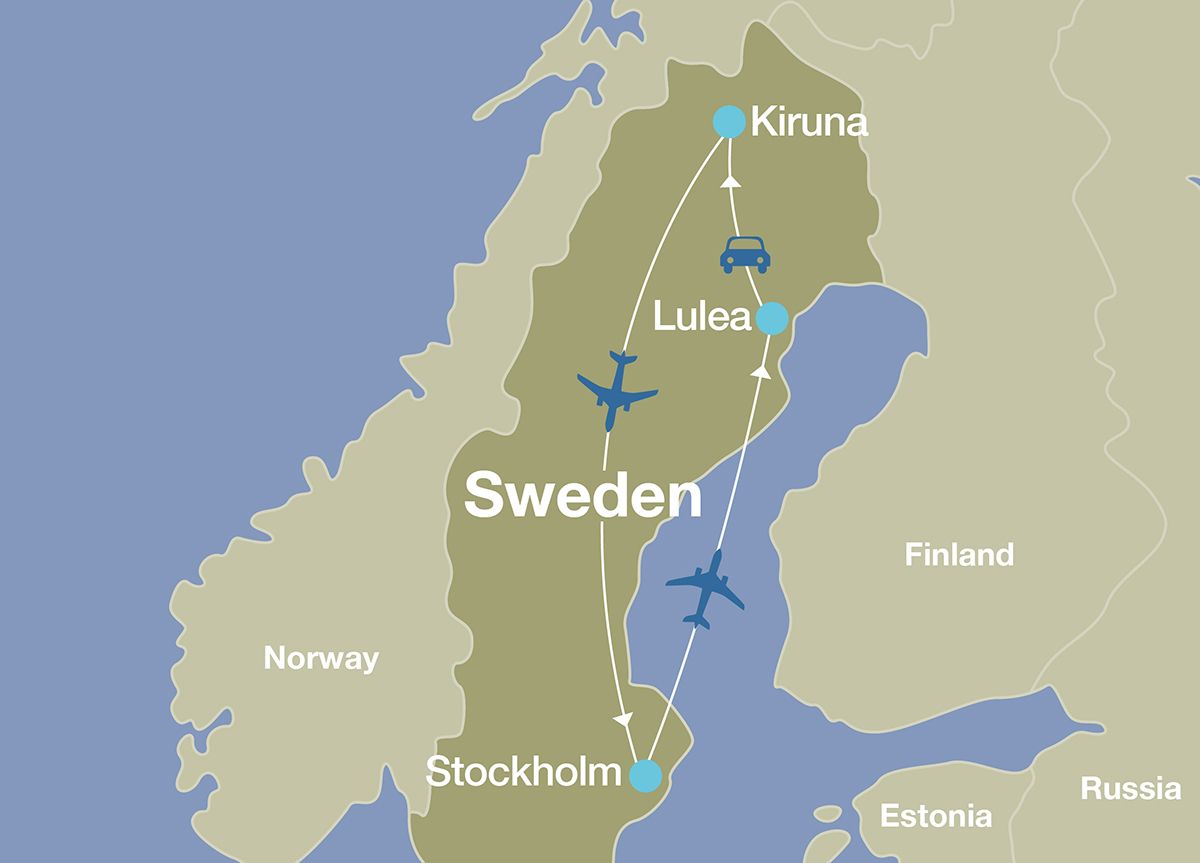 DESTINATIONS
TRAVEL TIME
STOCKHOLM
LULEA
1 hr 20 min
LULEA
KIRUNA
4 hrs 40 min
KIRUNA
STOCKHOLM
1 hr 30 min
MAKE THIS ITINERARY YOURS
Contact us to tell us more about your preferences and your ideal trip to Swedish Lapland.
We will create a tailor-made itinerary for your review.
START PLANNING
PRICE REFERENCE
Recommended stay
8-10 days
Price reference


(9 days, private party of 2)

Starting at $25,000 per passenger
Price reference


(9 days, private party of 4)

Starting at $20,500 per passenger
Price reference


(9 days, private party of 6)

Starting at $20,000 per passenger
Note: Prices will vary based on the specifics of your itinerary and the number of passengers in your party.
What is included in your private Lapland tour:
Luxury accommodations at

Lydmar Hotel (Stockholm)

Private Wilderness Lodge or

Treehotel (Lulea – Lapland)

Fjellborg Arctic Lodge (Kiruna – Lapland)

Internal flights

Services of Blue Parallel hosts and private specialized guides throughout the journey

All special events, private guided tours, private excursions, private outdoor activities, entrance fees

A Blue Parallel team composed of a personal travel expert, private hosts in each destination, and a "behind the scenes" logistical expert who monitors every step of your luxury Lapland tour. The team is on call 24-hours a day during a trip

All internal transportation

Most meals

A Blue Parallel customized travel kit that you will receive prior to departure