January 26, 2023 — By

Alexis Prego
Argentina For The Luxury Traveler: The Insider
Guide to Argentina's Famous Regions (part 3)
Imposing waterfalls, mighty glaciers, tempting wines, culinary masterpieces, fascinating culture, rich history and so much more; Argentina is an attractive destination for even the most discerning travelers.
Home to a number of exclusive, insider experiences, luxury accommodations and epic outdoor adventures, it is no surprise that it continues to be one of the most popular destinations from our diverse portfolio of private, luxury tours.
So far we have spotlighted Argentina's Northeast and Northwest regions, as well as Buenos Aires and Mendoza. Here, we take a closer look at Patagonia, honing in on the Northern and Southern regions…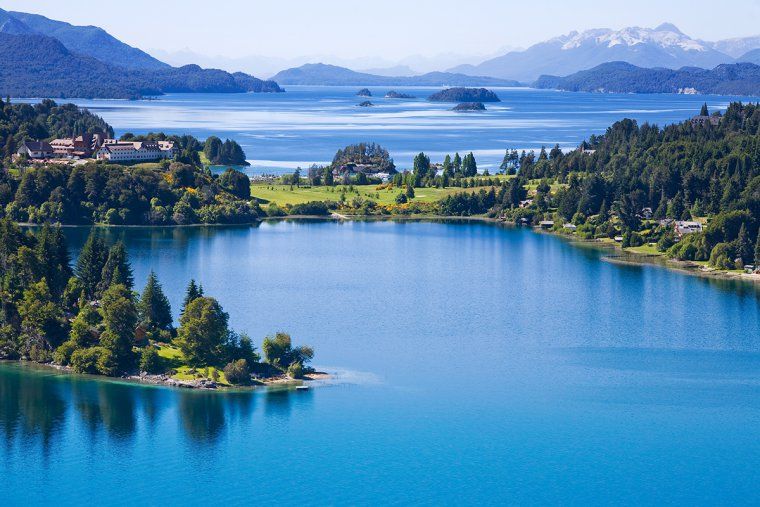 Spotlight: Northern Patagonia
Northern Patagonia is home to Argentina's stunning alpine Lake District, a playground for outdoor enthusiasts. The region's breathtaking natural beauty is complimented by delicious local culinary specialities, adrenaline-fueled activities, intriguing European culture and striking luxury accommodations.
The Landscapes
From the snow-kissed Andean mountains and crystalline alpine lakes, to diverse local flora and fauna, Northern Patagonia's Lake District fairy-tale scenery is hard to compete with.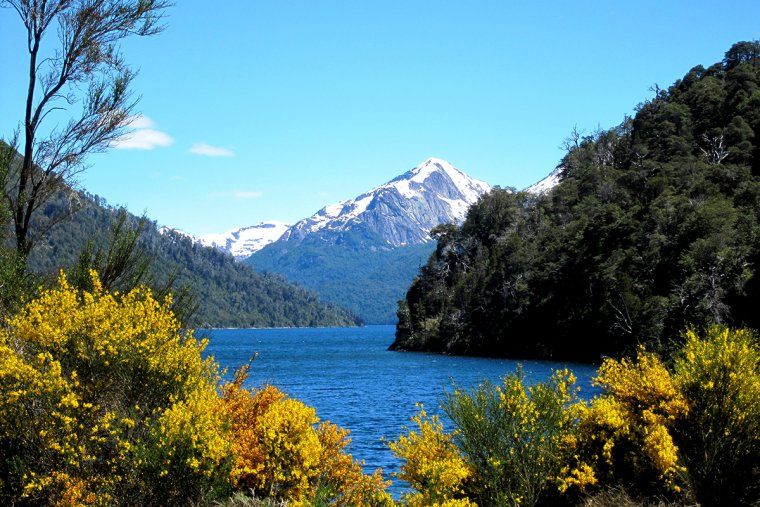 The grand Lago Nahuel Huapi – the area's largest lake – is surrounded by incredible plants and animals which can all be explored from the comfort of a luxury, private yacht. Or, enjoy a different perspective of the spectacular lakes when visiting the Llao Llao peninsula which allows you to enjoy panoramic views of the lakes and surrounding peaks. We recommend embarking on private hiking tours through the dense Cohihue forest or to the peak of Los Palotinos for striking vistas.
Northern Patagonia's fusion of canyons, waterfalls, meadows and volcanos, make it one of Argentina's most diverse regions in terms of landscapes. It also boasts year-round activities: during summer, Bariloche is full of verdant forests, grand mountains and stunning lakes; as winter hits, the area becomes a playground for winter activities like skiing and snow-shoeing.
The Culture
Not so long ago, Argentina's Lake District was a wilderness populated solely by indigenous people. However, the modern capital, Bariloche, now has an obvious European character.
Coined 'Little Switzerland', the region's charming, alpine-inspired architecture, breweries, dairies and chocolate shops show the area's strong Swiss influence. However, there are other European quirks that come from German, Spanish, and Italian immigrants.
Luxury Travel In Argentina's Lake District

Explore Argentina's stunning alpine Lake District, a fairy-tale destination perfect for outdoor enthusiasts.
The Food
Patagonian cuisine combines intense, rich flavors of meat with delicately spiced seafood to compliment a premium portfolio of fine wines.
As well as the popular Argentine dish of barbecued beef, Patagonia is known for cordero al palo, a spit roast lamb cooked over an open log fire for several hours. They have also added a twist to the national empanada by swapping the typical meat or cheese for a thick lamb stew.
Bariloche in particular is home to many fantastic restaurants which highlight the region's fusion of immigrant traditions from Central and Eastern Europe.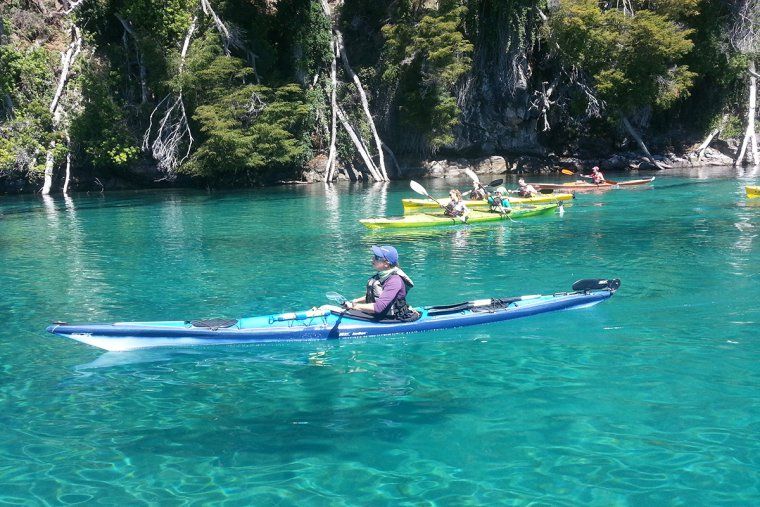 The Activities
Northern Patagonia's Lake District is a haven for outdoor activities and nature excursions.
Journey through the Llao Llao Peninsula and discover nearby lakes and forests. Gentle hikes, rappelling and kayaking are just some of the activities you can arrange here to enjoy panoramic views of Lake Nahuel Huapi and the surrounding peaks. This is a great area for a private gourmet picnic.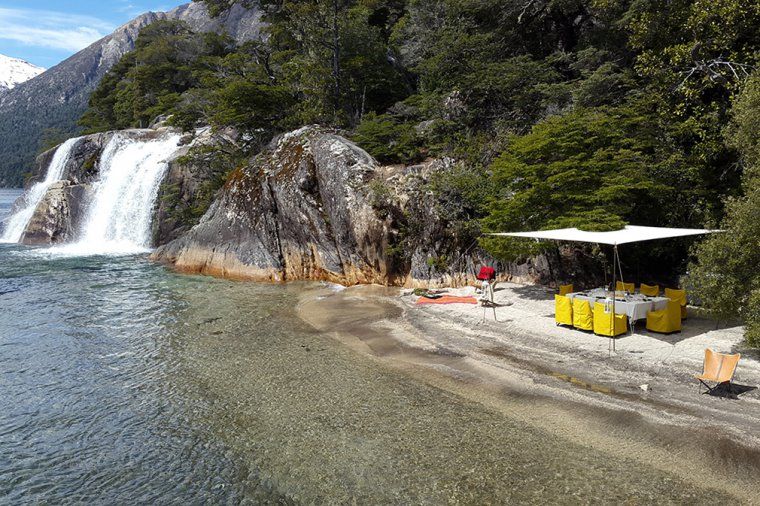 Victoria Island, located in the middle of the lake, has various outdoor activities to be enjoyed. As well as hikes with expert guides and gourmet picnics on a secluded beach, you can enjoy some of the Argentine Lake District's finest wines while taking in the unbelievable landscape that surrounds you. Make your way across Lake Nahuel Huapi on a private boat, stopping to admire the crystal clear waters and picturesque views along the way.
Besides the incredible lakes at your fingertips, Patagonia's Lake District has a number of enchanting forest and mountain trails that are ready to be explored on horseback or by foot. You'll also find canyons, waterfalls and hilltops with beautiful vistas of the region and the mountains of the Continental Divide.
If you want to take in the landscapes a little differently, we recommend private fly-fishing excursions on the Limay River, golfing on one of the best courses in South America and mountain biking through the rolling hills.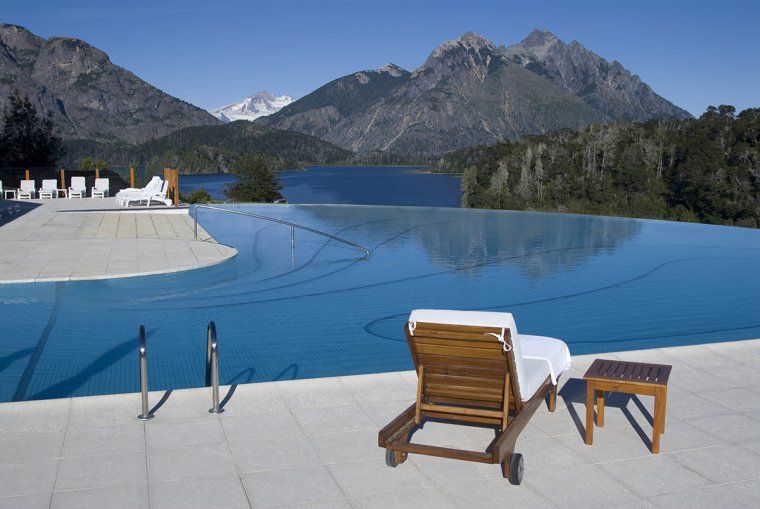 The Accommodation
The luxury, private villas and ranches in Northern Patagonia promise ultimate luxury and exceptional service while giving you direct access to unlimited natural wonders. Our selection of luxury accommodations include:
Llao Llao Resort & Spa: this historic, full-service hotel, designed by famed architect Alejandro Bustillo, has a variety of lodging options with mesmerizing views of lakes, forests and mountains.
Villa Beluno: tucked away in the peninsula, this luxurious, lakefront boutique villa blends impeccable Italian design with the natural beauty of Nahuel Huapi Lake, allowing you to discover untouched wilderness, Andean forests and shimmering waters throughout your stay.
Spotlight: Southern Patagonia
Southern Patagonia, the Land of the Giants, is another outdoor oasis for adventure enthusiasts and nature lovers visiting Argentina on a private luxury tour. Its spellbinding landscapes are what set it apart from rivaling destinations, but Southern Patagonia also has wonderfully rich history and culture that dates back generations.
The Landscapes
As you travel into Southern Patagonia, notice the terrain shift into rougher landscapes. From age-old, azure glaciers and snow-capped mountain peaks, to vast steppe and emerald lakes, this enchanting region of Argentina is a diverse assortment of natural wonders that are ready to be explored.
One of the most iconic highlights of Southern Patagonia in Argentina is the Los Glaciares National Park, a UNESCO World Heritage site located in El Calafate. The park has an impressive 600,000 hectares, with glaciers making up around half of this space.
Here, you'll have the chance to get up close and personal with the famed Perito Moreno glacier. As well as being one of the most easily accessible glaciers in the region, Perito Moreno is known for its phenomenon of forward and backward movement which causes spectacular ice falls from its front walls.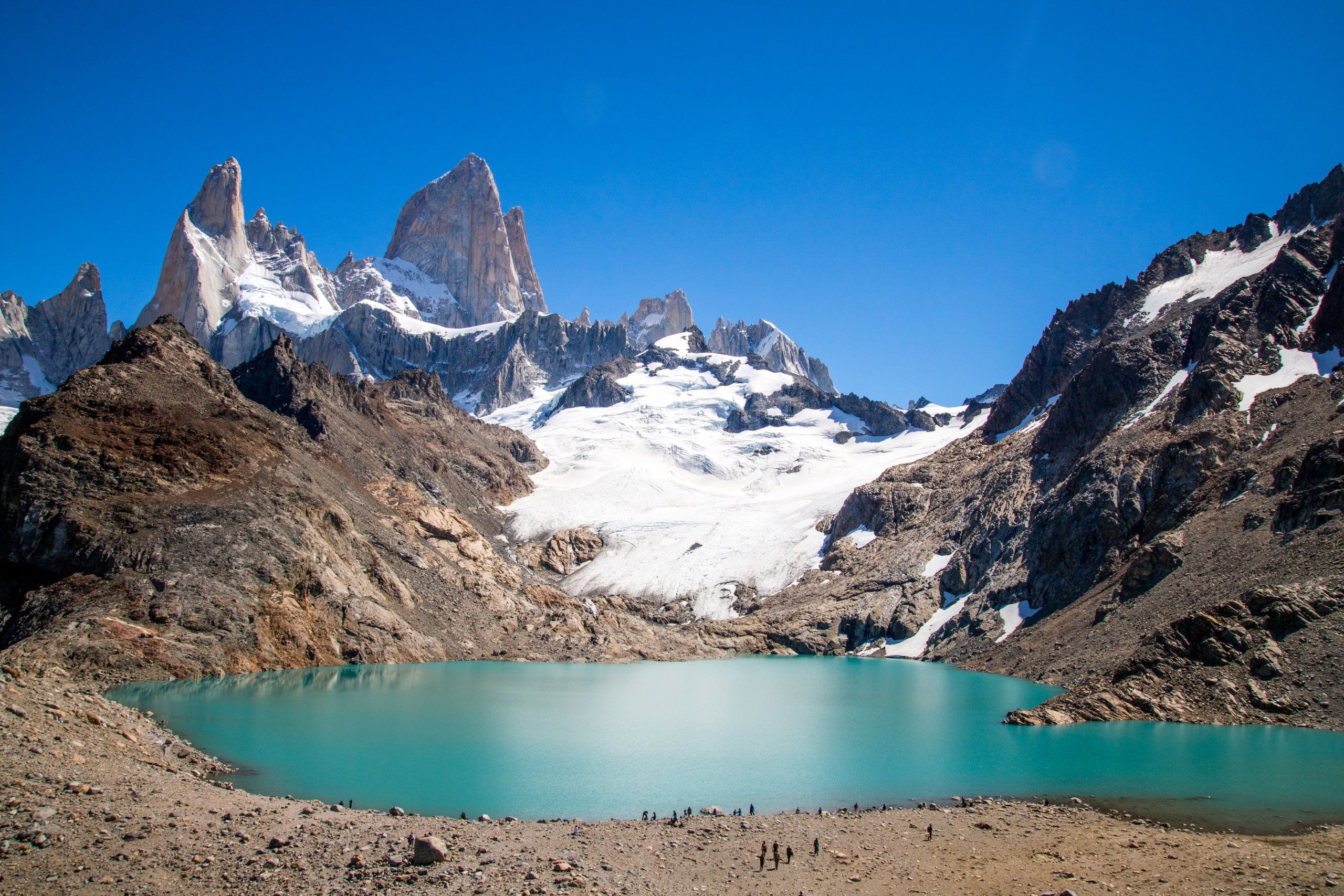 Journey to El Chaltén for more mountainous landscapes, such as the impressive Mount Fitz Roy which rises high above the town. As well as providing a different view of the incredible glaciers in this region, you'll get to take in the towering Cerro Torre and turquoise waters of Lago de los Tres which is nestled away at the base of Mount Fitz Roy, while also admiring the local wildlife of which there is plenty.
Perched on a steep hill at the southernmost city in the world, you'll find charming Ushuaia. Surrounded by the Martial Mountains, the Beagle Channel and the stunning archipelago of Tierra del Fuego, Ushuaia has plenty of hidden treasures that can be visited with the help of a local, private guide.
The Culture
Different indigenous people with rich cultural traditions lived in this area, but they gradually disappeared in the 19th century due to the impact of Western civilization.
Nestled between the archipelagos and waterways, small groups of hunter-gatherers traveled searching for food like birds, fish and shellfish. The plains of Tierra del Fuego were inhabited by the Selk'nam, who are renowned for their rituals and cultural richness.
The area was "discovered" by Ferdinand Magellan, a Portuguese explorer, and has some evident European influence today.
The Food
Similar to Northern Patagonia, gastronomy is an essential part of this region's culture. The tradition of using lamb in most dishes originated from southern Argentina and spread into the customs of the north and Chile. This is because the area's climate and geographical conditions produce high-quality lamb which is both tender and delicious.
As the indigenous people also used to consume a lot of fish from their hunter-gathering, you will also find incredible, traditional fish dishes across Southern Patagonia. Ushuaia is a port city with high-end restaurants with some of the best and freshest seafood, among other local specialties.
A popular Patagonian dish is chupe de centolla, a king crab pie made up of a seafood stew that is cooked into a thick, creamy dish similar to a chowder.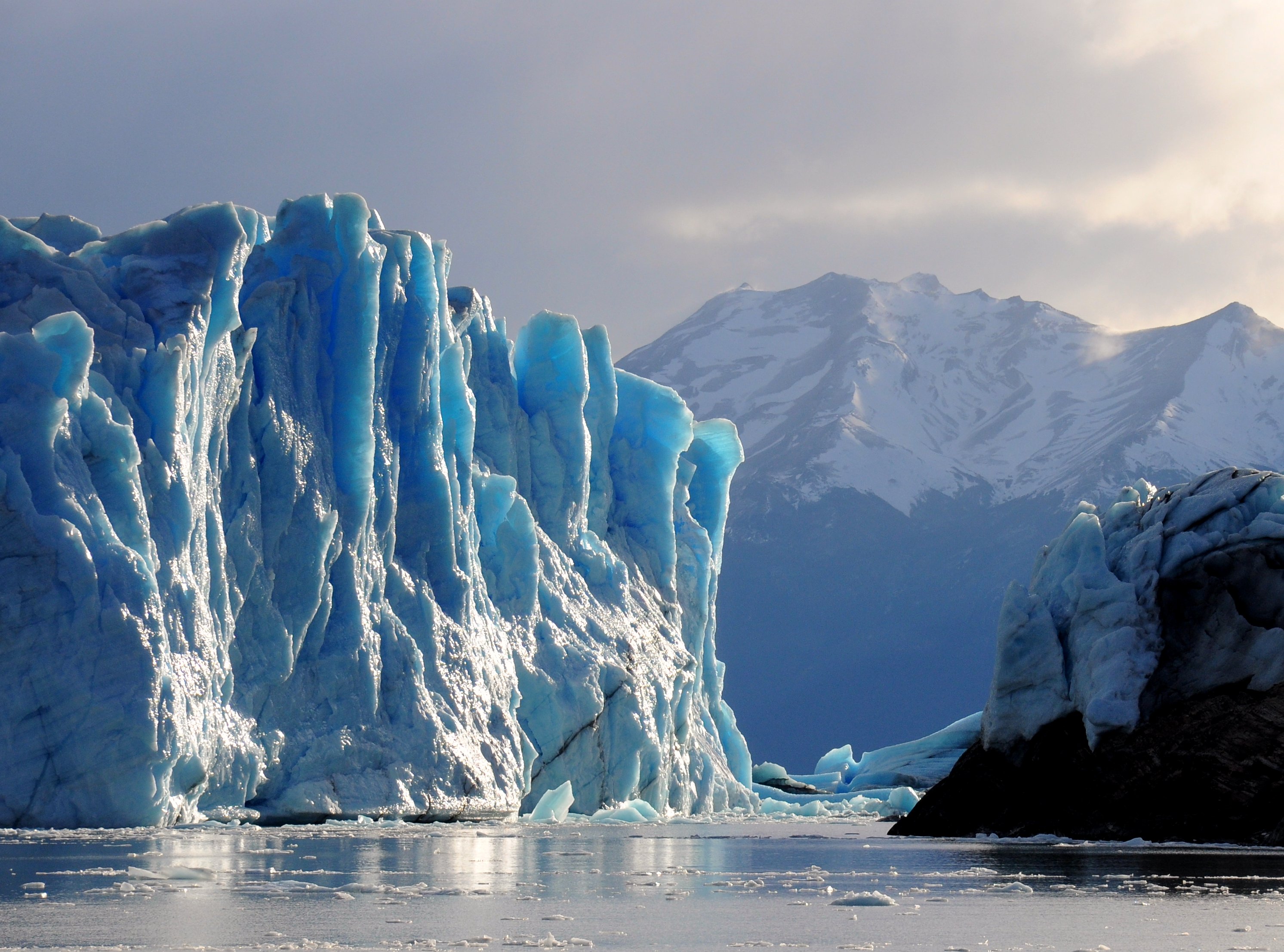 The Activities
A trip to Southern Patagonia wouldn't be complete without visiting the famous Perito Moreno glacier within the Glaciers National Park. Whether you want to walk the catwalks, trek the glacier itself, or take a private boating excursion, there are plenty of exciting activities that will get you up close and personal with this grand, natural phenomenon. We recommend taking a tour over the glacier with a private guide.
This is a stunning spot for a short break while admiring the huge craveasses, turquoise creeks and icy lagoons that engorge the glacier.
If you're looking for an adrenaline-fueled adventure, take a 4×4 through the forest to the Upsala Glacier lookout point and enjoy a unique view of the incredible surrounding landscapes.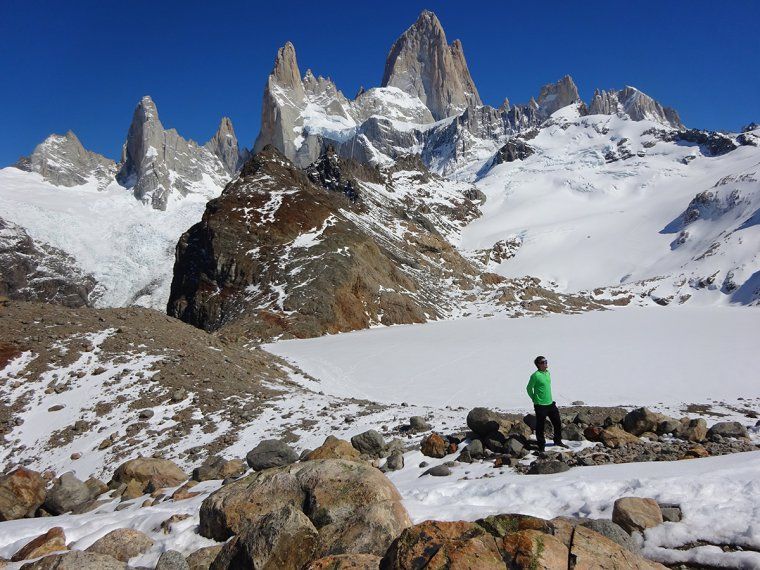 Visit Reserva Laguna Nimez, a lesser-known park in El Calafate that homes many indigenous bird species, such as flamingos and swans. This is a tranquil and beautiful area for some bird watching.
Outside of the park, we recommend visiting Anita Valley. This charming area of El Calafate is engorged by snow-capped mountains that is home to a variety of interesting wildlife. Here, you can trek, mountain bike or horseback riding through unique trails that allow you to immerse yourself in nature and discover hidden gems nestled around each corner.
Tierra del Fuego National Park, in the Tierra del Fuego Archipelago within Ushuaia, is also home to incredible activities. Journey through this green oasis, with low-lying peaks and idyllic lakes, learning about the native flora and fauna with a local expert. Here you can take gentle strolls with views of the mountains and enjoy an outdoor picnic within the natural beauty.
Luxury Travel In Southern Patagonia

Immerse yourself in spellbinding landscapes, rich history and fascinating culture in Southern Patagonia.
As you navigate on the Beagle channel – a straight in the Tierra del Fuego Archipelago – you will start to see an impressive variety of rich sub-aquatic life and of course, penguins. We recommend a zodiac ride to the penguin rockery at Martillo Island or hiking around Gable Island to spot petrels, skuas, cormorants, seagulls and albatross.
Another must-see UNESCO World Heritage site in Southern Patagonia is Peninsula Valdés which extends into the Atlantic from the northeast Chubut province. Here you'll find a large, dry grassy plain combined with a vibrant coastline and conservation of marine mammals. Take any adventure outdoors and discover ​​sea lions, penguins, elephant seals and different species of whales.
Take a private walk to a nearby beach to visit the Magellan penguin colony or enjoy a walking excursion through one of the area's many scenic trails and enjoy panoramic views as you take in the natural flora and fauna.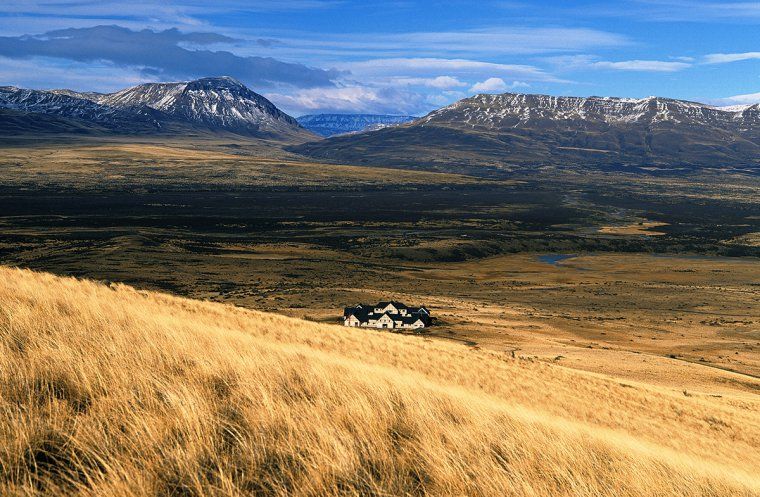 The Accommodation
Our portfolio of luxury accommodations in Southern Patagonia includes:
Eolo, El Calafate: this 10,000 acre property is a paradise for outdoor adventures looking for chic accommodation. Step outside the comfort of your luxury suite and embark on an adventure of horseback riding, mountain biking, trekking, bird watching and more.
Explora El Chalten, Los Cauquenes: discover lagoons, mountains and glaciers from the comfort of this luxury lodge. Set right within the breathtaking landscapes of Southern Patagonia, Explora El Chalten is the perfect base for unique outdoor adventures and provides a luxury spa for when you want to take a step back and relax.
Arakur, Ushuaia: immerse yourself in all of Southern Patagonia's magic from within the Natural Reserve Cerro Alarken. Just a stone's throw away from endless outdoor activities, like trails through the nature reserve, wildlife watching and waterfall adventures, you can adventure outside of your luxury suite to explore Argentina's breathtaking landscapes.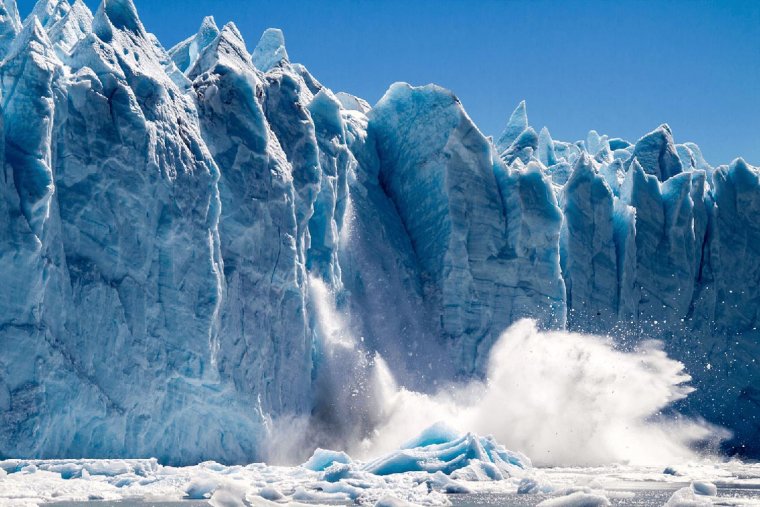 Discover Argentina
Argentina is a gateway to breathtaking natural landscapes, rich history, fascinating culture and endless outdoor adventures. Discover this outstanding country on a bespoke luxury tour designed for you.
For help booking your insider Argentina tour or for more information, contact one of our Travel Experts today.