January 10, 2023 — By

Alexis Prego
ARGENTINA FOR THE LUXURY TRAVELER: THE INSIDER GUIDE TO ARGENTINA'S FAMOUS REGIONS (part 1)
Argentina has had a turbulent history, rising from a poor country to one of the wealthiest nations in the world in just a century and then falling again due to the aftermath of the war on the world economy.
"Modern Argentina is 100 years old, a century that has been equally divided into the history of its growth and that of its decline. In 1880 few could have guessed that half a century later, that uninhabited, remote and poor country would… rank among the top five nations in the world by per capita income." – Translated from 'La Cuestion Argentina' by Raul Alfonsin
It is this storied history that helps give Argentina its charm…
Although the country was originally settled by many different tribes of indigenous people, in 1516 the Spanish started to arrive and colonize the country. Today, this blend of indigenous and European influences is still evident across the various regions in the culture, the food and the people. As you travel across Argentina and take in the different landscapes and unique cultures, you may feel as though you have traveled to several different countries. 
Considered one of the most culturally diverse countries in the world, there's a reason many of our Travel Experts and other team members decided to make Argentina their home. In fact, Blue Parallel's founder lived here while establishing the company and Argentina was one of the first destinations in Blue Parallel's portfolio of private, luxury tours.
The silver jewel of South America, Argentina is a country with endless attractions, a fascinating, convoluted history, and a vibrant cultural landscape – not to mention its vibrant and beautiful natural landscapes. This bustling corner of the world has a lot to offer and has left its mark on a global scale in many ways. 
We're going to take a closer look at each region in a three-part blog series, discussing what you can expect from a luxury tour to each area. In part one, we look at the Northwest and the Northeast…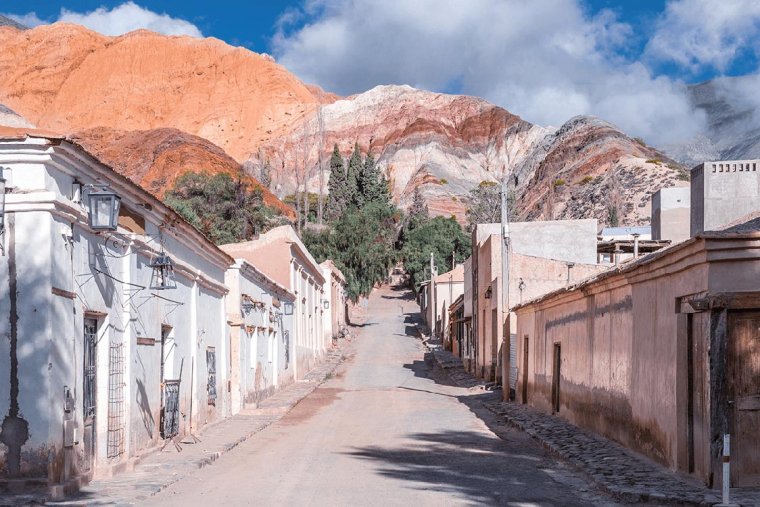 Spotlight: The Northwest
A captivating collision of colonial and indigenous cultures can be seen across the Northwest of Argentina, one of the country's most traditional regions. Here, you can journey through the birthplace of Argentina, taking in its rich history and fascinating culture while enjoying spectacular natural landscapes.
The Landscapes
One of the most endearing aspects of Argentina's Northwest region is its breathtaking landscapes. Embark on an adventurous drive and witness a variety of natural wonders, from rugged mountains, deep canyons and wide valleys, to large salt flats and dense vineyards… 
We recommend taking a private tour to the Salinas Grandes, a large salt flat spanning both Salta and Jujuy. The third largest in the world, these breathtaking salt flats deliver unforgettables views, with one direction showing a stunning, snow-like ground melting into bright blue skies and the other, displaying the red Mars-like mountains of the Andes.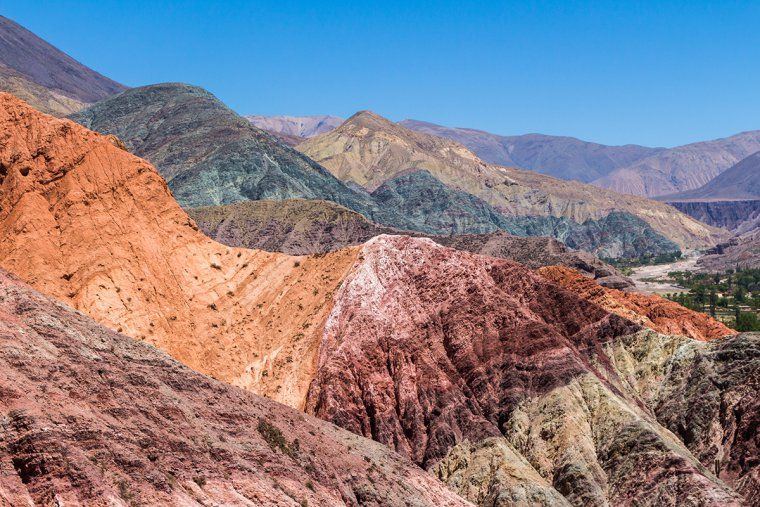 The iconic Hill of the Seven Colors, or Cerro de los Siete Colores, is also located in the Northwest. This unusual phenomenon was formed underwater, with each layer formed from different minerals and sediments, and is a must-see for travelers visiting Jujuy. 
A visit to Argentina's Northwest region would not be complete without taking a private tour of Cafayate in the Calchaquí Valleys. Known for its native Torrontés grape, Cafayate is home to a number of excellent wineries, some of the world's highest vineyards and Argentina's oldest recorded living vineyard which was planted in 1862.  
As well as being a perfect destination for wine-enthusiasts, Cafayate's spectacular natural landscapes of colorful mountains and unusual rock formations are an attraction in their own right. Spend some time exploring the Calchaquí Valley and discover tropical woods, mountains and more.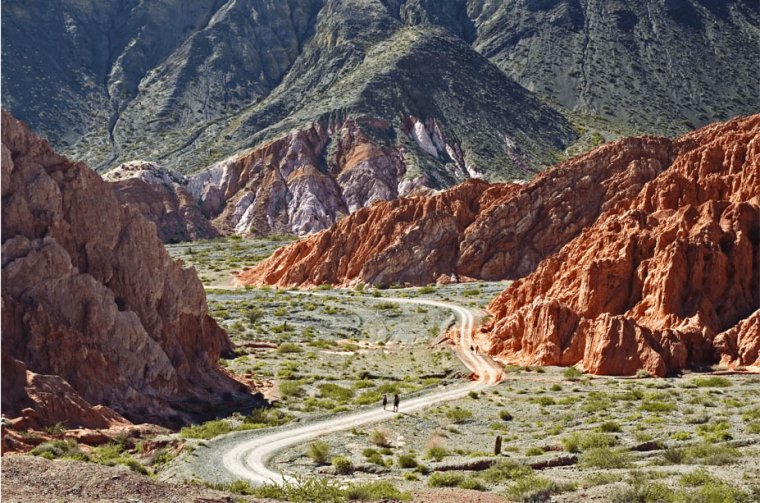 The Culture
The Northwest is home to a significant indigenous population which maintains a notable sway over the region. Vibrant village markets, thousand-year-old fortresses and traditional crops of quinoa, corn and potatoes are just a few of the indigenous qualities that remain present.
A strong European influence from the rich colonial heritage can also be recognized, as well as some cultural impact from the more recent immigration of people from neighboring Latin countries like Bolivia.
Spain's colonial legacy is evident in the region's stunning architecture. The style can be characterized by sculptural, arabesque décor combined with heavily ornamented architectural elements, such as Salta's iconic San Francisco Convent which boasts bright walls, red and gold paintwork, detailed sculptures and intricate tapestry.
The Food
The food in the Northwest of Argentina is typical of its Andean heritage, with stews, empanadas, and humita – a pre-Hispanic dish consisting of fresh corn wrapped in corn husk and steamed –  all proving extremely popular with locals.
Due to its agro-ecological diversity which sees different climates, altitudes and soils across the region, the Northwest boasts a vast range of incredible, fresh ingredients, such as olives, grapes and citrus fruits. 
The Activities
The Northwest is not short of unique activities and luxury travel experiences…  
Discover the Andes with a private hiking tour from Jujuy. Follow hiking trails through the narrow mountain valley of Quebrada de Humahuaca, a UNESCO World Heritage Site, to the fascinating town of Tilcara, including the pre-Inca fortification of Pucará.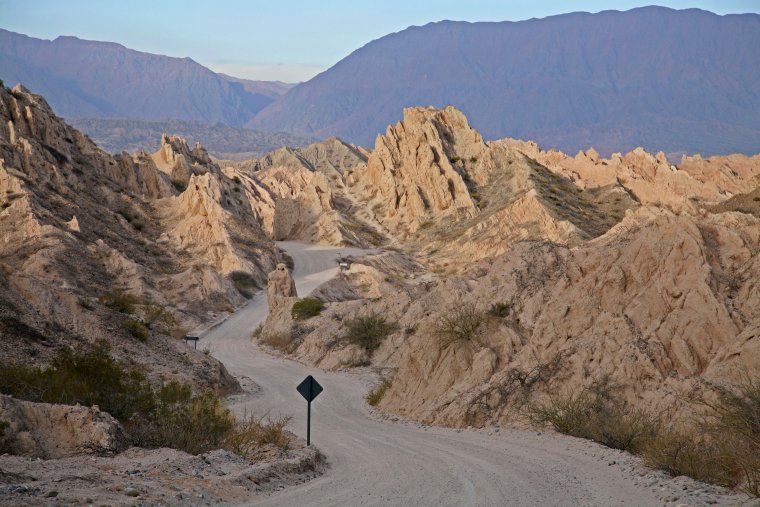 Jujuy is also home to the incredible Salinas Grandes salt flats and the majestic Hill of the Seven Colors, both of which can be explored during private, bespoke tours. 
In Cafayate, we can arrange exclusive vineyard tours and private wine tastings with expert sommeliers at some of the area's best wineries, including El Esteco, Bodega Piatelli, and San Pedro de Yacochuya.
Outdoor adventurers and nature enthusiasts will also enjoy a hike through the extraordinary landscapes of the Quebrada de las Conchas to admire the unusual rock formations that weave between the cities of Salta and Cafayate. 
LUXURY TRAVEL IN NORTHWEST ARGENTINA

Discover epic outdoor activities, fascinating wildlife adventures, endless cultural wonders and more in Northwest Argentina.
The Accommodation
Luxury accommodation in the Northwest of Argentina makes the most of the region's unparalleled natural beauty, offering incredible views and facilities. 
We have an extensive portfolio of luxury hotels in this area, including:
Manantial del Silencio, Jujuy:

located next to the Quebrada de Purmamarca River and the Hill of Seven Colors, this neocolonial-style hotel delivers when it comes to views. It also benefits from a large garden with a swimming pool, as well as a delightful spa offering luxury treatments after a long day exploring the local area.

House of Jasmines, Salta:

this expansive estancia, which was originally owned by actor Robert Duvall and his Argentine wife, captures the warmth of the Argentinean Northwest beautifully. The estancia has been designed with optimum comfort in mind, offering luxurious rooms, a 100-hectare park and a wellness center with spa and outdoor swimming pool – all just a stone's throw away from the Andes.

Patios de Cafayate Hotel, Cafayate:

nestled in the stunning valleys, this elegant hotel boasts its own vineyards, a swimming pool and luxury spa which can all be explored at leisure.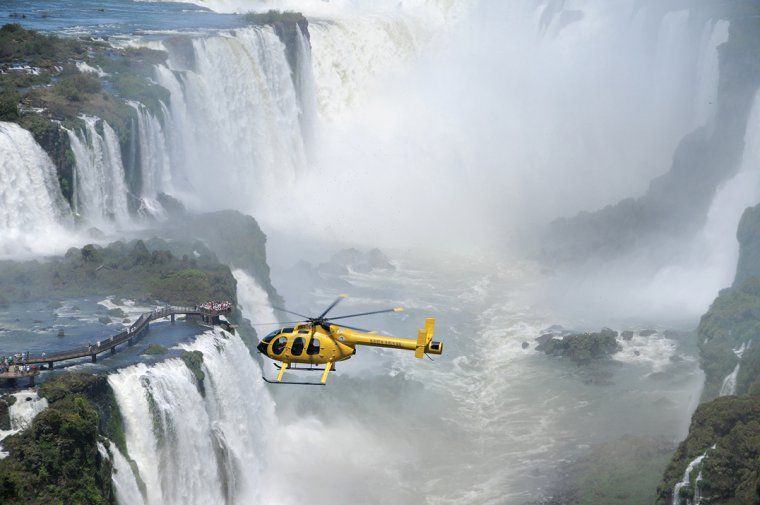 Spotlight: The Northeast
The Northeast region of Argentina has a somewhat subtropical climate, boasting endless greenery, vegetation and wildlife. From still, mysterious wetlands and striking red soil, to the most powerful waterfall system on earth, its staggering landscapes make it a fantastic destination for nature enthusiasts, wildlife lovers and outdoor adventurers.
The Landscapes
Due to its hot climate, Argentina's Northeast region is made up of mostly rainforests, jungles and water. Most notably, the impressive Iguazu Falls.
One of Argentina's most iconic natural wonders and considered a must-see for travelers, the Iguazu Falls is a collection of 275 impressive cascades that come together to create one of nature's most powerful phenomena. Located within a National Park on the borders of Brazil and Argentina, the site was declared a UNESCO World Heritage Site in 1984 and attracts discerning travelers from across the world.
Besides the entrancing waterfalls, the lush forest surrounding this natural wonder is teeming with diverse wildlife, such as monkeys, birds, insects, coatis and even jaguars.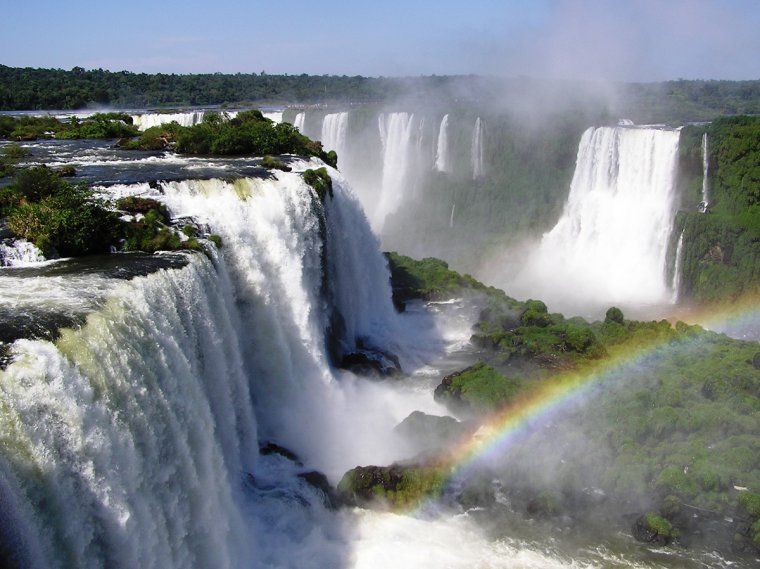 Move further inland and you will find the grand Ibera Wetlands, the second largest marshlands in the world. Home to fascinating fauna, this off-the-beaten-path destination is ideal for travelers who want to discover unique wildlife on a bespoke, private tour. 
Another iconic visual from Argentina's Northeast is the distinct red soil that provides a dramatic border to the vast grassland. 
The Culture
The Guaraní indigenous heritage remains a significant part of the modern day picture in the Northeast. Listen carefully and you'll notice some Guaraní words within the Spanish language, including the name of the famed Iguazu Falls which derives from the indigenous word for big water.
Many locals from the area have indigenous heritage and there are some remote, traditional villages that remain in existence. 
The region is also home to immigrants from its neighboring countries, Paraguay and Brazil, and Eastern Europeans.
The Food
The Northeast's gastronomy takes influence from the Guaranì tradition, water-heavy landscapes and tropical climates. Many of the local dishes contain river fish which can be easily sourced from local waters, as well as mandioca and corn from nearby farms which thrive in the hot temperatures.
Popular local dishes visitors should seek to try include mbejú, a cassava starch cake also popular in nearby Paraguay, and chupín, a fragrant fish stew.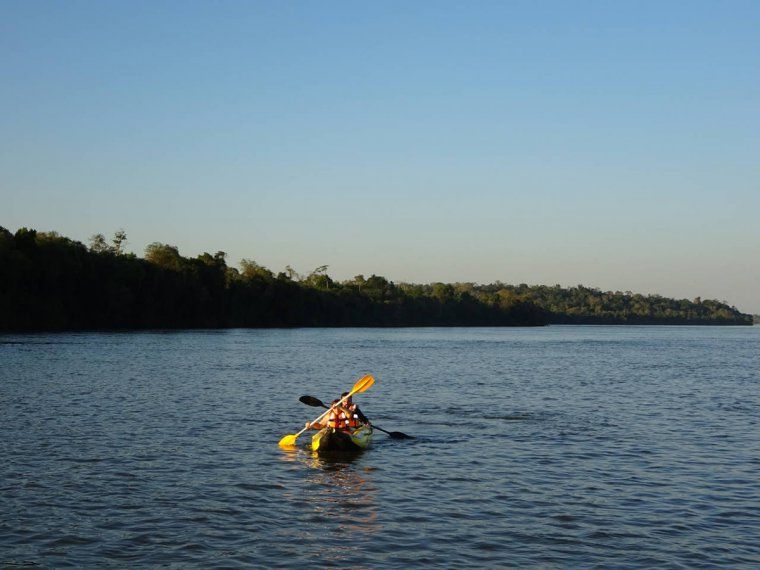 The Activities
The beautiful natural landscapes lend the Northeast to incredible outdoor activities. 
Some of the most popular excursions here take place at the Iguazu Falls, with the Argentinian side offering visitors the chance to get up close and personal with the roaring cascades via the two main walking trails. While the lower circuit offers intimate encounters that make you feel like you're inside the falls, the upper circuit delivers unbeatable panoramic views.
We recommend taking the train to the unmissable Devil's Throat, the tallest waterfall in the circuit that plunges over 80m high, before embarking on a short walk to position yourself even closer to the bellowing waterfall. This can be taken with other visitors or in private. 
Take your bespoke tour of Iguazu Falls to the skies with a private helicopter tour over the falls and enjoy breathtaking aerial views of the phenomen. 
Although typically completed from the Brazilian side of Iguazu Falls, you can also enjoy the exhilarating, high-speed zodiac ride from Argentina. Edge closer and closer to the falls, along the roaring rapids as you make your way upstream the Iguazu River.
Expand your wildlife adventure into the Ibera Wetlands and explore the mix of swamps, bogs, plantations and fields in a 4×4 vehicle before taking a private boat along Laguna Valle. This journey will likely bring you close to caimans, capybaras, pampa deer, marshland deer, neotropical otters and different species of birds.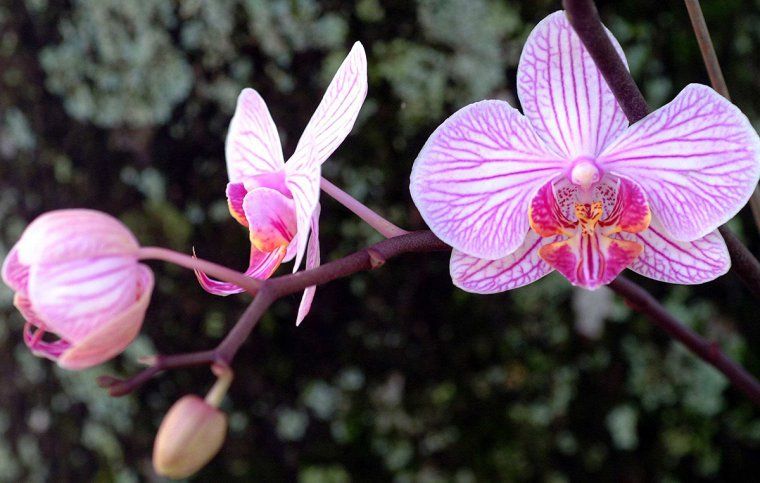 In the Cambyreta region, we can arrange for unique wildlife photo safaris that can be enjoyed by both 4×4 and on foot. Immerse yourself in 55,000 acres of protected land and seek out marsh deer, foxes, capybaras, yacare caiman, and other wetland fauna, as well as a host of local aviary species.
The Accommodation
We host our travelers at the most luxurious accommodations in the Northeast of Argentina. Our portfolio includes:
Gran Melia Iguazu Hotel, Iguazú National Park:

boasting privileged views of the impressive falls, this grand hotel is

an oasis of comfort in the Paranaense jungle. When you're not visiting the falls, relax in the hotel's infinity pool or dine at one of their excellent restaurants.

Awasi Iguazu, Puerto Iguazú:

surrounded by rainforest and set on stilts on the banks of the Iguazu River, this rustic-chic accommodation offers guests a tranquil, luxury experience surrounded by nature's magic.

Puerto Valle Hotel, Ibera Wetlands:

promising a complete connection with nature, this luxury hotel gives you easy access to one of the most important wetlands in the world. Enjoy the surrounding sounds of the diverse wildlife from the comfort of your sustainable, luxury lodge.  
LUXURY TRAVEL IN NORTHEAST ARGENTINA

Enjoy staggering landscapes and unbelievable natural wonders while embarking on exciting outdoor adventures in Northeast Argentina.
Discover Argentina
With so much variety across the different regions of Argentina, there really is something for everyone to enjoy. 
Whether you want to immerse yourself in nature, enjoy endless outdoor adventures or discover the rich history of the country, we can create a bespoke luxury tour designed for you and your travel interests.
For help booking your insider Argentina tour or for more information on any of these fascinating regions, contact one of our Travel Experts today.
In part two, we take a closer look at Buenos Aires and Mendoza.
Tailor-Made Itineraries to Argentina

Contact us to start planning your next once-in-a-lifetime journey