Patagonia Luxury Tours, Argentina & Chile
The Land of the Giants - from the Perito Moreno Glacier to Torres del Paine
LUXURY TRAVEL PATAGONIA
Your luxury tour of Patagonia in Argentina and Chile will introduce you to one of the most awe-inspiring and remote regions of the world. Begin your private tour in Buenos Aires, Argentina's modern capital. Explore the highlights of this cosmopolitan city, from the sophisticated Recoleta neighborhood to charming San Telmo and trendy Palermo. From there, your private tour continues in the town of El Calafate, deep in the Patagonian Steppe. This is the perfect base to explore the famous Perito Moreno glacier, located within Glaciers National Park. There, walk the catwalks, enjoy a boating excursion to witness the glacier up close, or even trek on the glacier itself. Your luxury tour of Patagonia continues as you are transferred in private across the border, to your lodge in Chilean Patagonia with a privileged location near Torres del Paine National Park. Spend the following days exploring the best trails of the region, such as the less crowded hike to Paso D´Agostini or a gentle hike to the Horns Lookout Point, passing by scenic waterfalls on the way. The highlight for active travelers will be the strenuous-yet-rewarding hike to the Base of the Towers for impressive, up-close views of the Paine Massif. Depending on your preferences, it is also possible to organize biking, horseback riding, or boating excursions. In the afternoons and evenings, make the most of your luxury travel experience in Patagonia by relaxing at your luxury lodge and enjoying the property's amenities and luxurious spa area.
A Taste of Blue Parallel's Insider Access
Gourmet picnic following ice-trekking excursions on the Perito Moreno Glacier
Private, custom-made explorations of Torres del Paine

Private tour of Buenos Aires' acclaimed opera house, Teatro Colón
The Discovery
Buenos Aires
Perito Moreno Glacier
Torres del Paine National Park
The Adventure
Hiking
Ice-trekking
Horseback riding
Mountain biking
PRIVATE TOUR PATAGONIA
Note: This private Patagonia tour is an example, as all of our luxury journeys are custom-made.
Note: This private Patagonia tour is an example, as all of our luxury journeys are custom-made.
Buenos Aires (2 nights)
Upon arrival in the cosmopolitan city of Buenos Aires, your personal host will take you by private transfer to your 5-star hotel of choice. On the first day of your luxury Argentina tour, with your expert guide, you will discover the chic neighborhood of Recoleta home to the world-renowned Recoleta cemetery. In the evening, dine at an authentic "parrilla" to savor some of the world's best steak and malbec wine.
Begin the following day with a private tour of the magnificent Teatro Colón. Visit the Plaza de Mayo with your private guide before continuing to the cobblestone streets of San Telmo with its artisans and antique shops. Alternatively, we can also organize a private biking tour through the gorgeous parks of the Palermo neighborhood, a personal shopper for insider access to the high-end Argentine shopping scene, or even a private tango lesson with a professional dancer. Following dinner, we will take you to the best tango show in town to watch this iconic dance firsthand.
Read less
Read more
El Calafate, Los Glaciares National Park (3 nights)
Fly into El Calafate to begin your luxury Patagonia tour. Your host will escort you by private transfer across the Patagonian steppe to the luxurious Eolo Lodge. This smartly designed property is located in the heart of the Anita Valley, surrounded by snow-capped mountains where you will spot wildlife species in their natural habitat. On your first afternoon, explore this beautiful valley by trekking, mountain biking or horseback riding through its unique trails.
The following day, take a private transfer to the Glaciers National Park, a UNESCO World Heritage Site in Patagonia. This frozen wonderland of startlingly white and piercing blue ice is surrounded by snow-capped mountains. After a short boat ride across the bay, experience an ice-trekking excursion on the majestic Perito Moreno glacier crossing towering ice peaks, huge crevasses, turquoise creeks and icy lagoons with a specialized guide. Later, after a picnic lunch facing the glacier, visit the spectacular catwalks and balconies which offer breathtaking views of the Perito Moreno Glacier.
The next day, enjoy an exciting boating excursion through icebergs and turquoise water to witness the majestic Upsala Glacier and explore an authentic, century-old Patagonian estate, Estancia Cristina, tucked away in Patagonia's remote wilderness. In the evenings, enjoy gourmet dinners at Eolo Lodge, with spectacular views of the valley.
Read less
Read more
Torres del Paine (3 nights)
Continue your luxury tour of Patagonia as you cross the border into Chile. Depart El Calafate for a private 5-hour drive to Torres del Paine National Park across the immense Patagonian steppe. For the best luxury travel experience in Patagonia, we recommend staying at Tierra Patagonia, Awasi Patagonia or Explora Patagonia. We will be happy to select one of these luxury lodges for you based on your personal preferences.
During your stay, choose from a variety of outdoor adventures to be enjoyed in private or in a small group. You will have the opportunity to enjoy the incredible natural beauty of the park as well as its wildlife, which includes condors and guanacos. As experts in the region, we will provide you with exciting excursion recommendations based on your interests and fitness level, such as the hike to the base of the Towers or a day in the French Valley of the National Park.
After a long day of discovery and exploration in the wilderness, unwind with a relaxing massage and enjoy an outdoor jacuzzi with expansive views of the Torres del Paine mountain range and the valley with animals grazing nearby. Spend the last evening of your private Patagonia tour indulging in a gourmet meal accompanied by vintage Chilean wines.
On your final morning, take a private transfer to Puerto Natales or Punta Arenas, where you will be assisted with boarding your flight to Santiago de Chile to catch your international flight home.
Read less
Read more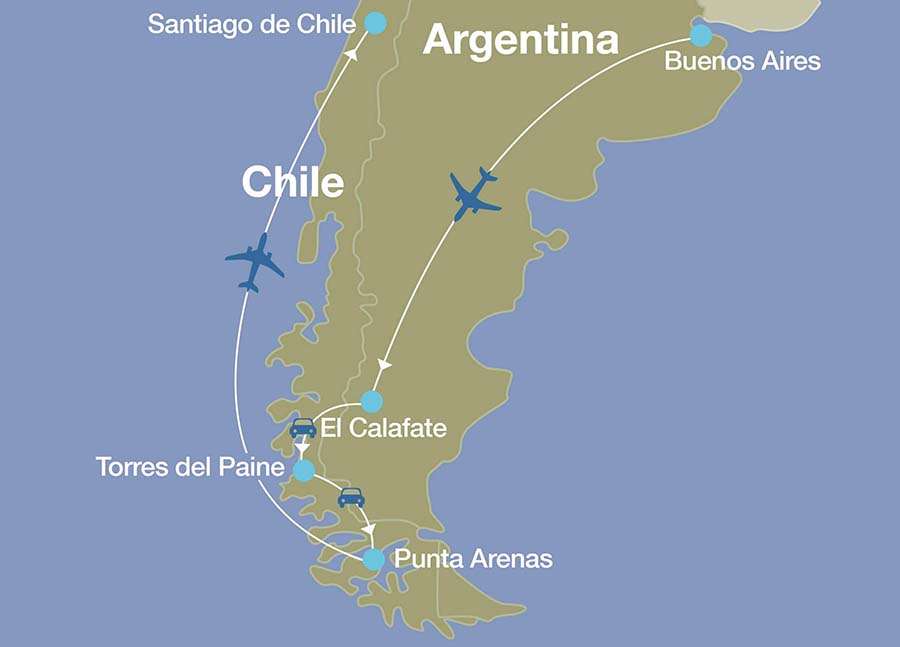 DESTINATIONS
TRAVEL TIME
BUENOS AIRES
EL CALAFATE
3 hrs
EL CALAFATE
Torres del Paine
5 hrs
Torres del Paine
Punta Arenas
4 hrs
Punta Arenas
SANTIAGO
3 hrs 15 min
MAKE THIS ITINERARY YOURS
Contact us to tell us more about your preferences and your ideal trip to Patagonia.
We will create a tailor-made itinerary for your review.
START PLANNING
PRICE REFERENCE
Recommended stay
7-12 days
Price reference


(9 days, private party of 2)

Starting at $18,500 per passenger
Price reference


(9 days, private party of 4)

Starting at $16,500 per passenger
Price reference


(9 days, private party of 6)

Starting at $15,500 per passenger
Note: Prices will vary based on the specifics of your itinerary and the number of passengers in your party.
What is included in your private Patagonia tour:
Luxury accommodations at

5-star hotel of your choice in Buenos Aires
Eolo (El Calafate)
Tierra Patagonia, Awasi Patagonia or Explora Patagonia (Torres del Paine)

Internal flights
Services of Blue Parallel hosts and expert guides throughout the journey
All special events, guided tours, excursions, outdoor activities, entrance fees
A Blue Parallel team composed of a personal travel expert, private hosts in each destination, and a "behind the scenes" logistical expert who monitors every step of your luxury Patagonia tour. The team is on call 24-hours a day during a trip
All internal transportation
Some meals
A Blue Parallel customized travel kit that you will receive prior to departure
RECOMMENDED EXTENSIONS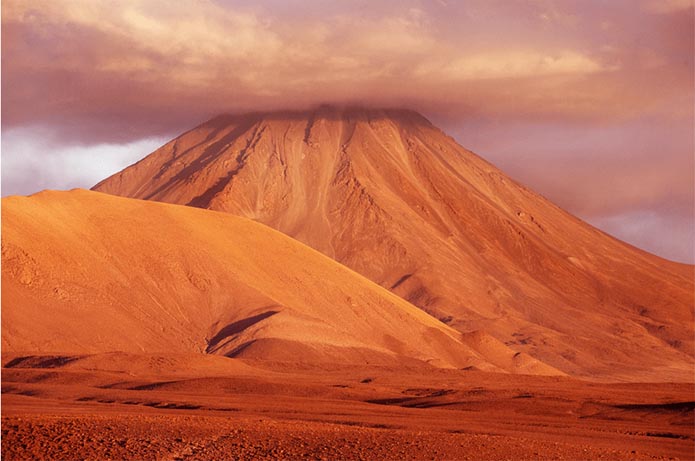 Chile Luxury Travel
Enjoy a selection of outdoor adventures in the majestic Atacama Desert.
Explore the Chilean Lake District's beautiful Pacific coastline, numerous volcanoes and lush green forests.
Discover the cosmopolitan city of Santiago.
Taste the famed wines of Chile and immerse yourself in the natural beauty of Chilean Wine Country on a variety of outdoor adventures.
Adventure among Moai in the most remote inhabited island in the world, Easter Island.
Read less
Read more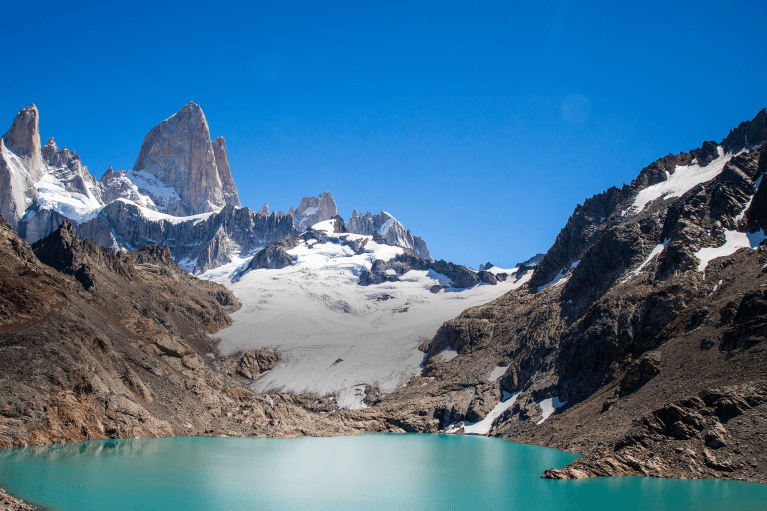 Argentina Luxury Tours
Visit Mendoza, the heart of the Argentine wine country.
Explore Tierra del Fuego, the southernmost tip of the Americas.
Enjoy sensational hiking on Mount Fitz Roy and the surroundings of El Chaltėn.
Discover the rich marine life of Peninsula Valdés, home to whales and sea elephants.
Visit the impressive Iguazu Falls, declared one of the 7 natural wonders of the world.
Explore the Northwest provinces of Jujuy & Salta in our Northern Chile & Argentina journey.
Marvel at the breathtaking natural beauty of the lakes and snow-capped mountains near Bariloche in the Argentine Lake District.
Visit the Esteros del Ibera, one of the largest wetlands in the world.
Spend time at a traditional countryside estate in Córdoba.
Read less
Read more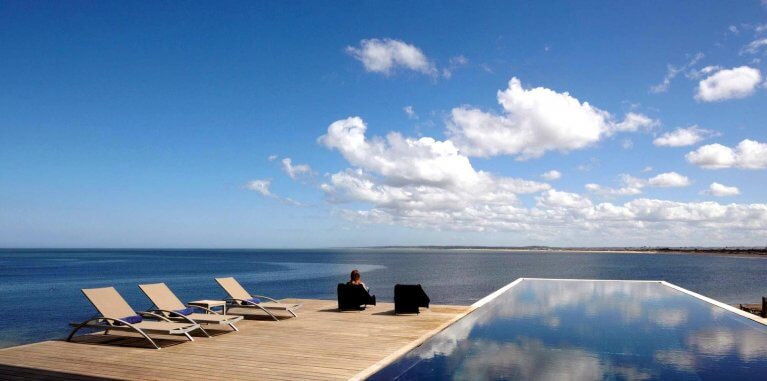 Uruguay Luxury Travel
Stay at an elegant resort or private villa in the tranquil seaside town of José Ignacio, where you can horseback ride through sand dunes or go kayaking.