Greece Private Yacht
Discover the Greek Islands from your own luxury private yacht
LUXURY YACHT GREECE
Charter a private yacht in Greece and enjoy a luxurious island hopping adventure in the Cyclades Islands. Begin your luxury tour of Greece in Athens, the birthplace of Western civilization where you will visit ancient highlights such as the Acropolis, the Museum of the Acropolis, and the ancient Agora. Then, board your luxury yacht in Athens' port and cruise towards the Cyclades Islands. Spend the following days hopping from island to island where our expert team members will be awaiting you, disembarking for a variety of active adventures, sightseeing, and immersive experiences. While on your Greece private yacht adventure, visit popular islands such as Mykonos, known for its lively beaches and active nightlife, and Santorini, for a magnificent sunset hike around the caldera. You will also have the chance to explore islands that are less frequently visited. Stop at Polyaigos Island to swim at deserted beaches, enjoy a delicious dinner at a local tavern in Sifnos, and wander through the most charming white streets of Paros. Along the way, there will be plenty of opportunities for swimming, snorkeling, and relaxing aboard your luxurious yacht. Blue Parallel will handpick the vessel for your private yacht charter in Greece based on the needs of your group. All of the luxury yachts are fully staffed with an attentive captain and crew.
A Taste of Blue Parallel's Insider Access
VIP Airport services in Athens
Exclusive private opening of the Acropolis Museum
Private luxury motor yacht with expert crew in the

Cy

clades
Visit a local's home in Paros where you can learn about the ancient weaving techniques of the region
Traditional culinary experience in a private home with breathtaking views of Paros
A surprise musical performance in a spectacular natural setting in Santorini
Private volcanic wine tasting experience in Santorini
Private helicopter services
The Discovery
Athens
Sifnos
Polyaigos
Milos
Santorini
Antiparos
Paros
Mykonos
Delos
Kythnos
The Adventure
Hiking
Sailing
Yachting
Snorkeling
Swimming
PRIVATE YACHTING GREECE
Note: This private yacht tour in Greece is an example, as all of our luxury journeys are custom-made.
Note: This private yacht tour in Greece is an example, as all of our luxury journeys are custom-made.
Athens (2 Nights)
Your private tour of Greece begins in Athens, one of the world's oldest cities. You will be taken by private transfer to your hotel in downtown Athens with views of the Acropolis. Once a powerful city-state and a center for the arts, learning and philosophy, Athens was home to Plato's Academy and Aristotle's Lyceum, and is often referred to as the cradle of Western civilization and the birthplace of democracy. Its heritage of the classical era is still evident and represented by ancient monuments and works of art dotted throughout the city, the most famous being the Parthenon.
After you settle into your luxury hotel, visit the innovative Acropolis Museum with your expert guide. The museum's glass design is equal in size and shape to the Parthenon, and rotates the marble sculptures and findings exactly as they were placed at the Parthenon centuries ago. After your immersion into the rich history of the Acropolis, dine at a nearby restaurant with breathtaking views of the Acropolis.
The next day, visit the Acropolis itself, a UNESCO World Heritage Site and the most important ancient site in the Western world. Later, explore the Plaka neighborhood built on top of the residential areas of the ancient town of Athens and finish at the Ancient Agora and Roman Forums, all walking distance from your hotel. Enjoy lunch at a traditional tavern before heading back to your hotel to spend some time at leisure. Later in the evening, dine at a gourmet restaurant in town.
Read less
Read more
Yachting through the Cyclades Islands (7 Nights)
Your Greece private yacht charter begins at the port of Piraeus in Athens, where you will board your luxury motor yacht and embark on a 7 night private cruise through the Greek Isles. The yacht will be equipped with a dedicated crew giving you the flexibility to alter the itinerary when needed, according to weather or personal preferences. Please see below for a suggested Blue Parallel itinerary centered on privacy and beautiful, secluded locations. Services of personal hosts or guides will also be provided during land excursions when applicable.
Sifnos (1 Night)
On your first day, sail to Sifnos Island where you can take a scenic hike to Kastro, a picturesque, car-free village with over 3,000 years of history, for a walking tour through the ancient streets with your expert guide. Later, enjoy cocktails on the terrace of a local cafe, enjoying impressive views over the surrounding sea and mountains before continuing down to the bay where you can enjoy a unique dinner at Cantina, overlooking the water.
Milos (1 Night)
In the morning head to the uninhabited island of Polyaigos to swim in its crystal clear waters and enjoy its deserted beaches. You will make stops at different emerald bays that explode in blue color due to the underground white clay at the ocean bottom. In the afternoon, continue your Greece private charter with a visit to Milos Island, an idyllic place for those who want to experience Greece in all its beauty while skipping the crowds found on the more popular islands. On the way, stop at Sarakiniko beach located on the north shore of Milos island for an afternoon swim. Dock for the evening at the main port and enjoy dinner at a local taverna.
Santorini (1 night)
Continue your private yacht tour of Greece in Santorini, the largest island of a small circular archipelago in the southernmost point of the Cyclades Islands. Enjoy boating along the caldera with stops at the famous red and white beaches made of solidified lava for swimming and snorkeling. In the afternoon, take a private transfer to Imerovigli where you can start your hike to Skaros Rock and later continue along the caldera to Oia. This is an awe-inspiring 2.5 hour hike along the cliffs of the caldera, passing charming white churches and traditional cave houses with views of the Aegean Sea. End the hike at Oia in time to watch one of the world's best sunsets and enjoy a fresh seafood dinner right on the water at Ammoudi port.
Antiparos (1 Night)
The next morning, you will explore Akrotiri, a Minoan Bronze Age settlement that was destroyed in a volcanic eruption around 1,500 BC. Later, enjoy a private volcanic wine tasting at an exclusive vineyard near Akrotiri. Return to your yacht where you can enjoy lunch onboard and in the afternoon, sail to Antiparos where you can enjoy an incredible sunset at Captain Pipinos.
Paros (1 Night)
Your private Greece tour continues to Paros where you spend the morning exploring its northern beaches such as Santa Maria bay where you can snorkel or dive. After lunch onboard the yacht, continue to Parikia and Naoussa, both known for their traditional Cycladic architecture, shopping, and little cafes. Then, in the late afternoon, head to a private home where you can enjoy a traditional culinary experience and cooking lesson in a traditional farm house. Following the class, enjoy the fruits of your labor for dinner with an unforgettable view of Paros.
Mykonos (1 Night)
In the morning, depart for Mykonos Island. Before reaching the main island, enjoy a private archaeological tour of Delos Island, a UNESCO World Heritage Site and ancient administrative center. Continue on to the uninhabited island of Renia for swimming in remote coves. Enjoy fresh grilled fish for lunch, then disembark at Mykonos town – the famed cosmopolitan destination and nightlife hotspot – for some shopping and sightseeing. In the evening, enjoy a gourmet dinner at one of Mykonos' best restaurants.
Kythnos (1 Night)
Head west to end your private yacht charter in Greece in Kythnos. Kythnos Island is known for its traditional villages, beautiful beaches and rolling hills. On this agricultural island, life is simple and most of its beaches are unspoiled. Upon arrival, head to the stunning Kolona beach which connects the island of Agios Loukas with the rest of Kythnos and forms a golden stretch of sand with crystalline sapphire waters on both sides. Only reachable by boat (or on foot), this unique characteristic creates a romantic and tranquil atmosphere. End the day with a farewell BBQ on the beach, prepared exclusively for your party.
Disembarkation / International Departure
Your luxury Greece tour ends with an early morning departure for Athens port. Upon arrival, enjoy a private transfer to Athens international airport to catch your flight home.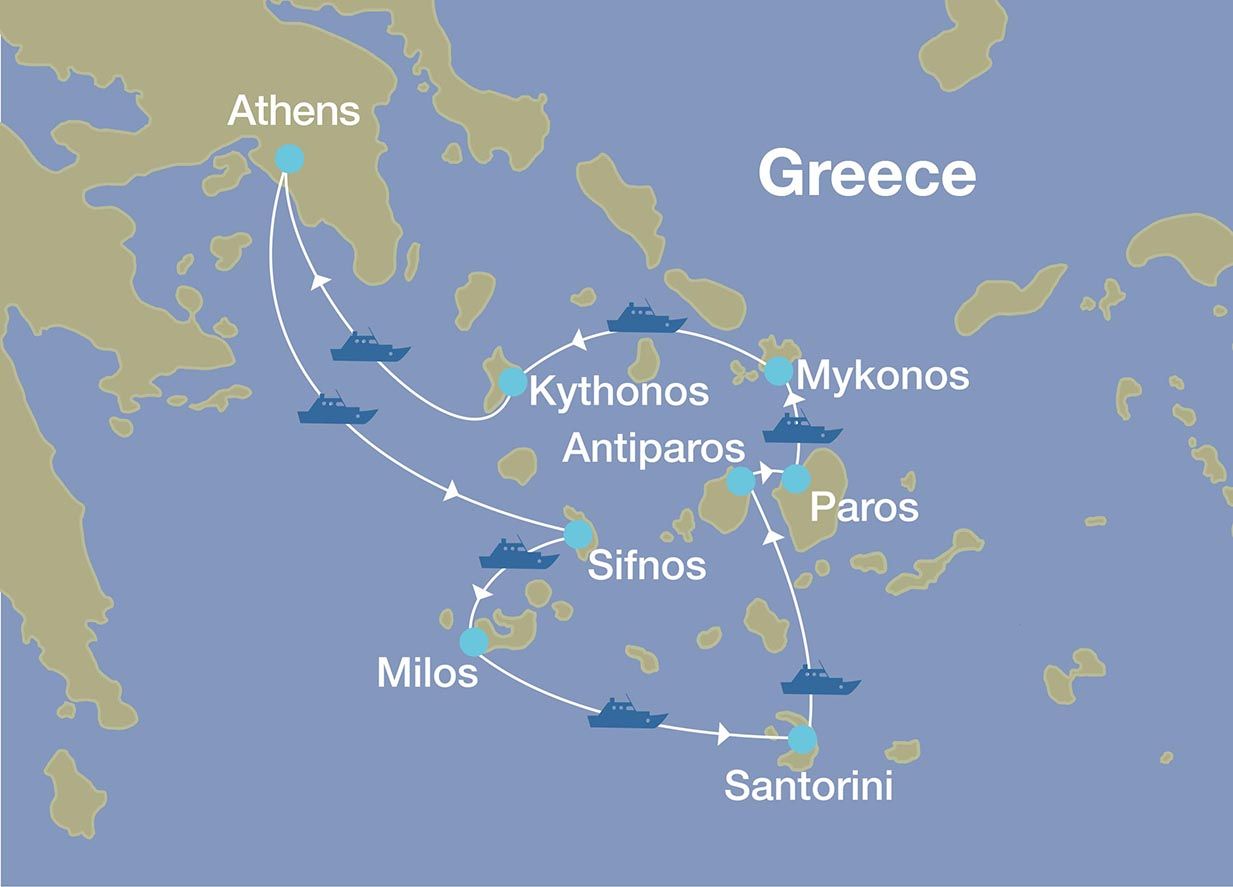 DESTINATIONS
TRAVEL TIME
ATHENS
SIFNOS
5 hrs 30 min
SIFNOS
MILOS
1 hr
MILOS
SANTORINI
4 hrs
SANTORINI
ANTIPAROS
4 hrs 30 min
ANTIPAROS
PAROS
15 min
PAROS
MYKONOS
2 hrs
MYKONOS
KYTHNOS
2 hrs
KYTHNOS
ATHENS
3 hrs 30 min
MAKE THIS ITINERARY YOURS
Contact us to tell us more about your preferences and your ideal trip to Greece aboard a private yacht.
We will create a tailor-made itinerary for your review.
START PLANNING
PRICE REFERENCE
| | |
| --- | --- |
| Recommended stay | 9-12 days |
| Price reference | |
Note: Prices will vary based on the specifics of your itinerary and the number of passengers in your party.
Our trips to Greece are highly customized and include a choice of sea-based and land-based adventures. Pricing varies depending on the type of itinerary, period of travel, and accommodations, which ranges from a private charter, luxurious land-based lodgings, or a combination of both. Please get in touch with our team of travel experts at +1-301-263-6670 or [email protected] to find out more about pricing and itineraries for our tailor-made Greece journeys.