October 27, 2022 — By

Alessandra Motola
Insider Tips For The Ultimate
Luxury Tour of Greece
There's a reason so many travelers yearn to visit Greece for the ultimate luxury travel experience each year. Alongside its rich history and vibrant culture, Greece is flourishing with outdoor adventure, crystal blue waters and some of the finest culinary delights – all of which can be enjoyed while lapping up the country's breathtaking and varied landscapes.
Greece is alive with undiscovered gems and unique, ever-changing experiences: for foodies who want to test their skills with authentic, private cooking classes; gregarious groups who are looking to experience the country's exclusive social scene; history buffs seeking out all things archeology and mythology; and nature lovers looking for postcard-perfect outdoor adventures.
From land-based boutique properties with private boats for daily adventures, to a sea-based chartered private yacht tour, this paradise location provides endless opportunity to create the perfect, tailor-made luxury tour of Greece for your group.
Word is out on Greece's beauty, but armed with the right need-to-know information, you'll be swapping crowds and tourist-traps for exclusive and authentic, local favorites. With 6,000 islands, an established mainland and numerous harbors and marinas, in this article we touch on just some of our favorite Greek locations, sharing top tips and exclusive activities for the best luxury tours of Greece…
Luxury outdoor adventures in Greece
Exclusive culinary experiences
Behind the scenes access to Greece's ancient roots
Must-see cosmopolitan hotspots
Greek Islands For The Outdoor Adventurer
Lovers of nature and the outdoors will be awed by Greece's natural beauty. From breathtaking hikes and family-fun horseback riding, to enthralling watersports and more, there's something for every outdoor enthusiast.
Hiking in Santorini
Santorini is arguably most famous for its novel architecture which sees beautiful white houses kissing the edge of the caldera and offering the most magnificent views of the Aegean Sea. However, its volcanic history has also gifted the island with plenty of outdoor adventures.
Include a stop to Amoudi Bay and admire the juxtaposition of red, volcanic rock cliffs against the white and blue buildings of Oia town that is set above: a photographer's dream. This is the beginning of a magnificent hike up to the Saint Marco church. Take a private tour and enjoy exclusive extras at the peak, like a made-to-order picnic and special musical performances from traditional Greek musicians.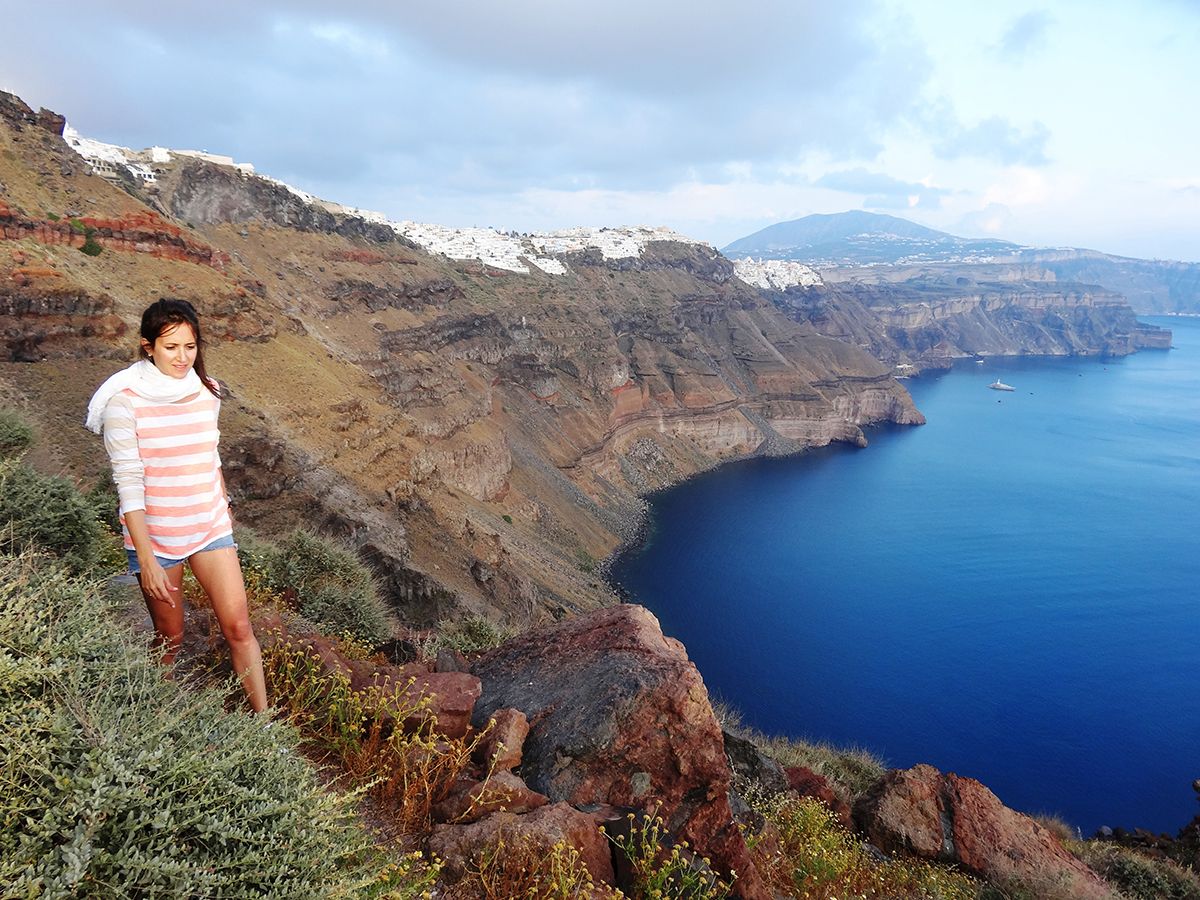 Horseback Riding in Paros
Paros is an idyllic Greek island within the Cyclades Islands and has a well established watersport scene, with windsurfing and kitesurfing proving most popular.
However, there's plenty more to experience when vacationing to this charming Greek island. One of our favorite activities for travelers looking to enjoy the serenity of nature is horseback riding. From sunrises on the beach, to the luxurious towns of Aspria and sunsets over the bay of Parikia, this fun activity is a unique way to explore the island.
Snorkeling in Polyaigos
Polyaigos is one of our favorite uninhabited Greek islands. The sea-bottom is dressed in a blanket of white clay which blesses the area with an unimaginable blue color that transforms any snorkeling and sailing experience.
Whether you plan for your yacht to stop enroute your luxury sailing adventure, or you take a private day trip from the beautiful nearby islands of Sifnos or Milos, Polyaigos should be on the list of must-see-attractions during your luxury tour of Greece.
Exploring Gorges in Crete
Crete has been blessed with hundreds of spectacular gorges that can be hiked while taking in unparalleled views of the island. They come in all shapes and sizes so families, adventure enthusiasts, first-time hikers and everyone in between will have the chance to witness these unique natural wonders up close.
Most of the gorges can be explored without a guide, but having an expert by your side means you can craft a tailor-made itinerary for your group while learning all about the history of the island.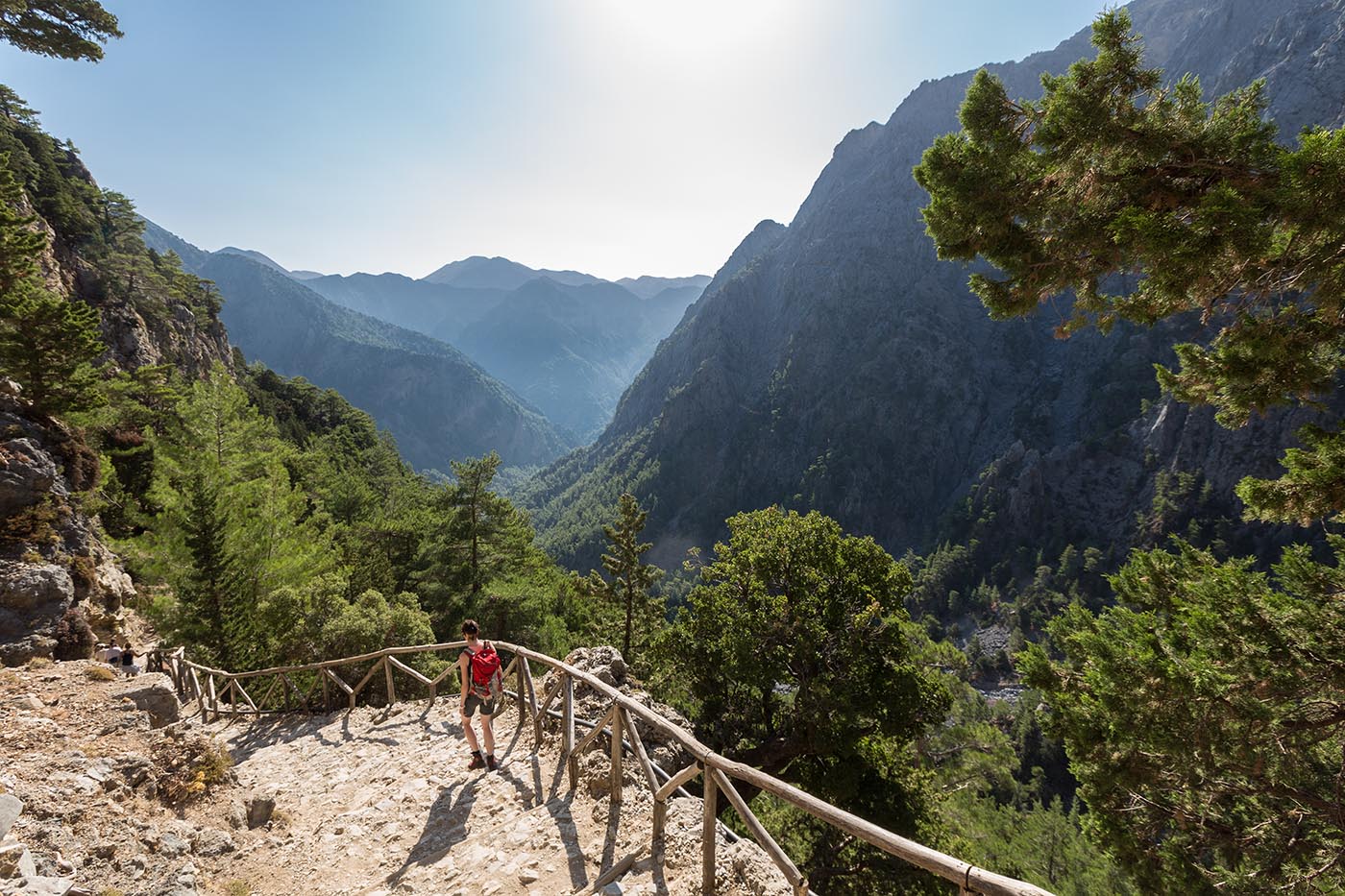 Walking the Byzantine Footpaths
See a different side to the beautiful island of Paros whilst enjoying the 2.2mile Byzantine Road. Paros is still a relatively new, up and coming island for travelers, but walking this trail will see you step off the beaten track and experiencing a different side of Paros many visitors miss out on.
Highlights of this walk include panoramic views of the mountains in Lefkes, groves of olive trees, the beautiful beaches of Piso Livadi and quaint neighboring villages. You'll also be stepping foot on the oldest road in Paros which was originally paved with marble.
A trip back in time to the Byzantine Empire wouldn't be complete without a visit to Milos, a hidden treasure within the Cyclades Islands. Perched on top of a large rock, promising the best views of the Aegean sea from the island, is the quaint village of Plaka. Take a couple of hours out of your day to navigate the narrow passages that are filled with charming architecture to visit the beautiful Venetian Castle and Panagia Skiniotissa church that sit right at the top of the hill.
You'll also find a stunning scenic hike to the gorgeous, car-free village of Kastro on the island of Sifnos. Savor impressive sea and mountain views whilst discovering the area with one of the best local guides in the area.
LUXURY GREEK TOURS FOR OUTDOOR ENTHUSIASTS

Enjoy breathtaking hikes, family-fun horseback riding, enthralling watersports and more.
Where To Go For Exclusive Culinary Experiences In Greece
Greece is the perfect place to indulge your inner foodie, whether you want gourmet experiences or authentic home cooking.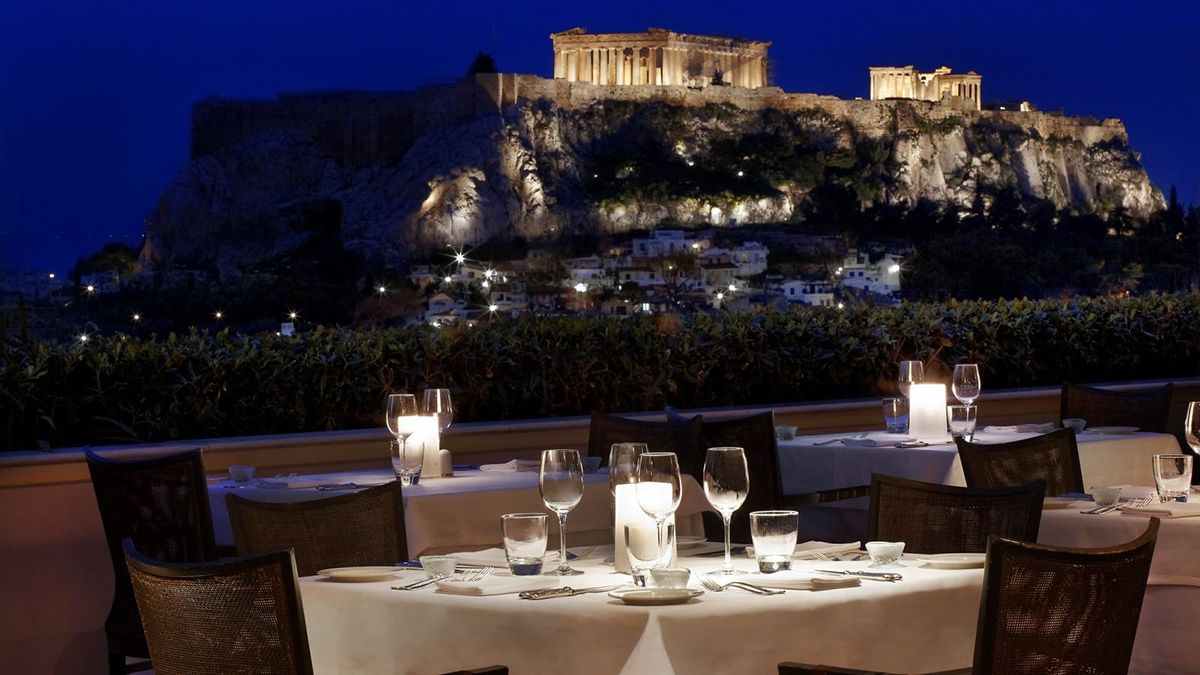 A Meal With a View in Antiparos
The Cycladic island Antiparos has established a reputation for its idyllic, laid-back, luxury lifestyle and incredible Greek restaurants. One of the island's most notable restaurants is Captain Pipinos, a waterfront eatery in Agios Georgios famed for its exquisite fresh seafood and breathtaking view of the temple of Apollo.
Gastronomical Greatness in Sifnos
Sifnos is a dreamlike island known for its rich culinary tradition. The endearing village of Artemonas is home to an outstanding family-run bakery dating back to the 1920s which offers sweet treats like no other, whilst Kastro offers a unique dining experience at a gourmet, zero waste restaurant nestled into the rocks and overlooking the water.
Keep an eye out for the island's signature red clay that locals have been using to make pots and vessels for centuries now with the promise of superior slow-cooking!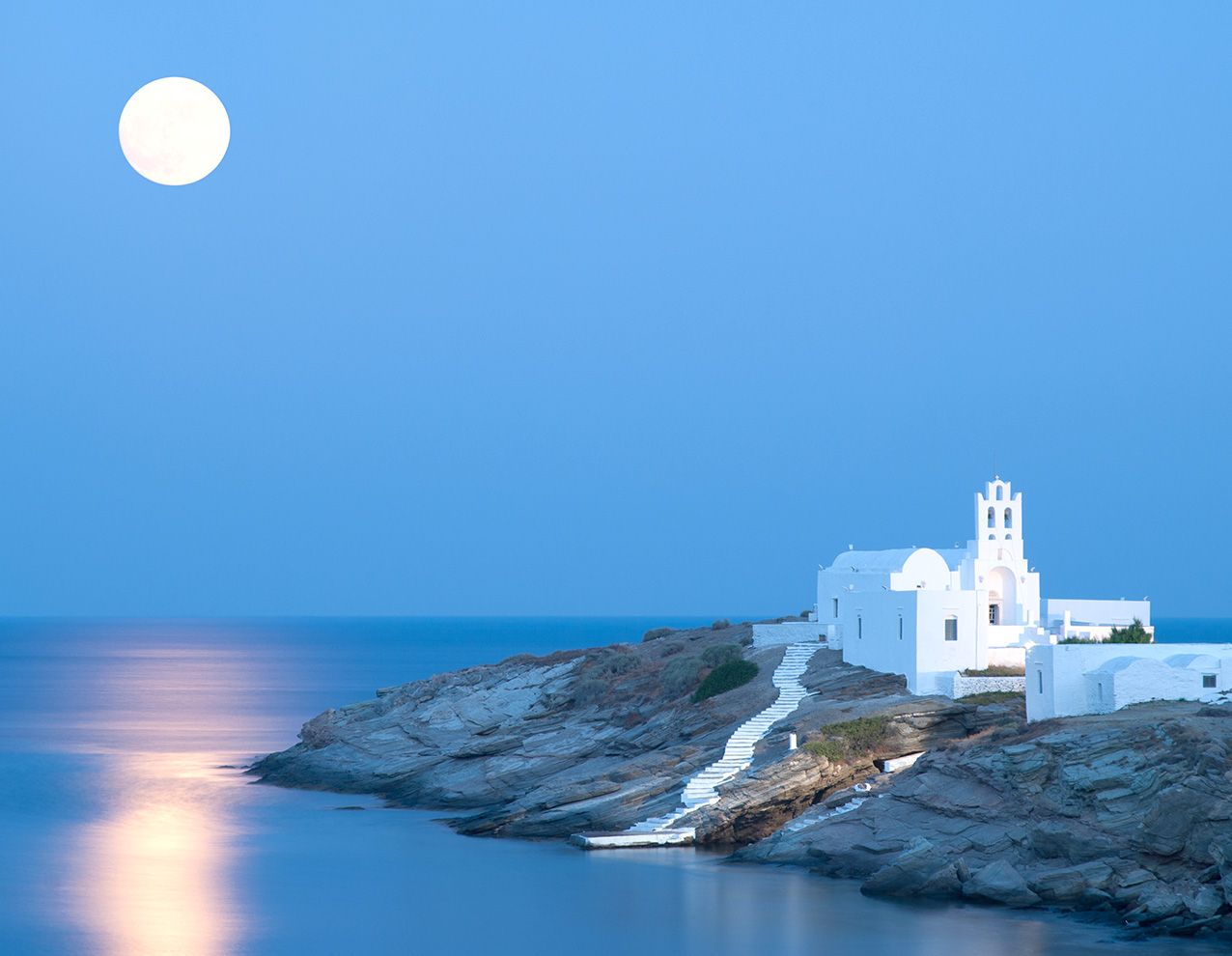 Home Cooked Meals and Private Cooking Classes in Paros
Cooking classes are a popular activity when abroad but there is something special about learning directly from a local family in their private home.
One of our exclusive activities for travelers visiting Paros takes place at a private, traditional farmhouse that boasts 360° views of this charming island. The family will show you how to make authentic Greek foods and dishes, including the finest olive oil and local cheeses, before inviting you to enjoy the fruits of your labor for dinner whilst taking in the panoramic views.
Private Demonstration of Beekeeping in the Peloponnese
Greece has a historic beekeeping tradition that dates back to the mythological demigod, Aristaeus. Local farms have existed for generations and the rituals of beekeeping have evolved over time into something quite impressive.
Visit a traditional bee farm in the Peloponnese region if you're interested in learning about the history of honey and want to taste some of the country's finest. Exclusive experiences promise one-on-one time with the family who own and run the farm, giving you an inside look into the workings of the farm.
Volcanic Wine Tasting in Santorini
Due to a volcanic eruption that took place around 1,500 BC, ash, sand and pumice can be found within the local soil. This means Santorini now boasts some of Greece's most distinctive wines.
For a truly incredible experience, we recommend enjoying a private volcanic wine tasting at one of the finest vineyards in Akrotiri. It will set your afternoon off to a great start before a delicious lunch onboard your yacht. Or better yet, head down to the port of Ammoudi…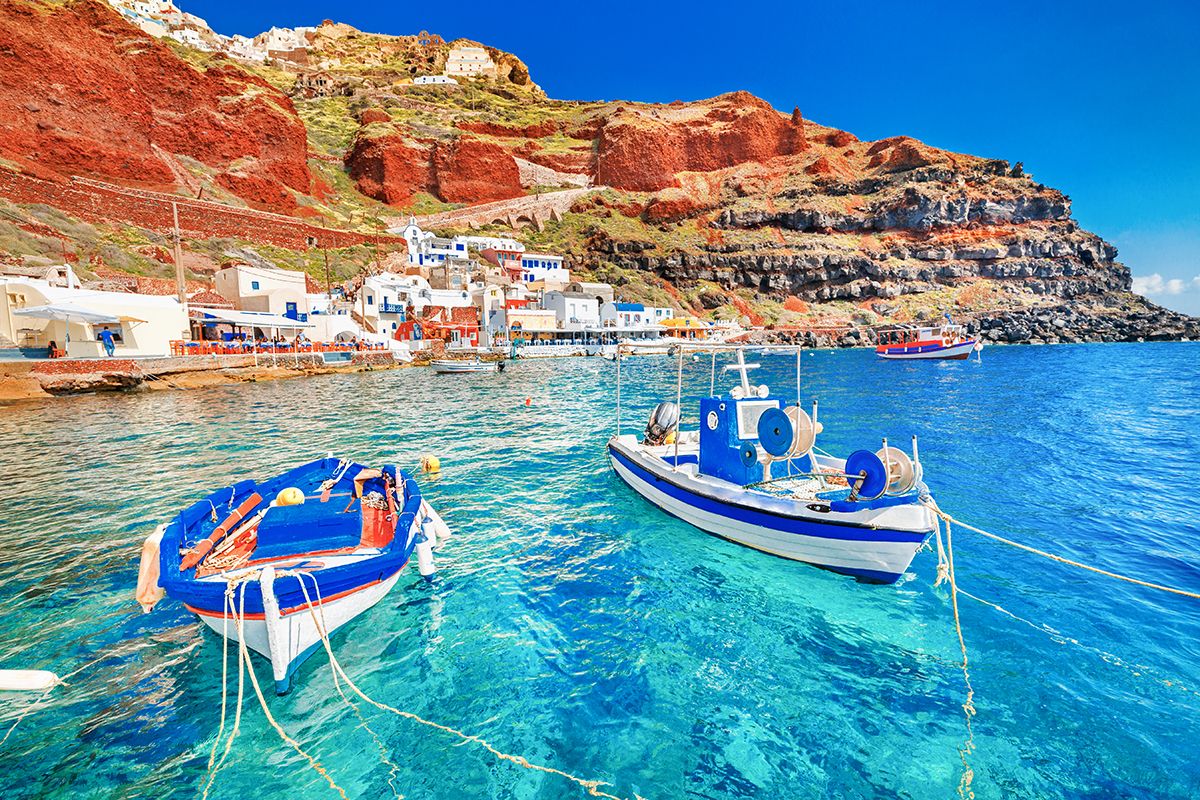 The Freshest Seafood in Ammoudi
Not too far from the volcanic wine tasting is the small fishing port of Ammoudi where you can enjoy the best freshly caught fish at a local waterside tavern.
There are just a handful of taverns to pick from, but each offers unobstructed views of the horizon and will ignite your taste buds with the most delicious seafood you can imagine.
LUXURY GREEK TOURS FOR CULINARY EXPERIENCES

Indulge your inner foodie, from gourmet experiences to authentic home cooking.
Take A Look Behind the Scenes At Greece's Finest History
A visit to Greece would not be complete without a deep dive into its rich history, from private museum experiences to helicopter rides over geological phenomenons.
Private Museum Showings in Athens
Athens is one of the world's oldest cities and history buffs will thrive in the endless opportunity to access Ancient Greece. A must-see on your luxury of Greece is of course the innovative Acropolis Museum, but you can take this experience to the next level with expert guides and private viewings. Close the museum off to visitors and immerse yourself in the history of the Acropolis before dining at a nearby restaurant with the best views of this iconic landmark.
We recommend ending your Acropolis adventure by visiting the UNESCO World Heritage Site the next day.
Athens is home to some of the most important ancient sites in the Western world. Discover more of its historical hot spots here.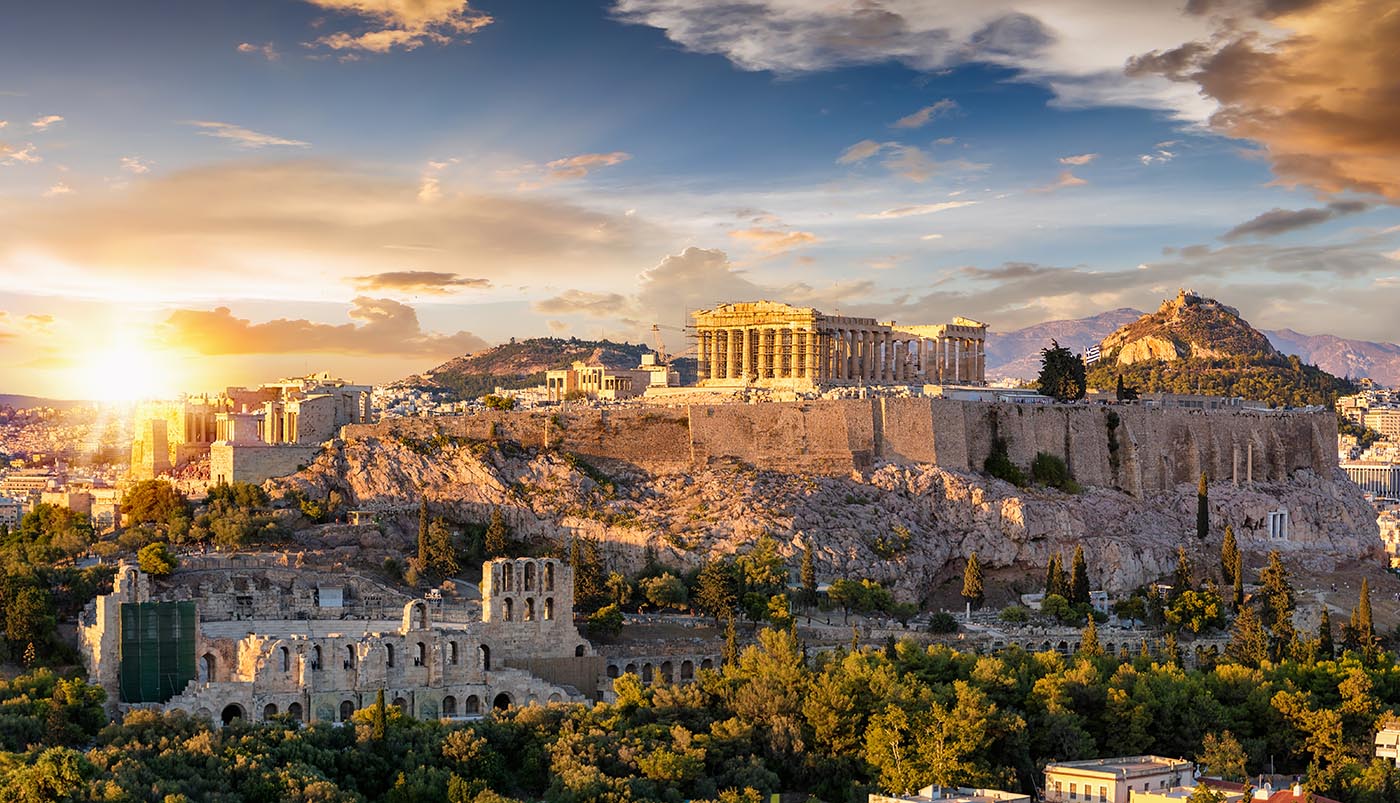 Expert Guides in the Peloponnese
There are a number of iconic historical sites to visit during your journey to the Peloponnese peninsula from Athens, including Mycena, Nafplio, and the Epidaurus Theater.
The Theater is an architectural masterpiece that has remained extremely well preserved within the Sanctuary of Asclepius alongside the Temples of Artemis and Asklepios, the Tholos, the Enkoimeterion and the Propylaia. The UNESCO World Heritage site provided entertainment to the ancient Greeks whilst also serving Asclepius, the son of Apollo.
It is rumored that the acoustics of the theater are so good that visitors can hear a pin drop from the very back seats; discover the truth with a private tour!
Boat Tours of Spinalonga
Spinalonga, an uninhabited island just off the coast of Elounda in Crete, captures the heritage of Crete itself with relics from the Roman times, Venetian occupation, and Ottoman Empire.
We recommend taking a private boat tour around this small, teardrop-shaped island first, before exploring its fascinating past on foot with your experienced guide who will share the island's mysterious history.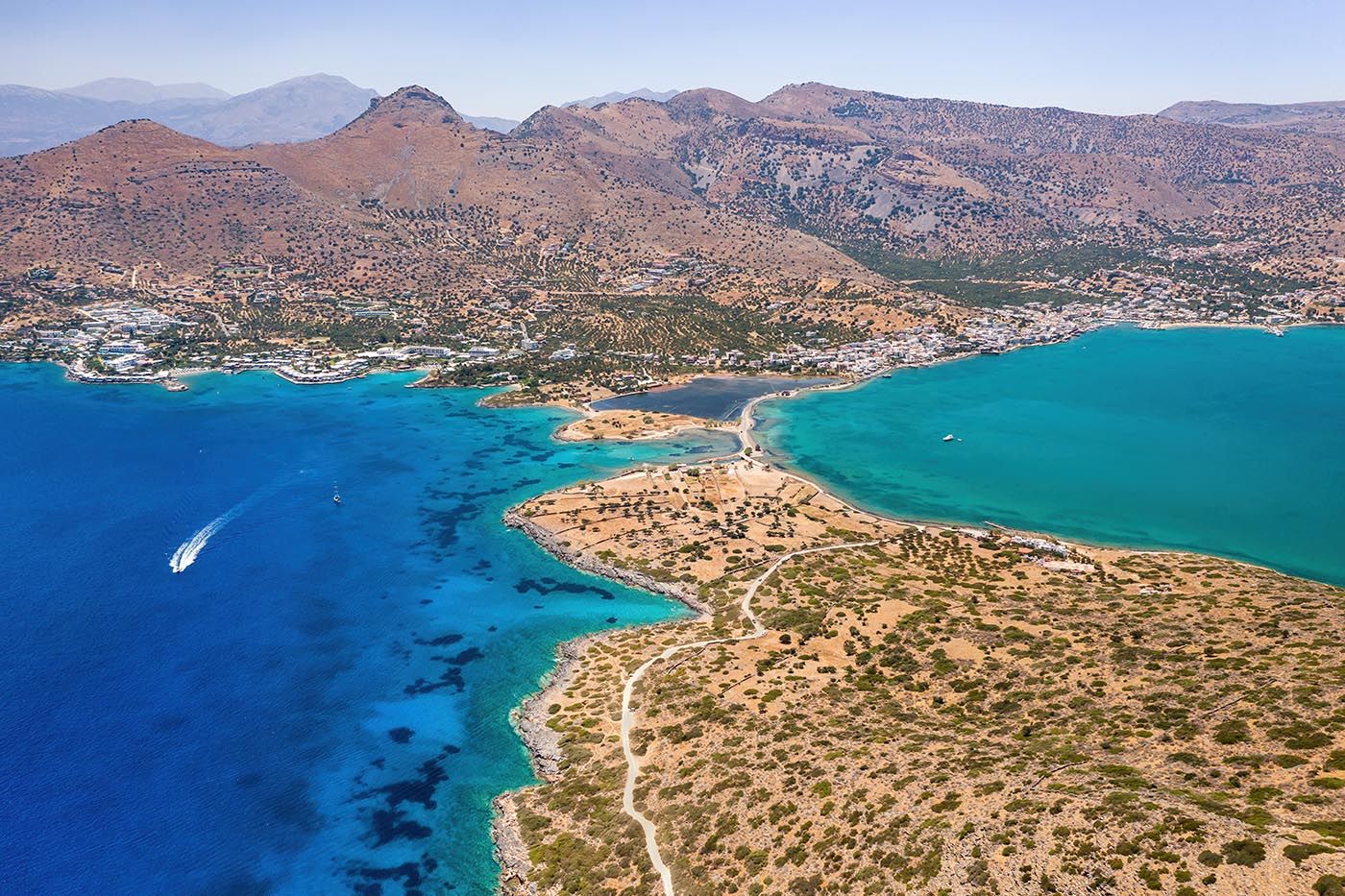 Pottery Classes in Sifnos
Sifnos once boasted a bustling ceramics industry and numerous pottery shops are still scattered across the island. Their creations have unique character and are the foundation of many Sifniot traditions, including cooking.
Private clay pottery classes in the homes of local artists are a great way to learn more about this tradition and the history of pottery and ceramics in Greece. You will also have beautiful keepsakes to take home as a memory of your luxury tour of Greece.
Walk Through History in Crete
Crete is brimming with history. From the Heraklion Archeological Museum and a deserted 16th-century Venetian fortress and town, to ancient Minoan paths and old world methods of crafting feta cheese, this island has everything for travelers interested in Greek history.
The Palace of Knossos is one of Crete's many historical highlights you shouldn't miss. Knossos is considered Europe's oldest city, dating back as early as the Neolithic period, so there are plenty of wonders to be found around every corner. The palace itself is the island's largest Bronze Age archaeological site and is certainly more grand and extravagant than most of the other ruins from arounds its time.
The archaeological site is a popular attraction during the summer so make sure you visit off-season or with a private tour guide to avoid the crowds and the queues.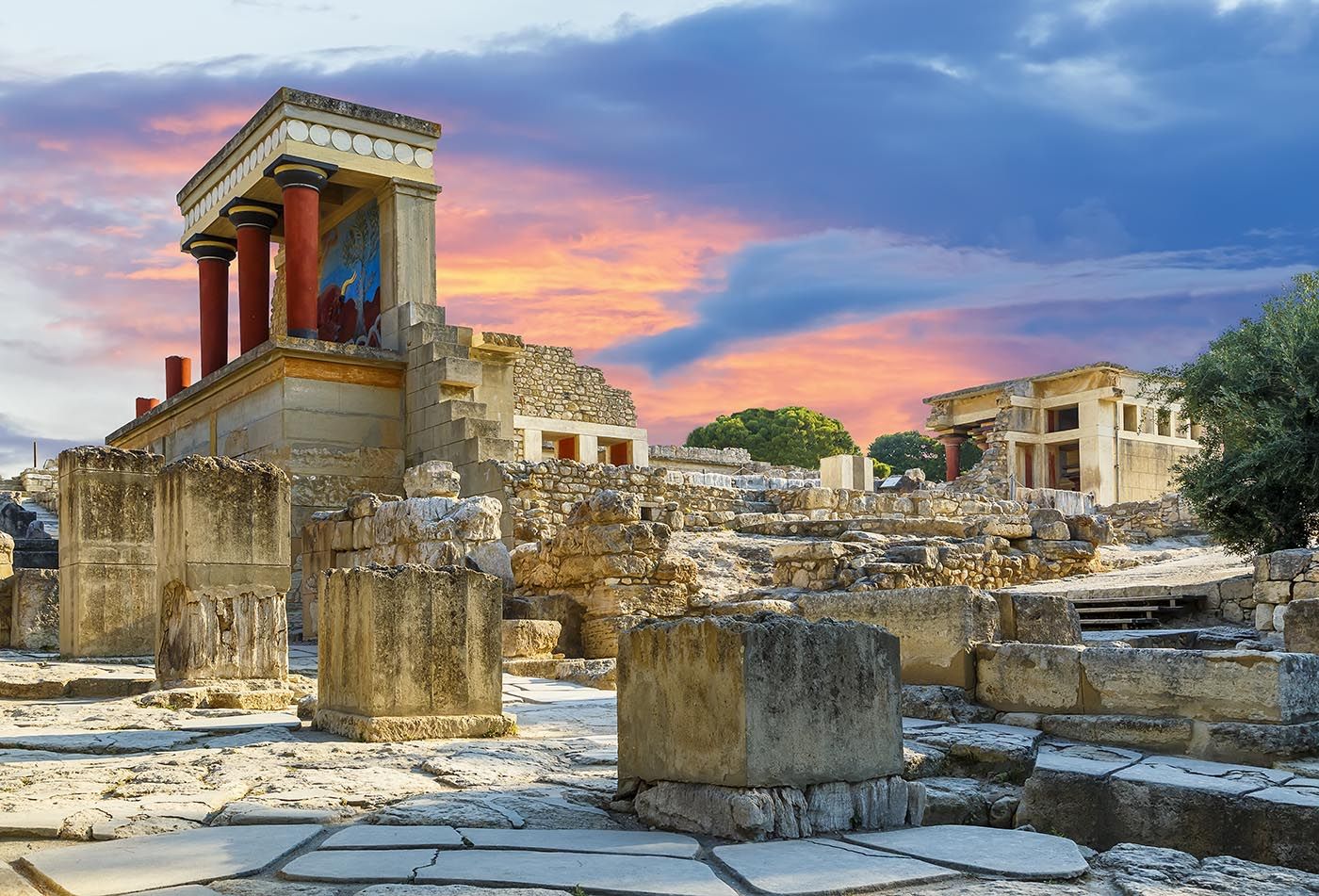 Make Traditional Homemade Products in Paros
Ancient Greece used a vertical, warp-weighted loom unlike most western looms we are used to seeing. This ancient weaving technique still exists across the Paros region and it is possible to learn the method in a private class in the home of a local family. Add this to your itinerary for a different twist on a history-focused vacation and leave with beautiful, handmade products for your home.
Take a Private Helicopter Tour of the Ancient Monasteries
The Meteora Monasteries are rare geological phenomenons that should not be missed during your luxury tour of Greece. Six striking monasteries are uniquely perched on top of steep, 400m high sandstone pillars that are unlike anything else you'll see and they can be visited on foot, by private car or by helicopter.
A private helicopter tour over this natural wonder promises unbeatable views of the monasteries and the dramatic landscape that surrounds them that can't be seen anywhere else. Our exclusive tours include a delicious lunch in a spectacular outdoor setting with further unimaginable views, away from the crowds.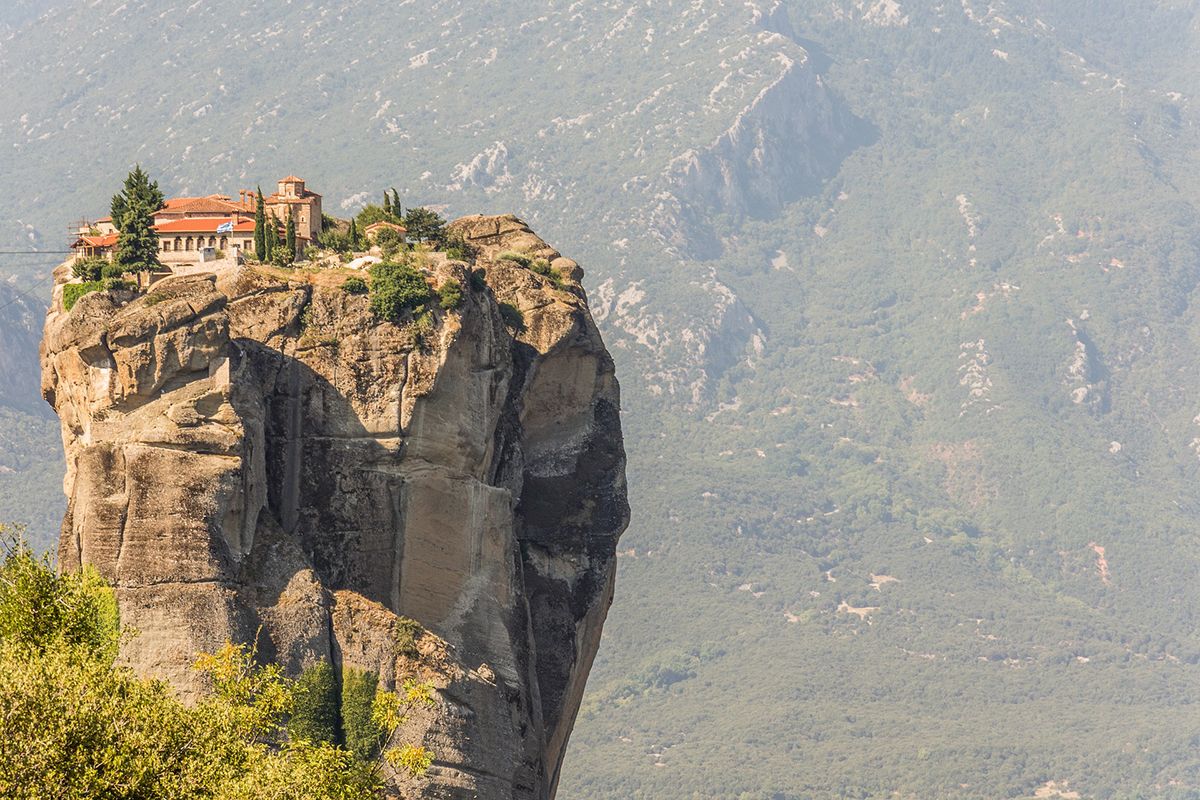 Immerse Yourself In Greek Mythology
Greek mythology is an integral part of both Greek culture and history. One of the beautiful things about a vacation to Greece is the vast number of iconic mythological sites around the country that you are welcome to visit and explore, which gives you the opportunity to truly immerse yourself in the country's history. Here are some of our favorites:
Temple of Poseidon at Cape Sounio:

Offering some of the best views of the stunning Aegean sea, you can understand how the Athenian Empire had control over the sea. We recommend visiting for sunset for the best experience.

Delphi's Temple of Apollo:

Coined as one of the most important oracles of the ancient world, the Temple of Apollo is an ancient, religious sanctuary that was believed to be the center of the known world, where heaven and earth met.

Delos Island:

Take a break from the bustling, party life of Mykonos and explore the small island of Delos, another of Greece's most important mythological and historical sites. The whole island is a UNESCO world heritage site that once served as a cult center for Apollo. There's plenty of history to digest on the island, including the iconic Delos Archaeological Museum which was erected in 1904.

The home of Aphrodite:

Discover some of Greece's mythology on the beautiful volcanic island of Milos. Once the home of Aphrodite, the Goddess of love and beauty, Milos is believed to have been endowed with some of her beauty and is now recognised as one of the country's most breathtaking islands. During your luxury tour of Greece, visit Milos and keep an eye out for the mysterious caves and natural pools that were once the stomping grounds of pirates!

The city of Agamemnon:

Located in the Peloponnese region, the ancient town of Mycenae is quite impressive by nature. The most famous attractions in this once-prosperous town are the Lion Gate and Treasury of Atreus.
LUXURY GREEK HISTORY TOURS

Take a deep dive into Greece's rich history with private museum experiences and helicopter rides over geological phenomenons.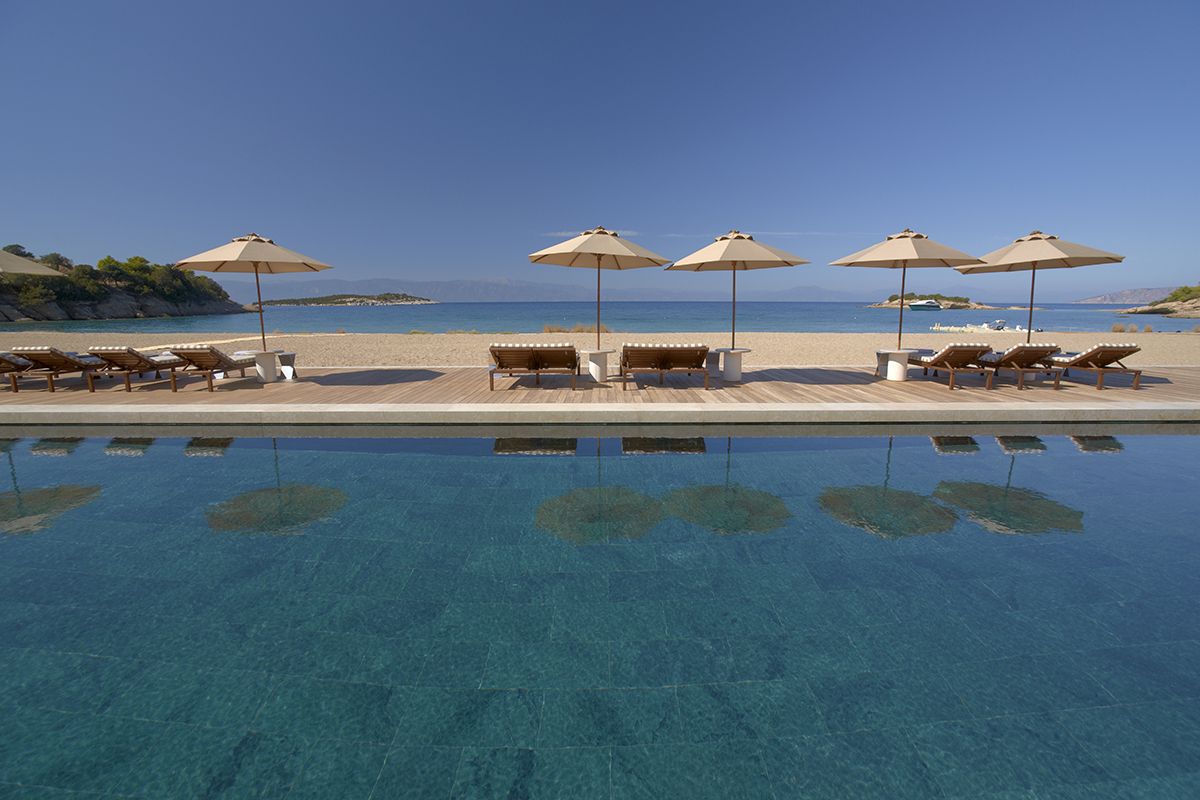 The Best Greek Islands For Cosmopolitan Lifestyles
Greece's beautiful landscape is complimented by its luxury, cosmopolitan lifestyle. Plan to recharge your batteries with shopping and day parties during your luxury tour of Greece.
Arrive In Style In Mykonos
This famous island is known for its lively beaches and glamorous day parties with plenty of options when it comes to high end restaurants and beach bars. Before you indulge in some shopping or enjoy a gourmet dinner at one of the island's finest restaurants, arrive in style by organizing a helicopter entrance. Fly from the nearby island of Sifnos to enjoy unimaginable views of the Aegean Sea and Greece's 6000 islands.
The Ultimate Shopping Experience in Paros
Tucked away in the beautiful island of Paros is a selection of high-end boutiques ranging from one-off handmade pieces to your favorite brands. Many of these boutiques stay open late, making it the perfect pre and most-meal activity.
Design a Bespoke Yacht Party
One of the many benefits of private yacht charters is the bespoke events and activities you can plan each day. Start the fine-dining experience onboard before heading ashore for cocktails and dancing, or organize a themed event for you and your group to take part in when anchored.
Discover The Undiscovered With Your Luxury Tour Of Greece
This article provides a flavor of the activities that are available across the Greek Islands and an insight into some of the exclusive offers you can enjoy depending on your interests and priorities.
However, with over 6,000 islands to choose from and a myriad of excursions and activities at your fingertips, planning a vacation to Greece for small or large groups can be both time consuming and intimidating. Contact one of our Travel Experts today and discover how Blue Parallel can help you create an unforgettable, tailor-made luxury tour of Greece.
Tailor-Made Itineraries to Greece

Contact us to start planning your next once-in-a-lifetime journey