July 21, 2023
A Guide To Private Yacht Charters In Greece
Azure waters, picturesque islands, and a rich cultural heritage; there's a reason Greece is a magnet for discerning travelers. Whether you want to charter a private yacht and explore hidden treasures dotted between idyllic islands, or deep dive into Greece's ancient history on land, this Mediterranean paradise promises endless possibilities for foodies, outdoor adventurers, nature lovers, history enthusiasts and more.
Greece can be explored from a base on the land or sea. Our land based Greece tours might appeal to you if the allure of staying in five star hotels or luxury lodges which provide maximum space and comfortable facilities appeals to you. On the other hand, our private yacht charters ensure optimal privacy for you and your group and as you're always on the move, greater opportunities to see more of Greece's highlights.
While you'll still have the chance to explore a selection of Greece's 6,000 islands on private boating excursions, staying in hotels and lodges could be preferable if you're unsure about sleeping on moving waters. There's also less chance of unforeseen circumstances, like high winds and sudden changes in weather conditions, affecting your itinerary as there will be other islands and other activities nearby that avoid the challenges out at sea.
Yet private yachts have their benefits too. The chance of major unforeseen circumstances are slim and the experienced crew on board will always have a backup plan if needed. As well as giving you the chance to enjoy your journey with a high level of privacy, you'll also be able to visit lesser-known islands more easily and avoid the crowds that come with the popular Greek islands and coastal towns that can get more crowded.
Whether you choose a base on the land or sea, know that your bespoke tour of Greece can be tailored to your group. In this article, we focus on Greece private yachts and offer insights into Blue Parallel's three step process from start to finish…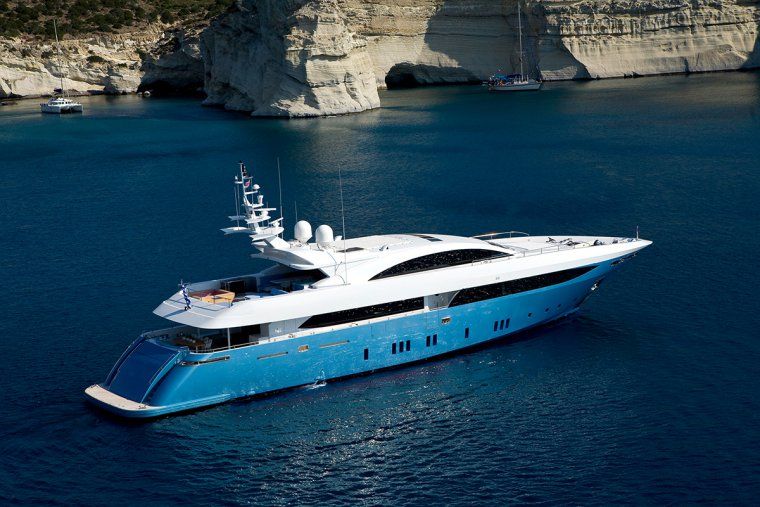 1. Planning A Yacht Charter In Greece
All of our bespoke tours start with a phone call. Once we have a greater understanding of your requirements and desires, we can select the perfect yacht for you and design an itinerary tailor-made to your group.
Selecting The Perfect Yacht
Our team of travel experts travel year-round to ensure we are working with the best guides and hosts, that our portfolio of properties only includes the very best, and that we have access to the latest, insider experiences. In this case, we carefully vet the yachts in our portfolio, as well as their crew.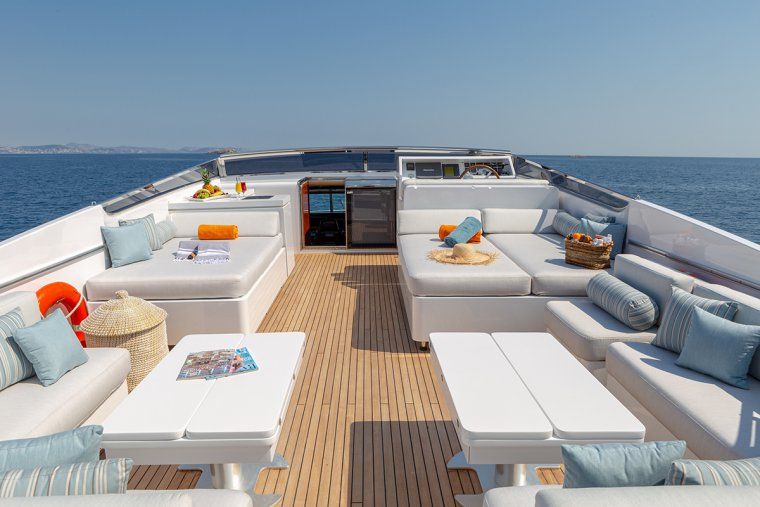 The yachts we have hand selected are either new on the market or have been refurbished to the highest standards. They boast clean, contemporary finishes with minimalistic decor so as to not take away from the breathtaking views that surround you morning, noon and night. However, we understand every client has their own taste and we can cater to the design preferences of each group.
Depending on the size of your group, preferred bedding configuration and required facilities, we will work closely with our contacts on the ground in Greece to match you with your perfect yacht.
Designing A Bespoke Itinerary
The unique experiences and immersive adventures available in Greece are endless: for foodies who want to feast on the freshest fish and learn traditional cooking techniques in a private home in Paros; for history enthusiasts who will delight in wandering along cobbled Byzantine footpaths or embarking on a private archaeological tour of Delos Island; for nature lovers who yearn to discover deserted beaches by the uninhabited island of Polyaigos or witness magnificent sunsets while hiking in Santorini; and cosmopolitan groups wanting to visit exclusive beach clubs in Mykonos and partake in luxury shopping.
With so much to choose from, planning the perfect private yacht itinerary in Greece can be intimidating. However, with over 20 years' experience designing bespoke luxury itineraries and 10 designing tailor-made itineraries to the Mediterranean, our team of travel experts have the knowledge, expertise and relationships with on-the-ground experts required to design your ideal tour.
As soon as we have an understanding of your expectations and preferences – whether you're interested in cultural wonders, natural beauty, epic outdoor adventures, culinary awakenings, insider experiences, or a combination of everything – we will design an itinerary with a customized day-to-day programme bespoke to you.
Some examples of the insider experiences you can access in Greece include:
In Athens, enjoy an exclusive private opening of the Acropolis Museum before boarding your yacht.
Hike along the caldera from Santorini to Oia.
Visit a local home in Paros and discover the region's ancient weaving techniques.
Witness a traditional musical performance in a spectacular setting in Santorini.
Indulge in a private volcanic wine tasting at an exclusive vineyard near Akrotiri.
Learn how to cook traditional Greek cuisine in a local farm house while taking in panoramic views of Paros.
Swim in remote covers near the uninhabited island of Renia.
Enjoy a specially prepared barbecue lunch on the Kolona beach, a secluded stretch of golden sand and sapphire waters on Kythnos Island.
Attend a private clay pottery class in the home of a local artist in Sifnos.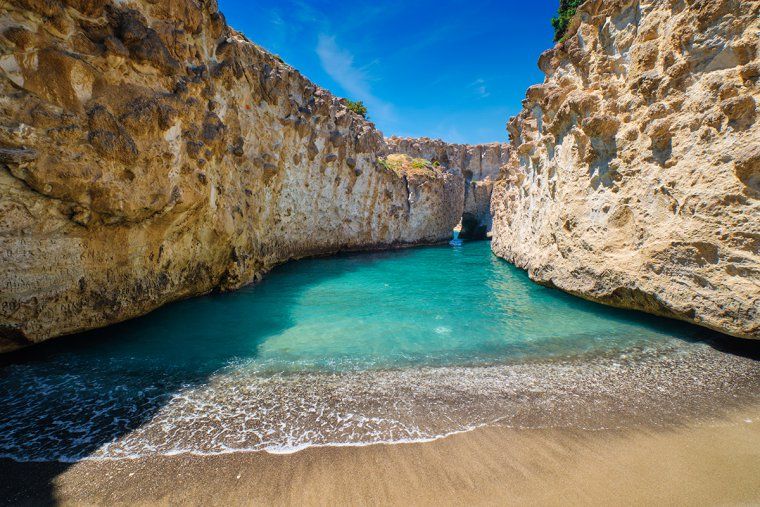 2. Seamless Execution
Throughout the duration of your trip, you'll have access to an assigned and dedicated team comprised of your personal travel expert, a host in each destination you visit, passionate local guides, historians and scholars in each location, and behind-the-scenes logistical experts who are in charge of monitoring every step of your journey.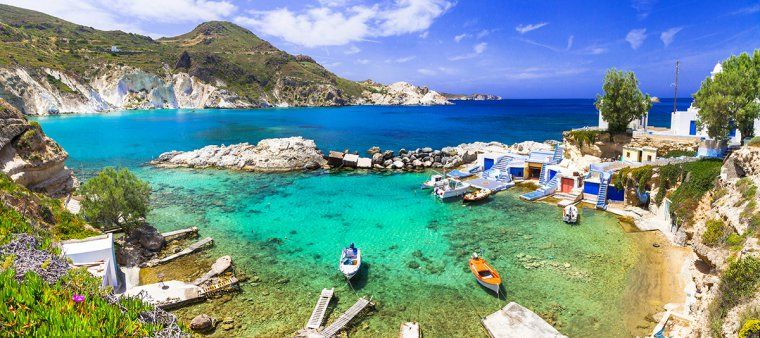 Together, they ensure your detailed itinerary unfolds as intended, from reservations at the top restaurants and guided, behind-the-scenes tours at historical sites, to unique experiences with local families and special surprises during your outdoor excursions.
Your team will be available 24-hours a day from start to finish and will be in constant contact with your dedicated and experienced captain and crew. If your charter is challenged with unforeseen circumstances, our experts will work with your captain to provide you with a selection of alternative activities or routes.
3. Completing The Paperwork
To ensure you have the best experience from the moment you start planning your luxury Greece tour with us, to the moment you're back home and reflecting on the highlights of your journey, we will handle all of the paperwork and payments involved with your yacht charter in Greece.
This includes organizing paying the yacht fees and the Advance Provisioning Allowance (APA) lump sum, checking the correct insurance is in place, and completing all of the necessary paperwork on your behalf.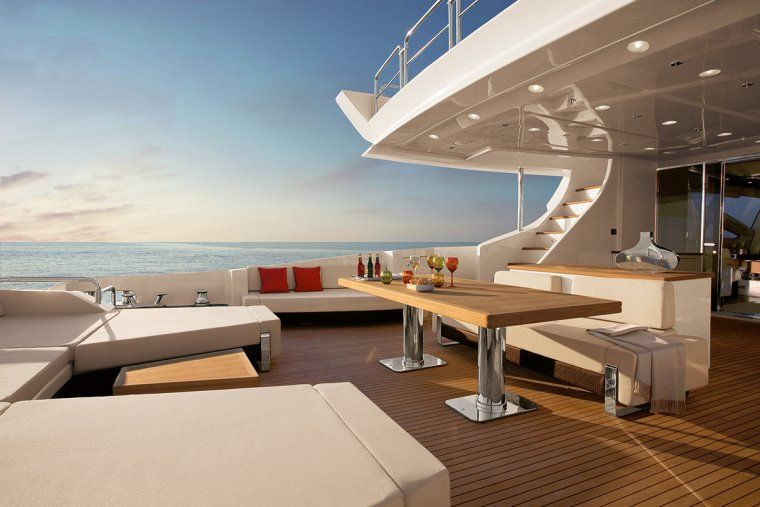 Start Planning Your Private Yacht Charter In Greece
We aim to provide a streamlined service that removes the stress of planning a detailed itinerary, finding expert guides and choosing the perfect yacht away from you. Start planning your tailor-made tour of Greece with us and enjoy off-the-beaten-path experiences that will immerse you in an authentic and unique journey through Greece.
Tailor-Made Itineraries To Greece

Contact us to start planning your next once-in-a-lifetime journey