Galapagos Islands Private Yacht
Experience the Galapagos Islands from your own luxury chartered private yacht
LUXURY YACHT GALAPAGOS ISLANDS
Your Galapagos Islands private yacht charter will be a true five-star, luxury experience and a chance to explore the fascinating archipelago in complete privacy. Your luxury tour of Ecuador and the Galapagos Islands begins in Ecuador's lively capital Quito, a cityscape nestled among the picturesque volcanoes of the Andes. With your private expert guide, admire the impressive architecture as you wander the charming streets of the city's colonial center. From there, head to the Galapagos Islands to start your bespoke, private charter aboard your luxury yacht. As experts in the region, we work with the very best yachts in the Galapagos and will hand-pick the perfect one for you, depending on your needs and personal tastes. Staffed according to your requirements, an expert crew and private chef will accompany you. As you spend the following days private yachting in the Galapagos Islands, you will witness the unique flora and fauna that characterizes this volcanic archipelago. Wildlife native to the Galapagos includes penguins, sea lions, giant tortoises, red-and-blue-footed boobies, and land iguanas – just to name a few. In addition, as you island-hop with your expert naturalist guide, there will be ample opportunities for outdoor adventures like hiking, kayaking, swimming, and snorkeling.
A Taste of Blue Parallel's Insider Access
Private scuba diving excursions

Access to the best guides and biologists in the Galapagos

Private flights to and from the Galapagos Islands upon request

Exclusive access to one of Quito's most picturesque colonial churches at night
The Adventure
Hiking

Swimming

Snorkeling

Scuba diving

Kayaking
PRIVATE YACHTING GALAPAGOS ISLANDS
Note: This private tour to the Galapagos is an example, as all of our luxury journeys are custom-made.
Note: This private tour to the Galapagos is an example, as all of our luxury journeys are custom-made.
Quito (2 nights)
Your luxury tour of Ecuador starts on the mainland in Quito, where your personal host will greet you after your international flight arrival in the evening. They will accompany you by private transfer to Casa Gangotena, a luxurious boutique hotel in the historical center of Quito. On the first full day of your journey, you'll explore Ecuador's historical capital. This UNESCO World Heritage Site is nicknamed "the Florence of South America" for the artistic traditions of its colonial period. Visit the city's picturesque churches and indulge in gourmet meals. Blue Parallel will provide you with exclusive access to the Convent of Santo Domingo in the evening, an opulent church constructed in a Latin American Baroque style, known for its breathtaking interiors and beautiful views of the city from its rooftop.
Galapagos Islands, Private Yachting (7 nights)
Embark on your Galapagos Islands private yacht tour and island-hop through the archipelago in complete luxury. Blue Parallel will select the specific vessel based on the particular needs of your group. All feature a minimum of six en-suite cabins for a capacity of 12 passengers. In addition, your group will have access to ample outdoor and indoor lounge space, sundecks, bar and dining areas, as well as hydraulic stabilizers for a smooth ride. The yacht will be fully staffed with an attentive captain, crew, and chef who will customize the menu to your particular tastes and preferences.
Each day of your luxury tour brings a new adventure as you explore different islands and bays with expert bilingual naturalist guides. Outdoor activities include hiking, swimming, snorkeling, kayaking and more. Your onboard naturalist guides will customize the activity level according to your profile as they accompany you exploring the islands' famous wildlife.
As the Ecuadorian government highly regulates itineraries on all Galapagos cruises to minimize traffic and protect the fragile ecosystem, the exact islands you visit will depend on your specific travel dates. For example, a stop at Bartolomé Island would include swimming and snorkeling at the iconic Pinnacle Rock beach before a 40-minute hike to the island's highest point for impressive views of the island's beautiful white-sand beaches. Or perhaps you will disembark at Rabida Island, known for its distinct red sand beaches and saltwater lagoon where boobies are known to nest. Another highlight of your Galapagos Islands tour may be Fernandina Island, where you would witness hundreds of iguanas congregating around lava rocks. If you're lucky, you may even catch a glimpse of the elusive flightless cormorant, one of the world's rarest birds.
Read less
Read more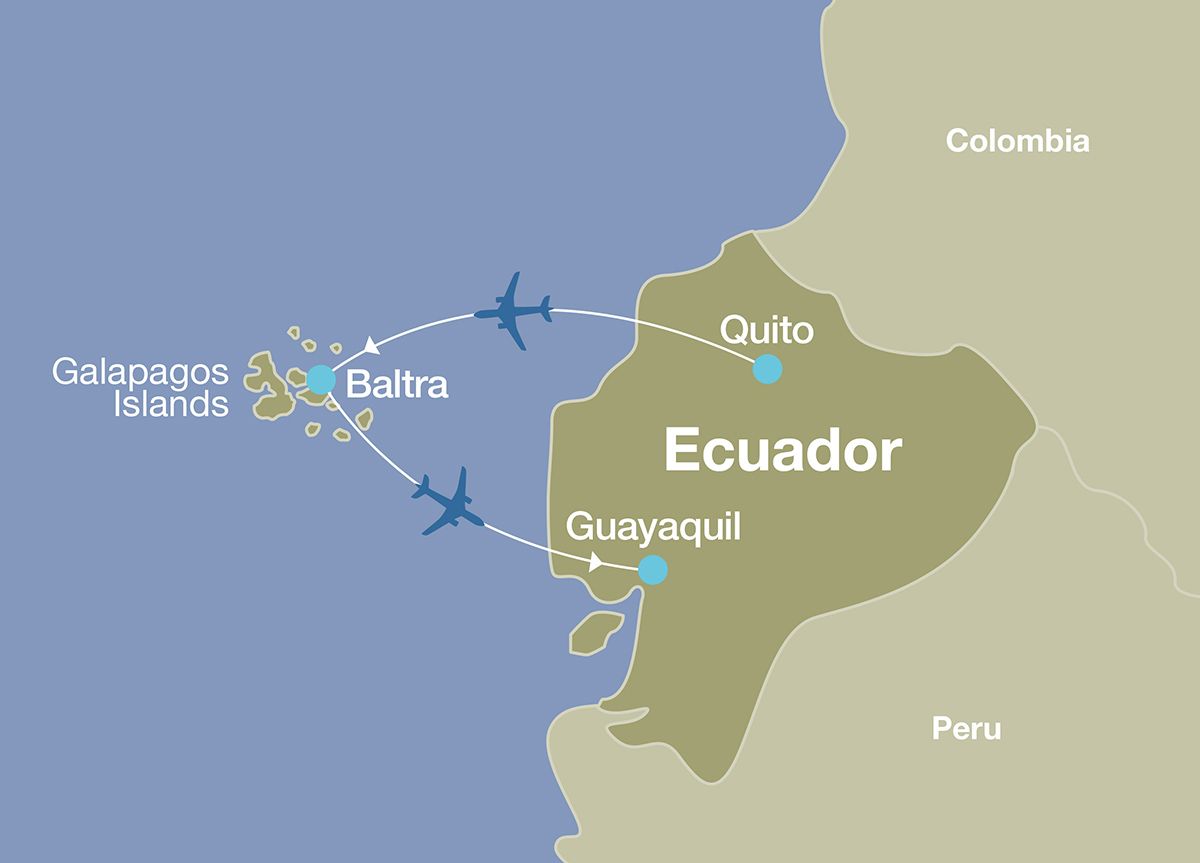 DESTINATIONS
TRAVEL TIME
QUITO
BALTRA
2 hrs 10 min
BALTRA
GUAYAQUIL
1 hr 45 min
MAKE THIS ITINERARY YOURS
Contact us to tell us more about your preferences and your ideal trip to the Galapagos Islands aboard a private yacht.
We will create a tailor-made itinerary for your review.
START PLANNING
PRICE REFERENCE
| | |
| --- | --- |
| Recommended stay | 9-12 days |
| Price reference | |
Note: Prices will vary based on the specifics of your itinerary and the number of passengers in your party
What is included in your Galapagos Islands private yacht tour:
Luxury accommodations at

Casa Gangotena (Quito)

Luxury Yacht Charter (Galapagos Islands)

Internal flights

Services of Blue Parallel hosts and private specialized guides throughout the journey

All special events, private guided tours, private excursions, private outdoor activities, entrance fees

A Blue Parallel team composed of a personal travel expert, private hosts in each destination, and a "behind the scenes" logistical expert who monitors every step of your luxury tour. The team is on call 24-hours a day during a trip

All internal transportation

Some meals

A Blue Parallel customized travel kit that you will receive prior to departure