Galapagos Islands Luxury Tours
Private adventures in the Galapagos Islands from the comfort of luxury lodges
LUXURY TOURS GALAPAGOS ISLANDS
Your luxury tour of the Galapagos Islands begins with your international arrival in Ecuador's capital, Quito. With your expert guide, visit the highlights of the city's colonial center, such as the Archbishop's Palace and the famous golden interior of the Compañía de Jesús church. From there, a commercial flight takes you to Baltra Island in the Galapagos, where you will connect with your private flight to Isabela Island, the largest in the archipelago. During your time in Isabela, enjoy some of the Galapagos' most varied hiking, and explore underwater lava tunnels by snorkel. Next, your private Galapagos Islands tour continues with a short private flight to Santa Cruz Island. There, embark on a variety of sea-based excursions to experience the wildlife of surrounding islands, together with land-based explorations of Santa Cruz. Mingle with sea lions, giant tortoises, blue-footed boobies, and more as you snorkel off the coast, or embark on an inland hike in the highlands. In the evenings, relax and enjoy the amenities of your luxury lodge.
A Taste of Blue Parallel's Insider Access
Private aerial sightseeing tour over the Galapagos

Private scuba diving excursions

Access to the best guides and biologists in the Galapagos

Exclusive access to one of Quito's most picturesque colonial churches at night
The Discovery
Quito

Galapagos Islands

Isabela Island

Santa Cruz Island
The Adventure
Hiking

Kayaking

Snorkeling

Scuba diving
PRIVATE TOUR GALAPAGOS ISLANDS
Note: This private tour to the Galapagos is an example, as all of our luxury journeys are custom-made
Note: This private tour to the Galapagos is an example, as all of our luxury journeys are custom-made
Quito (2 nights)
Your luxury Galapagos tour starts on Ecuador's mainland in Quito, where your personal host will greet you after your international flight arrival in the evening. They will accompany you by private transfer to Casa Gangotena, a luxurious boutique hotel in the historical center of Quito. On the first full day of your journey, you'll explore Ecuador's historical capital. This UNESCO World Heritage Site is nicknamed "the Florence of South America" for the artistic traditions of its colonial period. Visit the city's picturesque churches and indulge in gourmet meals. Blue Parallel will provide you with exclusive access to the Convent of Santo Domingo in the evening, an opulent church constructed in a Latin American Baroque style, known for its breathtaking interiors and beautiful views of the city from its rooftop.
Isabela Island (2 nights)
Following a commercial flight to the airport in Baltra Island, continue via a short private flight to Isabela Island and arrive at your beachfront property. Then, continue your luxury tour of the Galapagos Islands with an exciting hiking excursion along the  Humedales trail, ending with a stop at a flamingo lagoon and tortoise breeding site, where you will learn about these impressive creatures. The following day, explore the island's volcanic tunnels, wading through caverns on foot or snorkeling with white-tip reef sharks, manta rays, and parrotfish at Las Tuneles.
Santa Cruz Island (4 nights)
Depart Isabela Island for Santa Cruz Island via private flight. During your time at either Pikaia Lodge or Galapagos Safari Camp, you will embark on daily excursions with your naturalist guide. Discover nearby islands by boat or participate in land-based explorations of the highlights of Santa Cruz Island. Options include hiking, snorkeling with Blue Parallel will customize your private Galapagos tour with a selection of activities tailored to you, including hiking, snorkeling with sea lions, visiting a penguin colony, or relaxing on beautiful secluded beaches. In the evenings, enjoy a waterfront barbeque, indulge in a massage, or simply relax in the outdoor pool.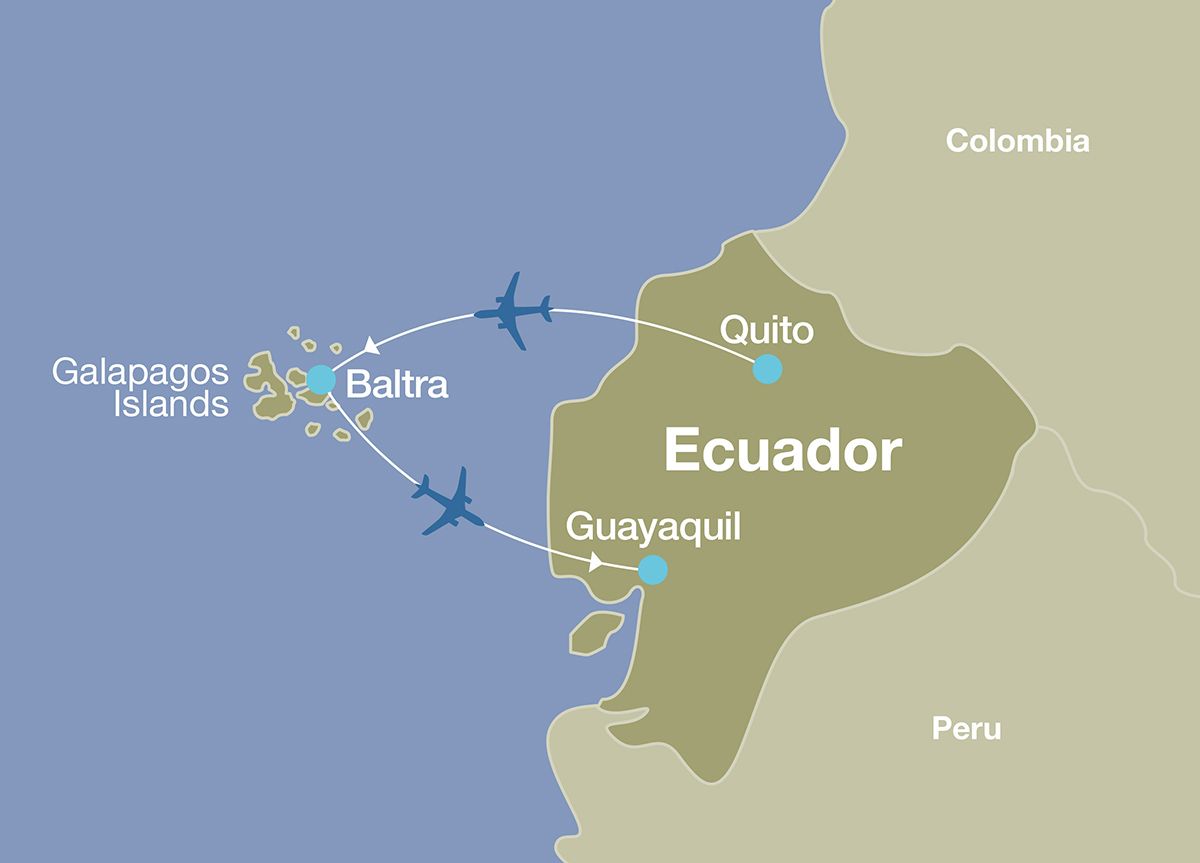 DESTINATIONS
TRAVEL TIME
Quito
Baltra
2 hrs 10 min
Baltra
Isabella
30 min
Isabella
Baltra
30 min
Baltra
Guayaquil
1 hr 45 min
MAKE THIS ITINERARY YOURS
Contact us to tell us more about your preferences and your ideal trip to the Galapagos Islands.
We will create a tailor-made itinerary for your review.
START PLANNING
PRICE REFERENCE
Recommended stay
8-11 days
Price reference


(9 days, private party of 2)

Starting at $20,000 per passenger
Price reference


(9 days, private party of 4)

Starting at $17,000 per passenger
Price reference


(9 days, private party of 6)

Starting at $16,000 per passenger
Note: Prices will vary based on the specifics of your itinerary and the number of passengers in your party
What is included in your private land-based Galapagos tour:
Luxury accommodations at

Casa Gangotena (Quito)

Iguana Crossing (Isabela Island)

Pikaia Lodge or Galapagos Safari Camp (Santa Cruz Island)

Internal flights, including private flights to/from Isabela Island

Services of Blue Parallel hosts and private specialized guides throughout the journey

All special events, private guided tours, private excursions, private outdoor activities, entrance fees

A Blue Parallel team composed of a personal travel expert, private hosts in each destination, and a "behind the scenes" logistical expert who monitors every step of your luxury tour. The team is on call 24-hours a day during a trip

All internal transportation

Some meals

A Blue Parallel customized travel kit that you will receive prior to departure