Fernando de Noronha Luxury Tours, Brazil
A hidden gem of unspoiled natural beauty in the Atlantic Ocean
LUXURY TRAVEL FERNANDO DE NORONHA
During your Fernando de Noronha luxury tour, enjoy pristine beaches as you explore an archipelago of volcanic islands in the Atlantic. Begin your trip in the spirited city of Rio de Janeiro. Bike along Rio's famous beaches, visit the bohemian neighborhood of Santa Teresa, learn about Brazil's fascinatingly diverse history with a trip to the colonial center – and more. Then, your luxury travel vacation continues at the islands of Fernando de Noronha. This stunning seascape boasts some of Brazil's most beautiful beaches, including the famed Baia do Sancho, accessible after a gentle trek. During your private tour of Fernando de Noronha, meet with a biologist and participate in local conservation efforts, or take a dune buggy ride before hitting a local surf break. Explore the islands and their abundant wildlife, from numerous species of seabirds to a high concentration of dolphins. Enjoy a delicious meal in the middle of the ocean aboard a private motorboat, before taking advantage of the area's world-class snorkeling and scuba diving.
A Taste of Blue Parallel's Insider Access
Assist an esteemed biologist in observing and cataloging endangered turtle species
Surprise cocktails and lunches on deserted beaches
Plana-sub snorkeling while being towed by a private motor yacht
The Discovery
Marine wildlife
Beaches such as
Baia do Sancho,
Baia dos Porcos
and Praia do Leão
Rio de Janeiro
The Adventure
Scuba diving
Planasub snorkeling
Private boating
Surfing
Hiking
PRIVATE TOUR FERNANDO DE NORONHA
Note: This private Brazil tour is an example, as all of our luxury journeys are custom-made.
Note: This private Brazil tour is an example, as all of our luxury journeys are custom-made.
Rio de Janeiro (3 nights)
Begin your luxury Brazil tour in Rio de Janeiro, where you will be greeted by your personal host and taken to one of Rio's 5-star luxury properties. Options include the iconic Copacabana Palace or the avant-garde Fasano hotel in Ipanema.
Accompanied by your personal guide, start off your luxury Rio tour by biking along the picturesque beaches of Ipanema, Leblon and Copacabana. The next day, enjoy a hiking excursion on one of the many accessible mountains that surround Rio, such as Pedra Bonita, Pico da Tijuca and Pedra Gavea.  Later, head to the Lagoon of Rio where you will board your private helicopter to tour the "cidade Maravilhosa." Circle around Christ the Redeemer (Mount Corcovado) and end your trip at the base of Sugarloaf Mountain where you will continue by cable-car to this landmark which offers incredible views of the city and bay.
On your third day, learn about Rio's colonial past which was originally the seat of the Portuguese Empire and later visit the eclectic artists' neighborhood of Santa Teresa. Continue your discovery of this great city with a visit to the Pequena Africa neighborhood, where you can visit a number of sites that highlight the African history and legacy in Rio de Janeiro.
Without a doubt, no trip to Rio is complete without music! On one of your evenings, stop at Rio Scenarium to enjoy Rio by night and listen to soothing live bossa nova or lively samba music.
Read less
Read more
Fernando de Noronha (4 nights)
Fly to Fernando de Noronha via Recife. Upon arrival, your personal host will take you to your luxury bungalow at Pousada Maravilha that overlooks the ocean. Discover the magic of this hidden archipelago off the Brazilian coast, beginning with an introduction by your personal guide. End your first day by watching the sun set over the ocean as you sip on a welcome cocktail.
No luxury trip to Fernando de Noronha is complete without exploring the volcanic island's beautiful beaches. Three of them have been voted the best beaches in Brazil: Baia dos Porcos, Baia do Sancho and Praia do Leão. These pristine surroundings are ideal for snorkeling, hiking, surfing, walks along the beach, and diving.
You can also join an esteemed biologist on one of the world's most beautiful beaches, home to a large concentration of marine life. Here, learn about the conservation efforts as you cataloge the many species which inhabit the area, including the critically endangered hawksbill sea turtle. Then, explore the archipelago by dune buggy and relax aboard your private luxury motorboat, where you'll be served fresh sushi and cocktails as dolphins frolic nearby.
Those seeking adventure can experience the thrill of "planasub" snorkeling: you'll be pulled behind the boat at a low speed, propelling yourself with a board almost 30 feet underwater to see schools of colorful fish and sea turtles. Venture deeper below sea level as you scuba dive (with visibility of up to 150 feet) with an expert dive master, or surf on the ocean's surface. At low tide, spot the local fauna in lagoons and tide pools at sites such as Rocas Atoll.
In the evenings, enjoy massages and delicious meals, including a special dinner at a local fisherman's home.
Read less
Read more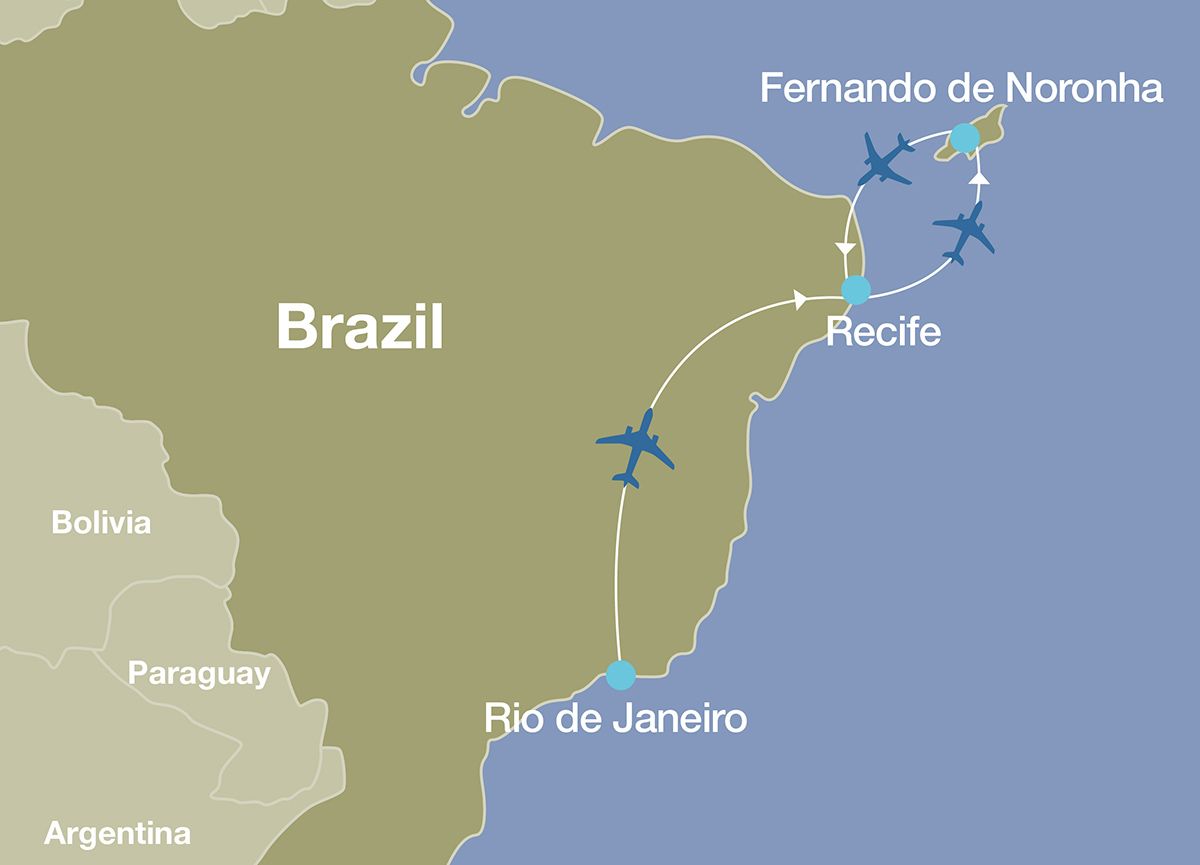 DESTINATIONS
TRAVEL TIME
RIO DE JANEIRO
RECIFE
3 hrs
RECIFE
FERNANDO DE NORONHA
1 hr 15 min
FERNANDO DE NORONHA
RECIFE
1 hr 15 min
MAKE THIS ITINERARY YOURS
Contact us to tell us more about your preferences and your ideal trip to Fernando de Noronha.
We will create a tailor-made itinerary for your review.
START PLANNING
PRICE REFERENCE
Recommended stay
5-8 days
Price reference


(8 days, private party of 2)

Starting at $14,500 per passenger
Price reference


(8 days, private party of 4)

Starting at $12,000 per passenger
Price reference


(8 days, private party of 6)

Starting at $11,500 per passenger
Note: Prices will vary based on the specifics of your itinerary and the number of passengers in your party.
What is included in your private Brazil tour:
Luxury accommodations:

Belmond Copacabana Palace or Fasano Hotel (Rio de Janeiro)
Pousada Maravilha (Fernando de Noronha)

Internal flights
Services of Blue Parallel hosts and private specialized guides throughout the journey
All special events, private guided tours, private excursions, private outdoor activities, entrance fees
A Blue Parallel team composed of a personal travel expert, private hosts in each destination, and a "behind the scenes" logistical expert who monitors every step of your luxury Brazil tour. The team is on call 24-hours a day during a trip
All internal transportation
Some meals
A Blue Parallel customized travel kit that you will receive prior to departure