Amazon Luxury Tours, Brazil
Land, river, and aerial explorations in the most biodiverse region on Earth
LUXURY BRAZIL AMAZON TOUR
Discover one of the most biodiverse regions of the world during an Amazon luxury tour. Begin in the vibrant city of Rio de Janeiro, where you will enjoy an unforgettable introduction to the city's peaks and beaches as you soar above the iconic Christ the Redeemer statue in a private helicopter. Spend the following days biking along Rio's famous beaches, visiting the bohemian neighborhood of Santa Teresa, and learning about Brazil's diverse history with a trip to Rio's colonial center. Your luxury Brazil Amazon tour then continues with a domestic flight to Manaus, where you will board a small hydroplane for the last leg of the journey. On the way to your remote lodge in the jungle, you will witness one of the most spectacular sights in the Amazon region – the Meeting of the Waters. During your private tour of the Amazon, you will explore the rainforest accompanied by an expert natural guide. The adventure includes sunrise hikes and night walks, piranha fishing excursions, local community visits, and more.
A Taste of Blue Parallel's Insider Access
After-hours access to certain museums, churches & synagogues in Rio

Learn about survival techniques with an expert indigenous guide

Canopy treehouse lodging with butler

Private hydroplane to take you to your ecolodge, deep in the heart of the Amazon

Aerial sightseeing over the "Meeting of the Waters" in the Brazilian Amazon
The Discovery
Rio de Janeiro

Amazon River & Rainforest

Rio Negro River

The Meeting of the Waters

Unique ancestral history
of indigenous communities
The Adventure
Hiking

Kayaking

Piranha fishing

Canopying

Alligator spotting
PRIVATE TOUR AMAZON
Note: This private tour to the Amazon is an example, as all of our luxury journeys are custom-made.
Note: This private tour to the Amazon is an example, as all of our luxury journeys are custom-made.
Rio de Janeiro (3 nights)
Upon arrival in Rio de Janeiro, you will be greeted by your personal host and transported by private vehicle to one of Rio's 5-star luxury properties. Options include the iconic Copacabana Palace or the avant-garde Fasano hotel in Ipanema.
Accompanied by your personal guide, start your luxury Rio tour by biking along the picturesque beaches of Ipanema, Leblon and Copacabana. The next day, enjoy a hiking excursion on one of the many accessible mountains surrounding Rio, such as Pedra Bonita, Pico da Tijuca, and Pedra Gavea. Later, head to the Lagoon of Rio, where you will board your private helicopter to tour the "Cidade Maravilhosa." Circle around Christ the Redeemer (Mount Corcovado) before ending your trip at the base of Sugarloaf Mountain. Continue by cable car to this landmark which offers incredible views of the city and bay.
On your third day, learn about Rio's colonial past as the original seat of the Portuguese Empire before visiting the eclectic artists' neighborhood of Santa Teresa. Then, continue your discovery of this great city when you stop by the Pequena Africa neighborhood, home to sites that highlight the African history and legacy in Rio de Janeiro.
Without a doubt, no trip to Rio is complete without music! So, during one of your evenings, stop at Rio Scenarium to enjoy Rio by night and listen to soothing live bossa nova or lively samba music.
Read less
Read more
Brazilian Amazon (4 nights)
After a domestic flight to Manaus, a private hydroplane flight will take you to the Anavilhanas Jungle Lodge. This remote eco-lodge boasts an excellent remote location on the world's largest river archipelago. Along the way, get an impressive aerial view of the fabled Amazon as you fly over the "Meeting of the Waters," where the sandy-colored Amazon converges with the dark waters of the Rio Negro.
Spend the following days in the Brazilian Amazon accompanied by an expert naturalist guide. Discover the rainforest above the treetops on the property's canopy platforms, or boat along the rivers at night to search for caiman (small alligators) and sunrise. Go hiking and piranha fishing, or learn how to shoot a traditional bow and arrow. Canoe down Rio Negro to visit a local caboclo community, and stop by a sanctuary for pink dolphins to learn about the conservation efforts surrounding this unique species. Depending on your interests, specific activities can be incorporated into your itinerary.
Read less
Read more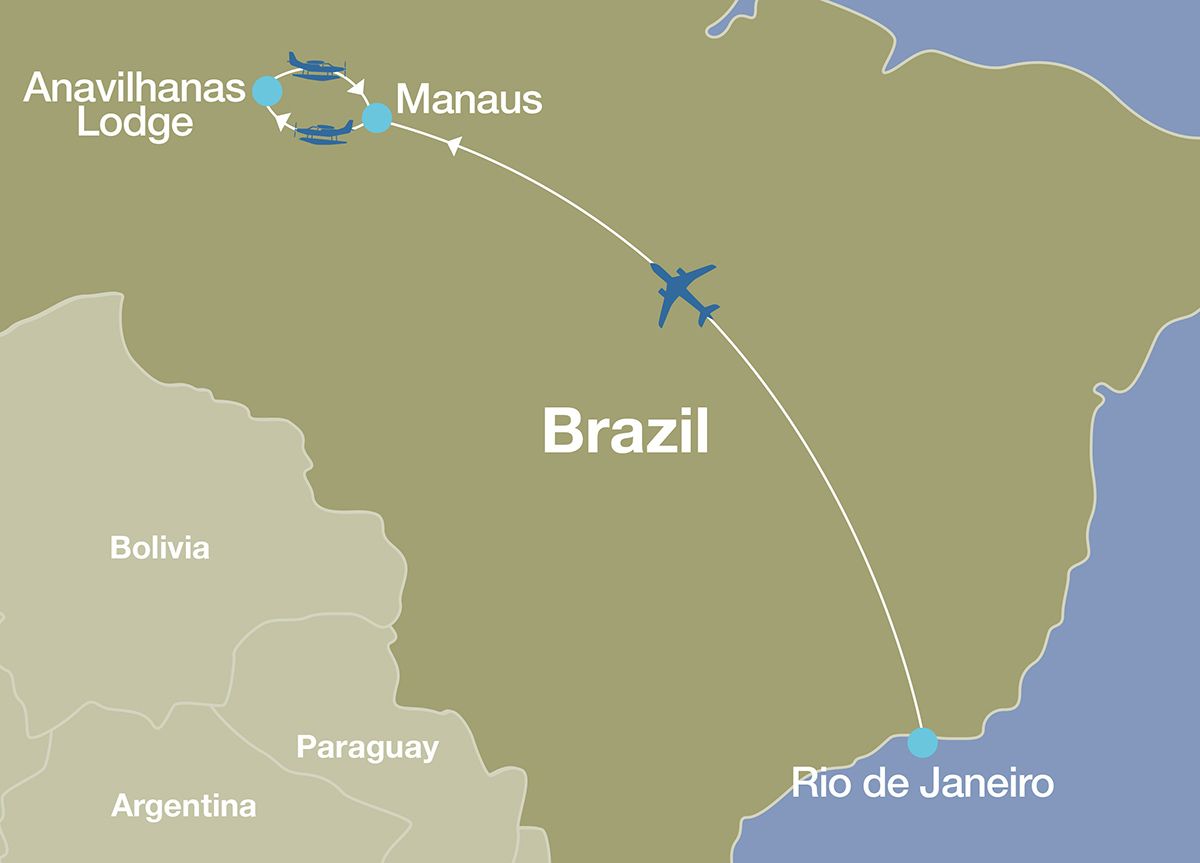 DESTINATIONS
TRAVEL TIME
Rio de Janeiro
Manaus
4 hrs
Manaus
Anavilhanas Lodge
40 min
Anavilhanas Lodge
Manaus
40 min
MAKE THIS ITINERARY YOURS
Contact us to tell us more about your preferences and your ideal trip to the Amazon.
We will create a tailor-made itinerary for your review.
START PLANNING
PRICE REFERENCE
Recommended stay
5-8 days
Price reference


(8 days, private party of 2)

Starting at $17,000 per passenger
Price reference


(8 days, private party of 4)

Starting at $13,500 per passenger
Price reference


(8 days, private party of 6)

Starting at $12,000 per passenger
Note: Prices will vary based on the specifics of your itinerary and the number of passengers in your party.
What is included in your Amazon luxury tour:
Luxury accommodations at

Belmond Copacabana Palace or Fasano Hotel (Rio de Janeiro)

Anavilhanas Jungle Lodge (Brazilian Amazon)

Internal flights

Private hydroplane between Manaus and your lodge in the Amazon Rainforest

Services of Blue Parallel hosts and private specialized guides throughout the journey

All special events, private guided tours, private excursions, private outdoor activities, entrance fees

A Blue Parallel team composed of a personal travel expert, private hosts in each destination, and a "behind the scenes" logistical expert who monitors every step of your luxury tour. The team is on call 24-hours a day during a trip

All internal transportation

Some meals

A Blue Parallel customized travel kit that you will receive prior to departure
Weather
Amazon Basin Average Temperatures
| | ° F HIGHS | ° F LOWS |
| --- | --- | --- |
| JAN | 87 | 71 |
| FEB | 87 | 71 |
| MAR | 88 | 70 |
| APR | 87 | 70 |
| MAY | 86 | 70 |
| JUN | 86 | 69 |
| JUL | 87 | 70 |
| AUG | 88 | 72 |
| SEP | 90 | 73 |
| OCT | 91 | 73 |
| NOV | 89 | 73 |
| DEC | 88 | 72 |
*AVERAGE RAINFALL VARIES DEPENDING ON THE SPECIFIC REGION IN THE AMAZON BASIN. THE RAINY SEASON TENDS TO LAST FROM JUNE TO OCTOBER OR DECEMBER DEPENDING ON THE AREA.