August 03, 2023 — By

Megan Turner
The Best Luxury Hotels And Riads In Morocco
Morocco is an enchanting realm, where luxury and opulence seamlessly blend with centuries-old traditions, cultural treasures and mesmerizing landscapes. We believe the best hotels and riads in Morocco are an amalgamation of everything this alluring kingdom has to offer, creating unforgettable travel experiences that transcend luxury.
From extravagantly restored riads and luxe resorts to stylish kasbahs and elegant luxury hotels, Morocco has a broad selection of exquisite properties. Here, we share some of our favorites; prepare to be charmed by the timeless allure of this North African treasure, where indulgence and cultural immersion harmoniously intertwine…
Luxury Accommodation In Marrakesh
Marrakesh is one of the most vibrant cities in Morocco. Here, you can witness mysterious age-old traditions like snake charmers and wander through a maze of artisanal souks and stunning architecture, before enjoying a culinary masterpiece at a contemporary restaurant and relaxing at an award-winning spa.
The city is also home to plethora of luxurious hotels and riads, including:
La Mamounia
La Mamounia is nestled amidst lush gardens just outside the medina. This grand palace dates back to 1923 but has been redesigned by Jacques Garcia, a world renowned designer. The hotel boasts high-end amenities, including a spa, gourmet restaurants and a pool which combine to create a sanctuary of relaxation and indulgence.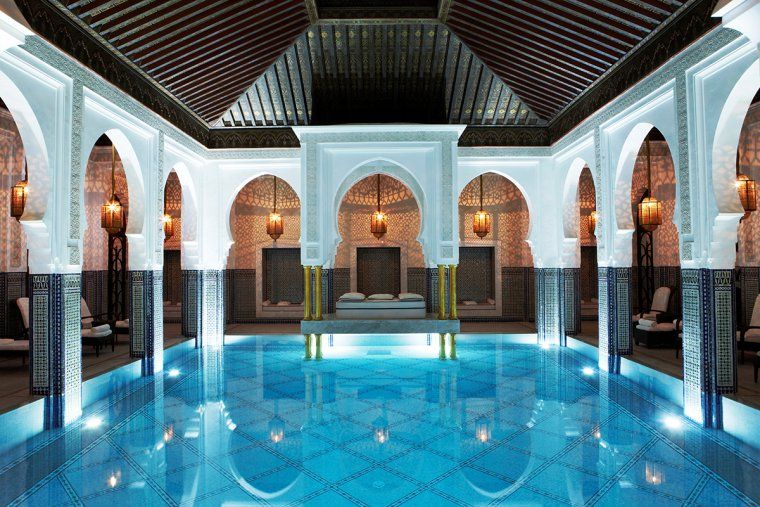 Compared to luxury boutique hotels and riads in Morocco, La Mamounia is a large property with 135 rooms and 71 suites. The corridors have been designed to mirror the medina's narrow streets, leading to elegant and comfortable accommodation that blend a refined, contemporary design with the vibrant atmosphere of Marrakesh.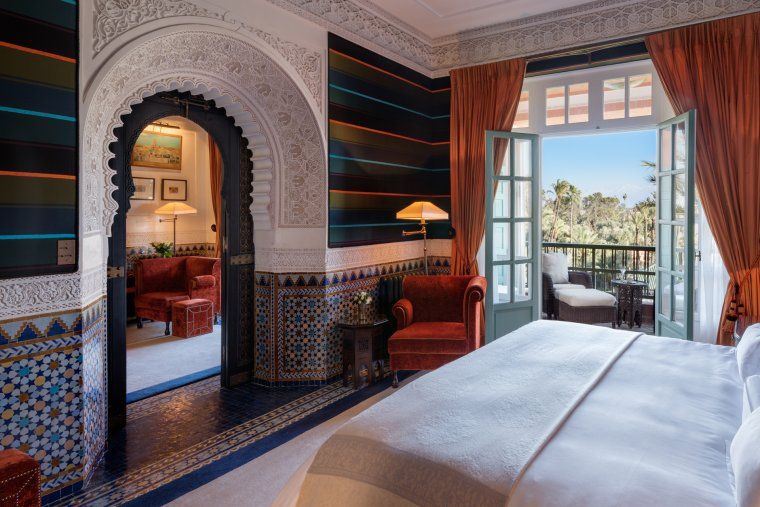 If you're traveling with a larger group or want ultimate privacy on your tour of Morocco, La Mamounia has three elegant riads which each have a heated swimming pool and a private terrace.
Royal Mansour
The Royal Mansour is the epitome of indulgence. Owned by the King of Morocco, this opulent hotel is intended to be a symbol of luxury and its interiors reflect this, boasting traditional Moroccan architecture, intricate mosaics and sumptuous furnishings.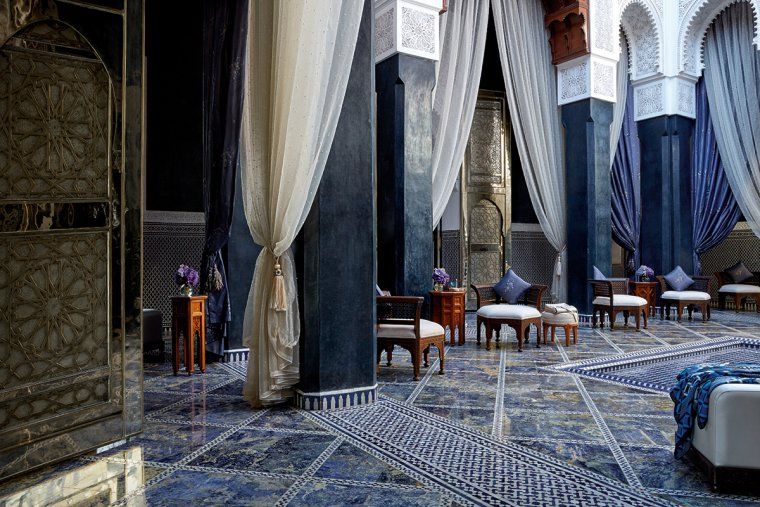 The Royal Mansour is a collection of individual private riads, each with its own entrance, pool and terrace. The design reflects elements of an authentic medina, with winding alleyways and elements that aim to take you on a sensory journey. This luxury hotel is ideal if you want to enjoy complete privacy on your Morocco tour.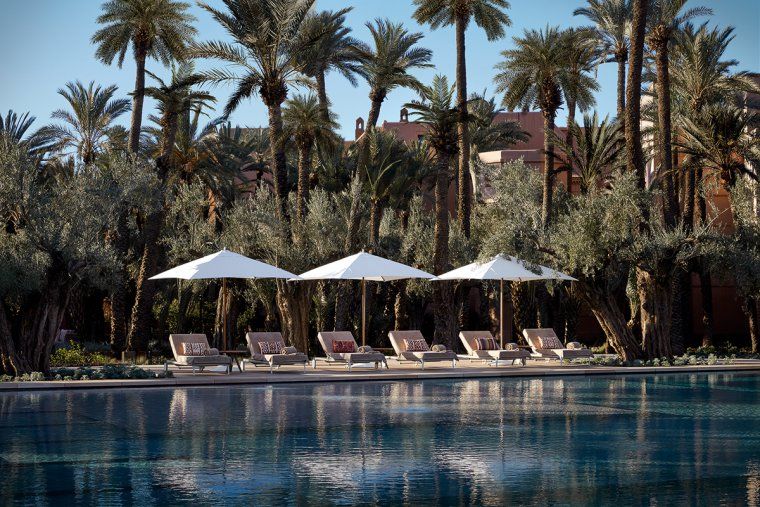 The hotel is located near to the heart of Marrakesh, just a few steps from Morocco's finest cultural experiences, including the famed Jemaa el-Fna Square.
Villa des Orangers
Villa des Orangers is a luxury boutique hotel located right outside the medina. Originally built as a home in the 1930s, the property has elements of a traditional Moroccan riad. Although it was later sold and remodeled into a hotel, the property maintains some of the original features but has been updated with modern furnishings.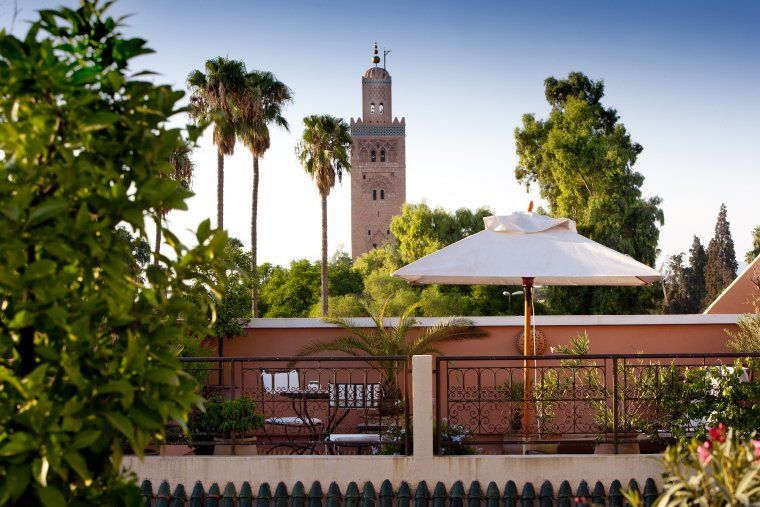 With just 27 rooms and suites, Villa des Orangers creates an intimate and private space for guests to unwind and enjoy the spirit of Moroccan culture. After a busy day exploring Marrakesh, you can return to your suite and retreat from the lively atmosphere.
Its large garden, floral patios, rooftop terrace with views of the Atlas Mountains and luxurious spa come together to create an oasis of tranquility.
Riad de Tarabel
If you want to stay inside the medina of Marrakesh during your tour of Morocco, we recommend Riad de Tarabel, a charming boutique hotel comprising several former riads. Here, you'll witness old, colonial style design with subtle hints of modern style and architecture, including intricate tilework, courtyard gardens and handcrafted wooden details.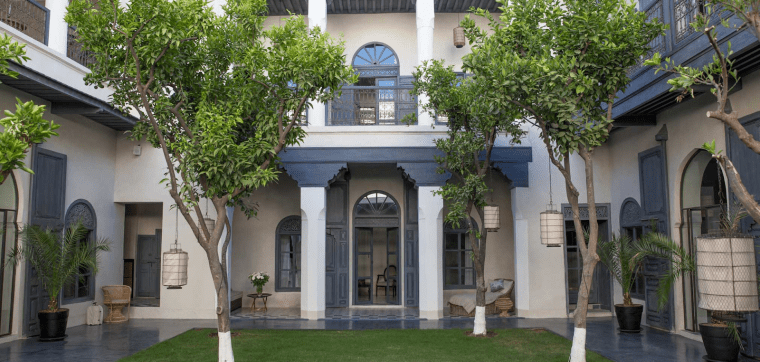 Each of the 10 rooms and suites at Riad de Tarabel create an atmosphere of timeless elegance while immersing you in traditional Moroccan ambiance. Guests, who must be over the age of 16, have access to a peaceful courtyard, a refreshing plunge pool, and a relaxing rooftop with views of the medina and Atlas Mountains.
As you'll be staying inside the medina, you'll only ever be a stone's throw away from all the action.
Amanjena
Amanjena is a luxe resort that is located a little further outside of Marrakesh. Its name translates to "peaceful paradise" which it lives up to with its tranquil environment and luxurious facilities.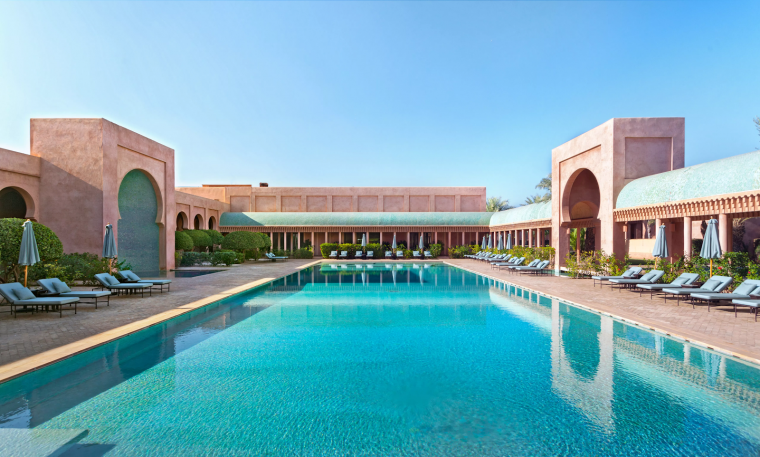 Amanjena has six exceptional pavilions and maisons which are one bedroom and two-story homes, respectively. Each property has cool, elegant interiors with beautiful Berber carpets and zellij-tiled floors, all with private gardens and many with private pools. The design and architecture throughout the resort reflects the historic qualities of Morocco, while its contemporary comforts exude opulence.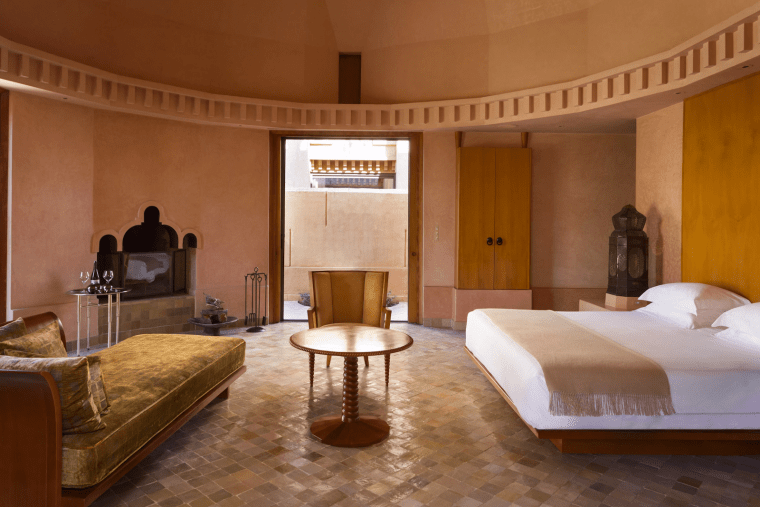 The resort boasts gardens, heated pools, courtyards, fountains and clay tennis courts. When you're not admiring the views of olive groves and the High Atlas Mountains, you can also visit the Amelkis Golf Course next door.
Luxury Accommodation In Fes
Fes is one of the most significant cultural and historical gems of Morocco. Visit Fes on your luxury tour of Morocco and be transported back in time to a traditional world of ancient customs and spirituality. The best accommodation here provides an enchanting fusion of Moroccan heritage and modern comforts.
Here are our favorite luxury hotels and riads in Fes:
Karawan Riad
Karawn Riad is a small yet stylish riad in the heart of Fes' vibrant medina. Despite its intimate setting—boasting just seven suites—there's nothing small about this riad's character.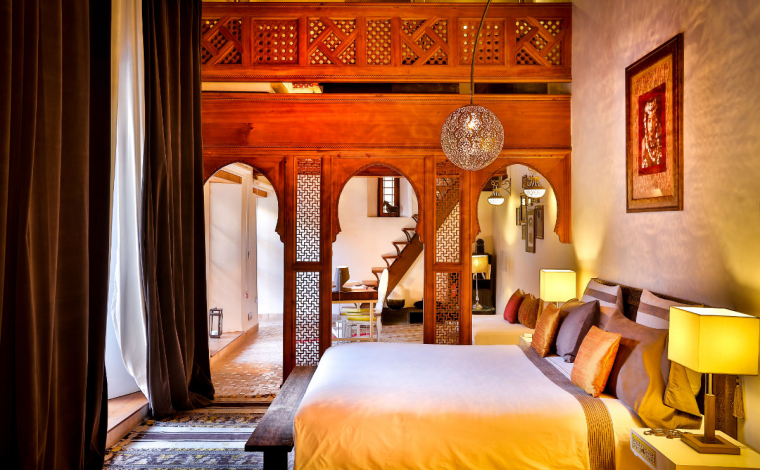 Karawn Riad was restored over a decade as they sourced the exact materials used by local craftsmen 300 years ago. Wander through the property and admire the hand-crafted, glazed mosaic tiles, silk embroidery, exquisite handicrafts and delicate iron-work.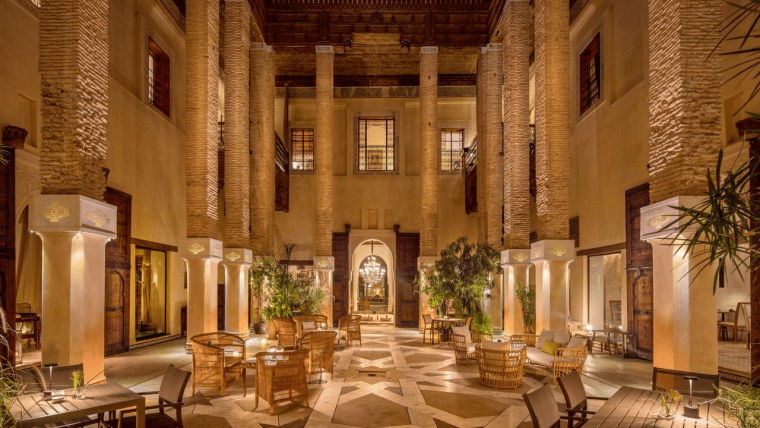 Each of the seven suites are spacious, with stylish elements and tasteful decor. You'll also have access to a rooftop terrace, restaurant, and traditional hammam spa.
Riad Fes
Riad Fes is a traditional property located in the heart of the ancient medina of Fes. The property was restored with Morocco's cultural and architectural heritage in mind and boasts refined artistry that is exemplified in the Spanish Moorish-style architecture and traditional decor.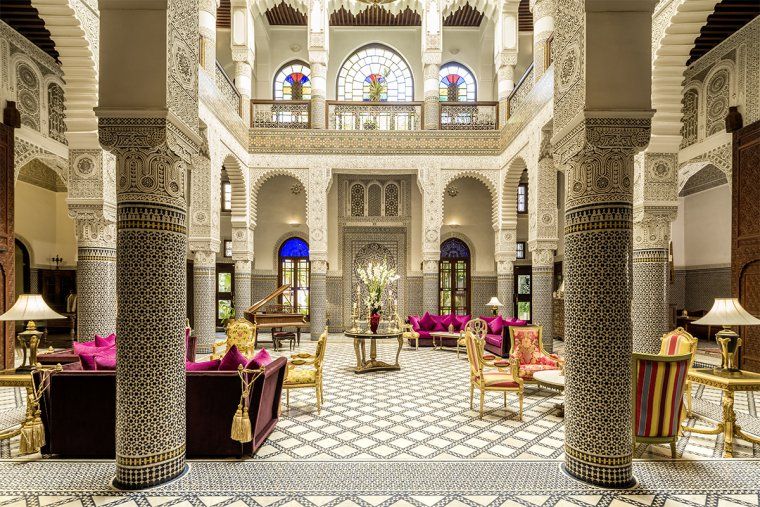 This exquisite riad offers beautifully decorated rooms and suites, each reflecting the opulence of Moroccan design. The riad features four tranquil courtyards, a refreshing pool, a spa with traditional hammam experiences and a restaurant with fine Moroccan cuisine.
Hotel Sahrai
Located atop a hill on the former site of Marshal Lyautey's summer palace and overlooking the colorful city of Fes, Hotel Sahrai is an incredible retreat away from the hustle and bustle of the medina.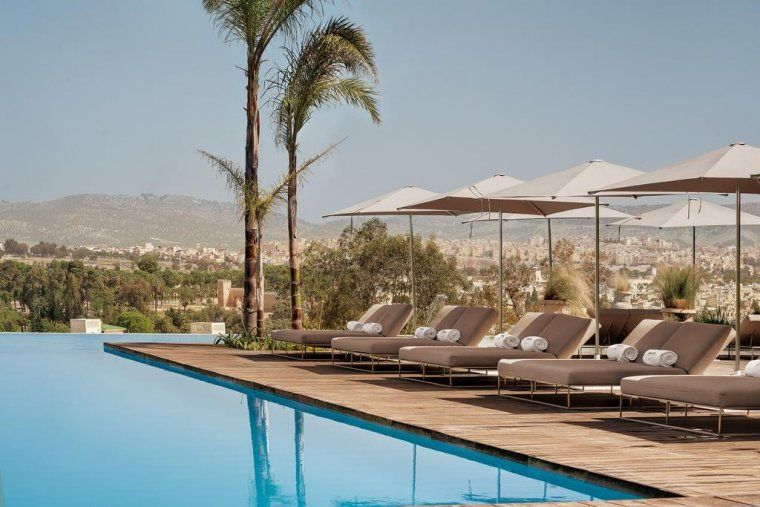 This five-star hotel was designed with the aim to blend traditional and contemporary style: its grand arches are enhanced with Fassi ceramics, copper lanterns, zellige pools and carved plaster that all provide modern yet subtle references to Morocco's ancient traditions.
Despite having 50 spacious rooms, a Givenchy spa with a traditional hammam, two restaurants, an infinity pool and a rooftop with a bar and panoramic terrace, Hotel Sahrai creates an intimate and private environment while giving guests access to the latest amenities.
Luxury Accommodation In The Atlas Mountains
Located outside of Marrakesh, the High Atlas Mountains boast some of Morocco's most striking landscapes. While the region is known for its remote and rugged environments, there are still a selection of luxurious properties. Here are our favorites:
Kasbah Tamadot
Kasbah Tamadot is owned by Sir Richard Branson and may be one of the more well known luxury properties in Morocco. A sophisticated mountain retreat nestled in the High Atlas Mountains, Kasbah Tamadot boasts beautiful, panoramic views of the surrounding mountain range and easy access to exhilarating outdoor adventures.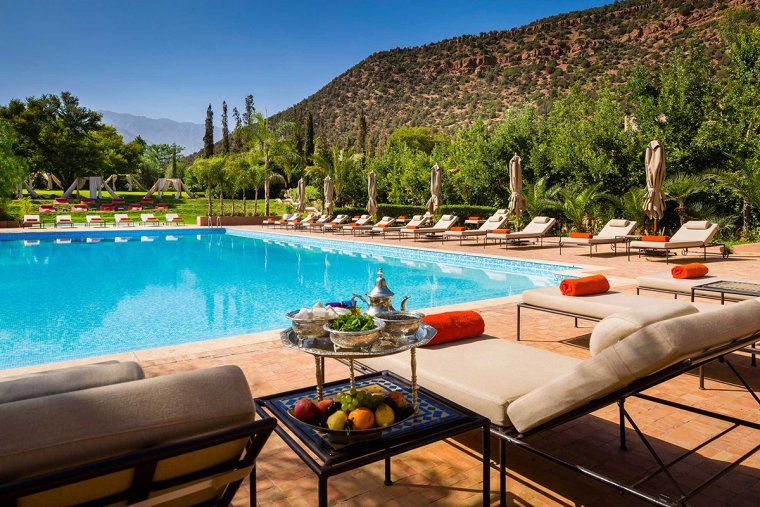 Kasbah Tamadot currently has 28 rooms and suites which have been individually designed to reflect Morocco's stunning, traditional architecture. The property is in the process of constructing additional riads to expand its capacity.
Alongside Moroccan decor and unique antiques from across the world, the suites feature modern amenities and facilities.
When you're not hiking up Morocco's highest peak, mountain biking through the strikingly beautiful Ouirgane Valley, or discovering remote Berber villages nestled in the mountains, relax at the infinity pool or indulge in a relaxing spa treatment.
Olinto
Olinto is a relatively new addition to Morocco's portfolio of luxury accommodation. A mountain retreat situated in the Berber heartland of Morocco, Olinto was opened by Prince Fabrizio Ruspoli, an Italian aristocrat known for establishing extravagant properties in Morocco.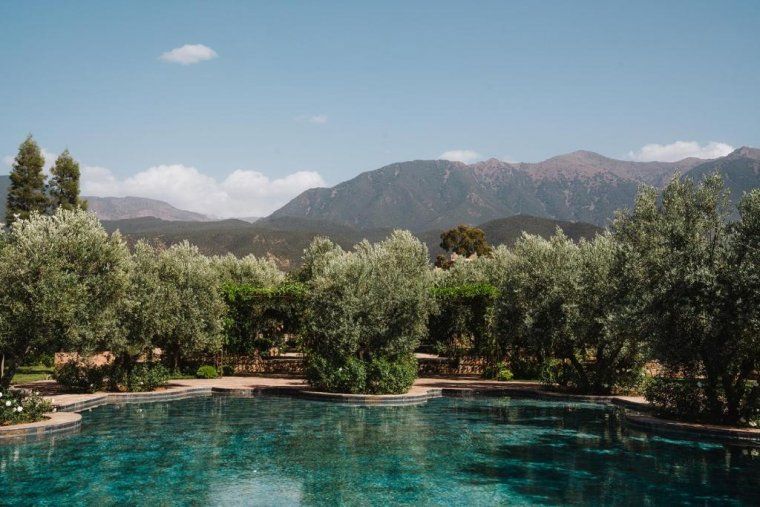 The hotel has nine pavilions which each have privacy and comfort at the forefront of their design. Each pavilion has its own private garden that is enclosed by earthen walls, providing you with your own sanctuary and space away from crowds. Throughout the hotel you'll see traditional Moroccan architecture and decor.
Set within the verdant Ouirgane valley, when you're not embarking on a bespoke excursion, you can still take in the beauty of this stunning region from the property.
Luxury Accommodation In The Skoura Valley
Morocco's Skoura Valley is a lush oasis of tranquility nestled between the High Atlas Mountains and the Sahara Desert. Here, you can wander through valleys and stunning groves of olives, dates, pomegranates and almonds, as well as discovering old kasbahs dotted around the region.
The best luxury hotels in the Skoura Valley respect the serene landscapes while creating an authentic Moroccan experience:
Dar Ahlam
Dar Ahlam is a 200-year-old rammed earth kasbah in the heart of the Skoura Valley. Tucked away in a private setting at the edge of the Moroccan desert, the Dar Ahlam makes the perfect base for bespoke, private adventures throughout the region.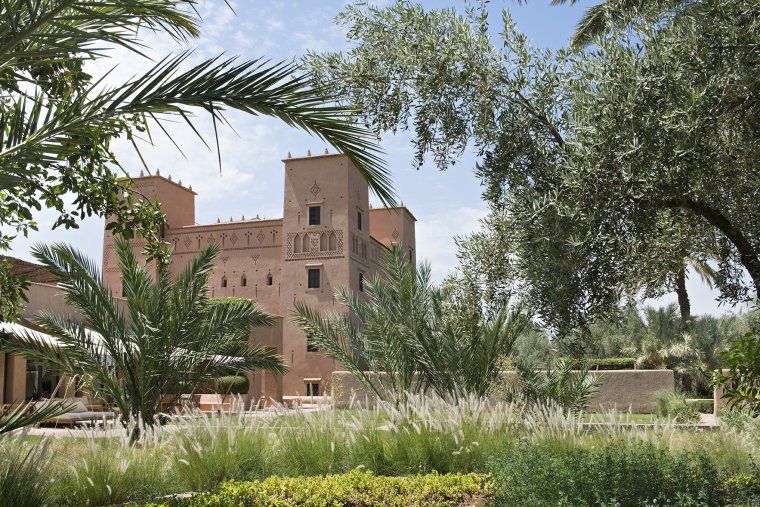 This luxury property has 14 rooms which are elegantly designed and fit with contemporary comforts and modern facilities. As well as providing an intimate setting for you to relax and unwind in on your tour of Morocco, you also have the chance to immerse yourself in the breathtaking natural wonders of the Skoura Valley.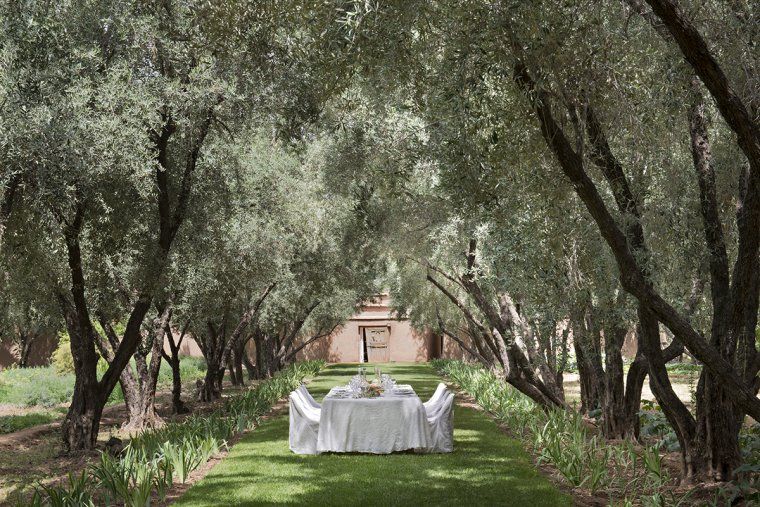 As it has such a small capacity, you'll be an exclusive guest and will be able to enjoy all of the facilities in private, including the palm shaded swimming pool, beautiful gardens, a luxury spa and hammam and its unique dining service.
Choosing The Best Luxury Hotels & Riads In Morocco
If you're seeking a truly opulent and unforgettable tour of Morocco, we can help you select the best luxury hotels throughout your journey. For more information, contact one of our travel experts today.
Tailor-Made Itineraries To Morocco

Contact us to start planning your next once-in-a-lifetime journey