Costa Rica Luxury Tours
Costa Rica by private air - curated land, ocean, and river adventures.
LUXURY TOURS COSTA RICA
During this luxury tour of Costa Rica, you will discover the highlights of a country known for its adventurous spirit and eco-chic accommodations. Begin in the Osa Peninsula, where your remote lodge will make you feel immersed in the surrounding rainforest. Explore isolated beaches during a private boat ride with a naturalist guide, who will point out dolphins and caimans, or hike through the lush jungle until you reach a secluded waterfall. Your private Costa Rica tour continues in the Pacuare Forest, where you may arrive at your lodge via a white-water raft, a unique luxury travel experience. During your hiking excursion to the Talamanca Mountains, follow a centuries-old indigenous trail, learning about the history and customs of the country's largest indigenous group along the way. After a short hike through the jungle, thrillseekers will find adrenaline-pumping canyoning or ziplining adventures. Finally, end your Costa Rica luxury tour with a charter flight to Liberia and a private transfer to your beachfront resort in the Papagayo Peninsula. There, enjoy a beach and water activities such as swimming, snorkeling, kayaking, or simply relaxing on a sandy beach located steps from your accommodations.
A Taste of Blue Parallel's Insider Access
Your own private plane to take you from lodge to lodge
Meet indigenous communities
Access to off the beaten track trails and waterfalls
Private dinners on the beach facing the Pacific Ocean
The Discovery
Osa Peninsula
Pacuare River
Peninsula Papagayo
The Adventure
Horseback riding
Hiking
Rafting
Zip lining
Waterfalls
Volcano climbing
Snorkeling
Scuba diving
Sea kayaking
Surfing
PRIVATE TOUR COSTA RICA
Note: This private Costa Rica tour is an example, as all of our luxury journeys are custom-made.
Note: This private Costa Rica tour is an example, as all of our luxury journeys are custom-made.
Osa Peninsula (2 nights)
Upon arrival at San José International Airport, board a private plane to the Osa Peninsula where you will begin your luxury Costa Rica tour. Here you will stay at a lodge nestled in the forest overlooking the Pacific Ocean. This exclusive lodge is set away from other touristic locales, providing a unique experience of the pristine rainforest. Later that evening, experience the magic of the rainforest at night. With the assistance of your personal expert guide and a flashlight, uncover the unusual nocturnal creatures and their habitats.
The next day, your guide will take you on a boat to explore the bay and its river tributaries along the Golfo Dulce. You'll likely spot dolphins, crocodiles, and whales out in the gulf. Later, hike through the forest, crisscrossing the river until you reach hidden waterfalls. Alternatively, enjoy a birdwatching experience to witness some of the 319 bird species in the area. Here you will have a chance to see numerous species of birds, morpho butterflies and other mammals. Scarlet macaws, brown pelicans, all breeds of heron, all four Costa Rican monkey species, several wild cat species, sloths, coatis, agoutis, and anteaters all roam the woods of the lodge.
Read less
Read more
Pacuare Forest (2 nights)
Continue your luxury Costa Rica tour by visiting the unspoiled Pacuare Forest in the Cartago province with your expert guide. The Pacuare Forest is a 25,000-acre protected area with diverse plant and animal species.
After a private plane journey to Siquirres, embark on an exhilarating white water rafting experience to the lodge. Later, glide through the jungle on zip lines connecting the treetops, or embark on rappelling and canyoning adventures.
The following day, embark on a hike through the Talamanca Mountains, home to the Cabecar indigenous group – the largest in Costa Rica. You will trek on the paths which the Cabecar have used for centuries. The trail offers a wonderful opportunity to discover the secrets of the forest and interact with the ecosystem. Unlike other tribes, the Cabecar do not live in villages but in separate family units away from other neighbors, which has helped them to maintain their customs, language and culture.
Read less
Read more
Peninsula Papagayo (2 nights)
End your private Costa Rica tour on the Pacific coast; leave the jungle by private plane and head to the magnificent Four Seasons Costa Rica Resort.
Home to two secluded, white sand beaches, you can take advantage of stand-up paddleboards, kayaks, or snorkeling gear to explore the many coves and hidden beaches along the coast. We typically recommend taking one day to relax and enjoy the amenities offered by your luxury hotel and spending your second day exploring the area.
Read less
Read more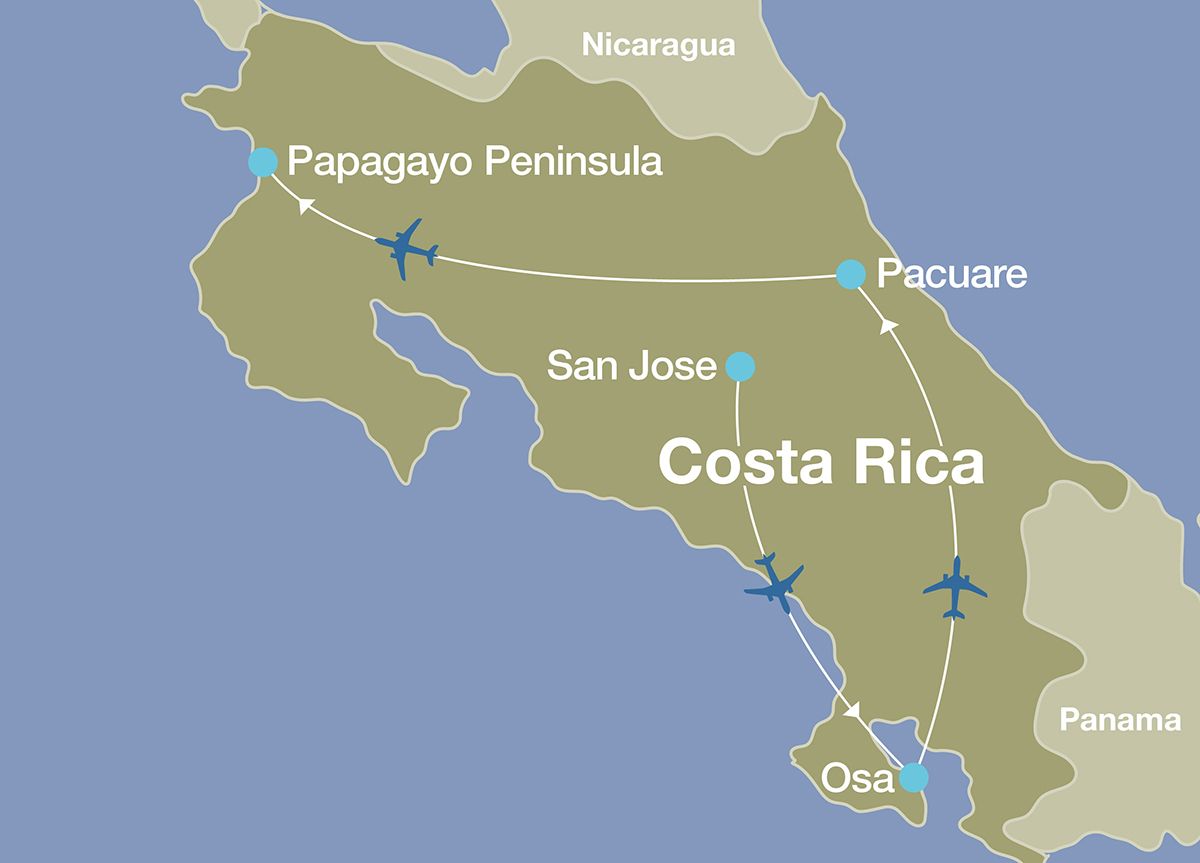 DESTINATIONS
TRAVEL TIME
SAN JOSE
OSA PENINSULA
50 min
OSA PENINSULA
PACUARE FOREST
1 hr 10 min
PACUARE FOREST
PAPAGAYO PENINSULA
50 min
MAKE THIS ITINERARY YOURS
Contact us to tell us more about your preferences and your ideal trip to Costa Rica.
We will create a tailor-made itinerary for your review.
START PLANNING
PRICE REFERENCE
Recommended stay
6-9 days
Price reference


(7 days, private party of 2)

Starting at $22,500 per passenger
Price reference


(7 days, private party of 4)

Starting at $19,500 per passenger
Price reference


(7 days, private party of 6)

Starting at $17,000 per passenger
Note: Prices will vary based on the specifics of your itinerary and the number of passengers in your party.
What is included in your private Costa Rica tour:
Luxury accommodations in

Lapa Rios Ecolodge (Osa Peninsula)
Pacuare Lodge (Pacuare Forest)
Four Seasons Resort

Private planes for all travel between destinations
Services of Blue Parallel hosts and private specialized guides throughout the journey
All special events, private guided tours, private excursions, private outdoor activities, entrance fees
A Blue Parallel team composed of a personal travel expert, private hosts in each destination, and a "behind the scenes" logistical expert who monitors every step of your luxury Costa Rica tour. The team is on call 24-hours a day during a trip
All internal transportation
Some meals
A Blue Parallel customized travel kit that you will receive prior to departure