April 26, 2020 — By

Saul Shelton
A Blue Parallel Exclusive:
Eclipse 2020 Update
If there is one major takeaway from 2020, it would be that mother nature prevails despite the man-made troubles of humankind. Eclipse chasers knew that despite border closures, quarantine measures, and all the other pandemic woes, the sun would still shine on December 14, 2020 and the total solar eclipse would happen whether we were watching or not.
That is the beauty of nature: it does not exist through the gaze of man, it is eternal with or without us.
Here at Blue Parallel, we were closely monitoring the situation in Argentina, as we had travelers who booked their eclipse experience well over a year in advance. As December dawned upon us, we were anxious that borders would not open and our travelers would miss this once in a lifetime opportunity. As it became clear that borders would not open, we began to work diligently with our local teams to see if we could do more for our travelers and we prevailed!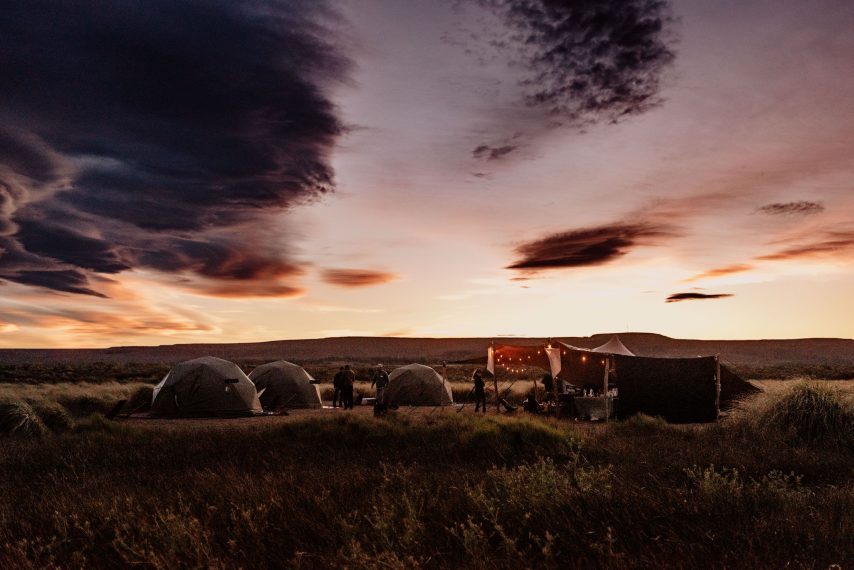 Witnessing The Solar Eclipse With Blue Parallel
Blue Parallel is not in the business of accepting "no" as an answer for our guests. Even with the difficulties of 2020 in our industry, we strive to go above and beyond for our travelers to ensure exclusive and white-glove experiences in the destinations where we operate. Unlike other trips where we were able to postpone and reschedule, the 2020 eclipse experience was unique in the sense that we were tied to mother nature's calendar.
Our adventurous, eclipse-chasing travelers waited patiently as the landscape of global travel constantly changed, hoping that they would be able to travel to Argentina to see the eclipse. As it became clear that Argentina was not going to open its borders to US citizens, we started to lose hope, but with three days left until their arrival we were able to pull a hail mary!
Together with our local partners, we were successful in obtaining special authorization for our clients to enter the country following specific safety protocols that were presented to local and national authorities. Thanks to our efforts and our on-the-ground contacts, we were able to deliver the good news to our eclipse chasers who decided to fly by private air into Argentina.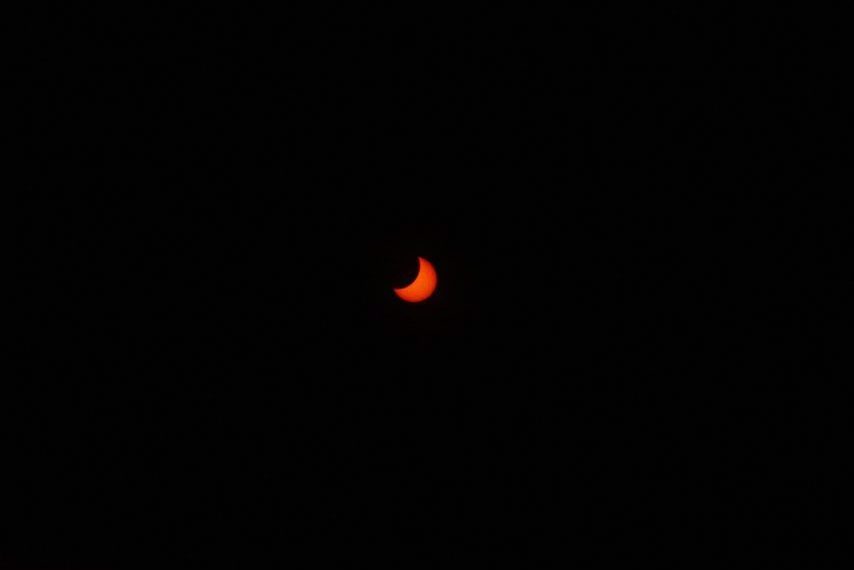 Eclipses bring a great deal of fervor to mankind. Before modern technological advancements, primitive cultures feared the eclipse. Most cultures attributed an eclipse to a celestial deity arriving on earth to consume the sun, which is easy to imagine when you think of the "bite mark" that appears as the moon begins to cover the sun.
From the ancient Greeks to Mayan to Norse traditions, eclipses were harbingers of punishment or the end of times. Most traditions believed that yelling and howling at the eclipse would ward off negative spirits. Nowadays, an eclipse represents a time where we can all join together under the sky and stand in awe of nature's glory. Where we can stop and stand witness to nature's greatness despite our worldly troubles.
However, it is true that people still go a little crazy under an eclipsed sun. Perhaps man is always looking for an excuse to let loose and howl into the sky?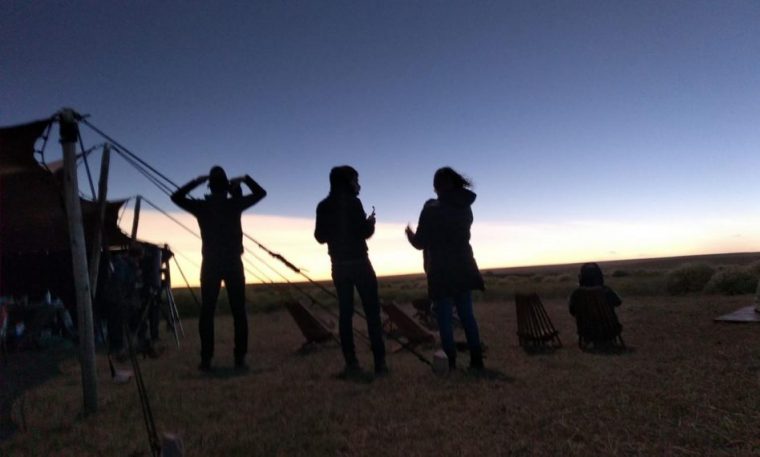 A Unique Journey To The 2020 Solar Eclipse
For us, being able to send our clients on this once in a lifetime journey to the Steppe region of Neuquen in Northern Patagonia was the best way to end this tumultuous year.
Our journey began in Bariloche, in Isla Victoria on the Lake Nahuel Huapi, where we were able to enjoy deer spotting while on treks through wooded forests that led to beautiful blue lagoons and lakeside yoga with stunning views of the rolling ice-capped mountains. Our clients had the island all to themselves to enjoy!
Afterwards, they made their way through the otherworldly landscape, similar to the western Rockies of the USA, to their luxury glamping site in a private estate near the small town of Piedra de Aguila – the point of totality. Here our guests enjoyed the company of an astronomy expert with eclipse glasses, yoga mats, and a high-tech telescope, making sure their view of the natural phenomenon was safe, comfortable and memorable.
At 11:45am, the moon began to eclipse the sun, followed by the total eclipse at 1:07pm. A sepia tone took over the arid landscape as the moon slowly crept across the sun. The excitement grew as people started to gather around the center of camp to observe together as a community of eclipse chasers. As the moon eclipsed the sun in totality, people began to cry, cheer, hoot, and holler as we all let out a big sigh of relief and released our pent up frustrations from the last year.
By 2:35pm, the show was over and condors descended over camp. We wondered, what do the condors think when an eclipse casts darkness over the sky in the middle of the day? They circled around and swiftly left. Ending an incredible experience in an unforgettable place.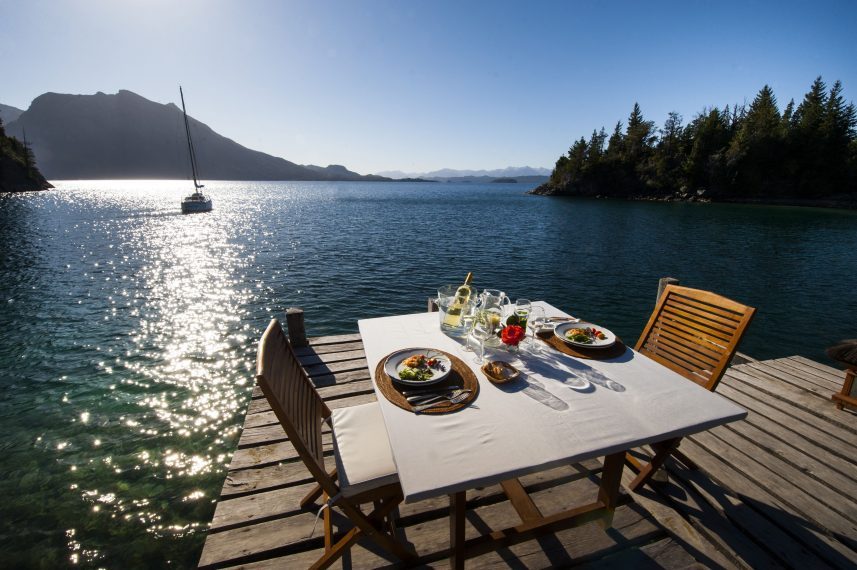 Afterwards, our travelers headed back to Bariloche, where they spent more time exploring the shimmering shores of Lake Nahuel Huapi, hiking to the beyond-picturesque look-out point in the national park, rappelling over huge boulders, and boating on the glacier waters of the lake. All agreed that this was a great way to decompress after a grand adventure in northern Patagonia. 
Now, Blue Parallel is looking forward to the total solar eclipse in Antarctica on December 4, 2021! Are you ready to become an eclipse chaser?
The first three photographs were taken on site by the talented photographer Samanta Contin.
Tailor-Made Luxury Tours

Contact us to start planning your next once-in-a-lifetime journey