October 07, 2017 — By

a Blue Parallel Travel Expert
BP ON THE GROUND: THE MYSTICAL WONDERS OF EASTER ISLAND
Easter Island in Chile is most known for its row of stoic stone heads. Shrouded in mystery, these ancient art formations are reason enough to visit. However, as the Blue Parallel team recently discovered first-hand, there's much more to experience on this fascinating island.
Halfway between Tahiti and the coast of Chile, located in the middle of the South Pacific Ocean, Easter Island is one of the world's most remote inhabited places. In fact, it is home to more horses than humans. Its location alone is intriguing, however Easter Island offers endless mystical experiences that ensure luxury tours here are uniquely captivating.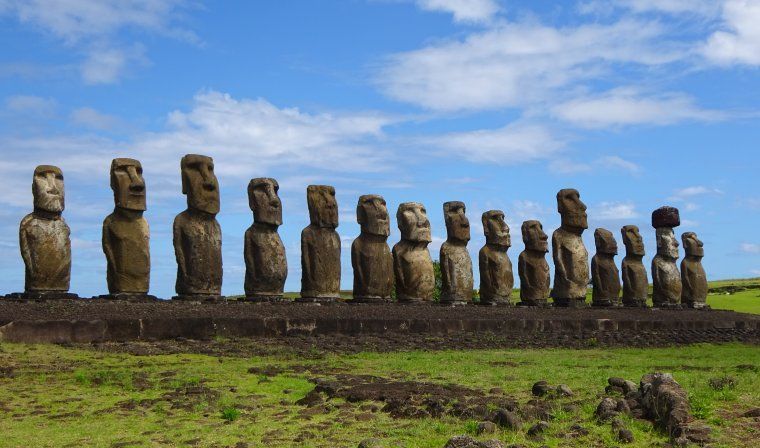 Excited by the promise of rides across windswept grasslands, snorkeling in clear waters of pink-sand beaches and hikes across volcanic rock, our team of travel experts took a 5 hour flight from Santiago, across 2300 miles of boundless blue ocean, to this fascinating destination.
Here, they round-up the highlights of their tour to Easter Island…
Introducing Easter Island, Chile
At just over 60 square miles, Easter Island (or Rapa Nui as it's known locally) is relatively small. However, its impressive variety of landscapes and a complex history make it a unique travel destination. Like a natural, open-air museum, Easter Island is dotted with striking stone structures and architecture that serve as windows into the ancient civilization that once thrived here.
Among these are the island's most famous inhabitants: the towering stone figures of humans with oversized heads, known as the Moai, which loom over the island like eternal, stoic sentries. There are around 900 of them across the island, some face down, some unfinished, others perfectly preserved; but all equally enigmatic.

Most of the island's iconic structures were built between the 10th and 16th centuries by the first-known Polynesian inhabitants, who arrived as far back as 300 AD. Fast forward to Easter Sunday 1722, when Dutch navigator Jacob Roggeveen reached the island's wild shores and gave it a new name.
By the time Roggeveen arrived, the once-thriving society of Rapa Nui had greatly diminished. Towards the end of the 19th century, the population was down to just 111 (it was estimated at 15,000 in the 17th century). Theories for the island's dramatic decline abound: some archeologists blame deforestation and overpopulation leading to famine and war, but perhaps it'll always be one of Earth's unsolved mysteries.
Like a natural, open-air museum, Easter Island is dotted with striking stone structures and architecture that serve as windows into the ancient civilization that once thrived here.
Today, the island's 6000 inhabitants include the descendants of the indigenous Rapa Nui as well as immigrants from all over. Declared a UNESCO World Heritage site in 1995, almost half the island is now protected within the Rapa Nui National Park.
What To Do On Easter Island
There are plenty of unique activities on Easter Island, and these experiences can be tailored to your preferences and interests. These are the highlights of our Easter Island tour…

Travel To The Remote North Of Easter Island…
In the north of Easter Island, you'll find pastures dotted with eucalyptus trees that lead to volcanic rock landscapes. From the coast, take in fantastic views of the Pacific Sea framed by Terevaka, the largest of the island's three main extinct volcanoes.
Visit Picture Perfect Ahu Tongariki…
Home to 15 towering Moai, including the largest erected Moai on the island (weighing 86 tons), this site is considered by some to be the island's main attraction.
Impressively carved out of porous volcanic rock called toba, the Moai are said to represent the spirits of the ancestors of the island's ancient chiefs and other high-ranking Rapa Nui. Here, the Moai look their most imposing, with their backs to the sea.
Step Back In History At Rano Raraku…
Rano Raruaku is an enormous volcanic crater that was once a valuable quarry for the Rapa Nui people.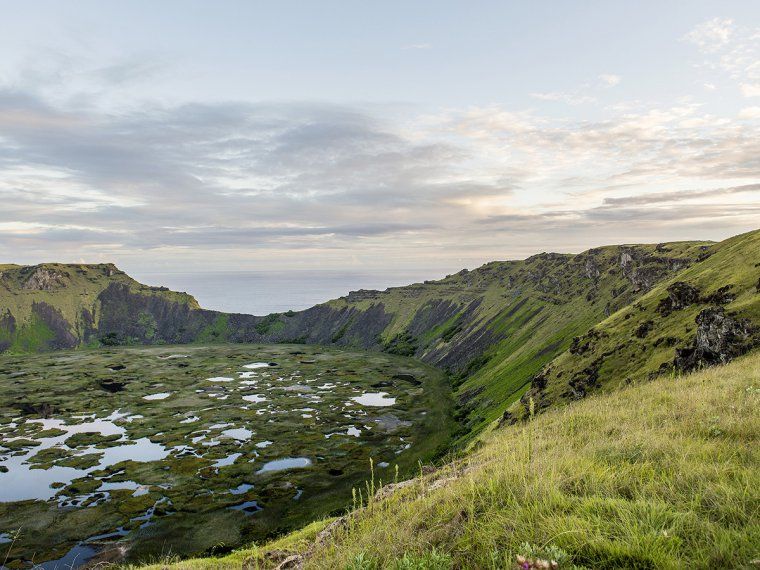 For half a millennium, up until the turn of the 18th century, this is where more than 90% of the Moai structures were carved. You can still see nearly 400 sculptures in different stages of production, and enjoy 360-degree views of the island from its peak.
You can even hike along the crater. From the top, you'll be rewarded with spectacular views of the Pacific Ocean, the crater's cavernous interior and the stunning natural lake.

Discover Ancient Island Traditions In Orongo…
During your tour of Easter Island, you can explore Orongo. Orango is a ceremonial village where the famed Tangata Manu (birdman) competition took place.
Held over the span of approximately two hundred years (from the mid-1600s), the annual event saw members of each tribe race across the island's treacherous terrain, scaling cliffs, swimming through inlets, and scrambling up rocks to retrieve an egg from the native Manutara bird. The tribe chief whose athlete returned to the village first with the egg intact was appointed Rapa Nui king the following year.
Where To Stay On Easter Island
Eco-lodging is popular on Easter Island. We recommend the Explora Lodge which combines sustainability, unique architectural design and 5-star service. This luxury lodge offers breathtaking island and ocean views, as well as a boutique spa and first-class restaurant. Perhaps best of all, Explora offers over 20 guided hikes, bike rides, fishing and snorkeling adventures.
If you've been tempted by the wonders of Easter Island, learn more about our luxury Easter Island tours and download a journey summary PDF.
Tailor-Made Itineraries to Easter Island

Contact us to start planning your next once-in-a-lifetime journey