April 13, 2023 — By

Emmanuel Burgio
BP On The Ground:
Private Adventures In Panama (Part 1)
Panama is relatively young, yet this thin country that connects Central and South America is quickly becoming a favorite among discerning travelers who want to enjoy private, luxury travel while visiting spectacular natural and cultural wonders.
Its incredible natural environments, like the lush rainforests, green mountainous highlands, secluded islands with white sand beaches and tranquil azure waters make it a haven for nature lovers. You can enjoy outdoor adventures and bespoke excursions that offer an up close experience with the diverse range of wildlife, fauna and flora that exists across the country.
Panama is also full of history and culture, such as the famous Panama Canal which radically changed world trade when it opened in 1914 and connected the Atlantic and Pacific oceans. You can also admire the colorful colonial architecture and learn about the country's history in the heart of the old city.
With such a variety of experiences to be enjoyed and just a short flight from the US, Panama is a popular major hub and ideal for time-constrained travelers seeking spectacular, once-in-a-lifetime journeys.
At the beginning of this year, our President and Founder, Emmanuel Burgio, disconnected from his everyday life and enjoyed an off-the-grid adventure in Panama where he visited incredible destinations on both the Pacific and Caribbean side. In part one of this two part blog series, he shares an insight into his luxury tour to the San Blas Islands, Panama City and Bocas del Toro…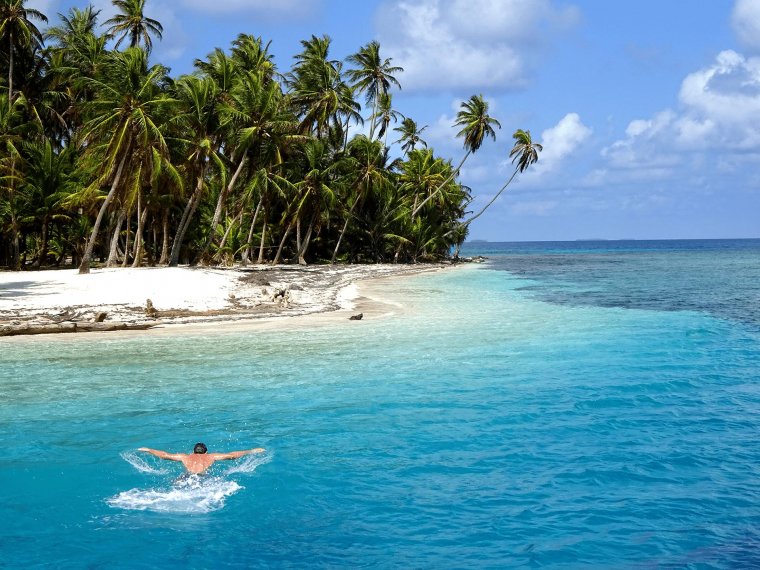 San Blas Islands
Our journey began in the San Blas Islands, a stunning archipelago of 365 picture-perfect islands just off the Caribbean coast of Panama. Home to white sand beaches lined with coconut trees, pristine coral reefs, and crystal-clear waters – and yet limited signal – the San Blas Islands are a paradisiacal and remote setting where you can disconnect from the outside world and enjoy the slower pace of island life.
Although over 300 of the islands remain uninhabited, they are all managed by Panama's indigenous Guna tribe.
How To Get There
Getting to and from the San Blas Islands is convenient, with private air charters from Panama City to Isla de Corazón de Jesús taking just 30 minutes in the air. Upon arrival in the archipelago, a zodiac was ready and waiting to transport us to our private, 50ft catamaran.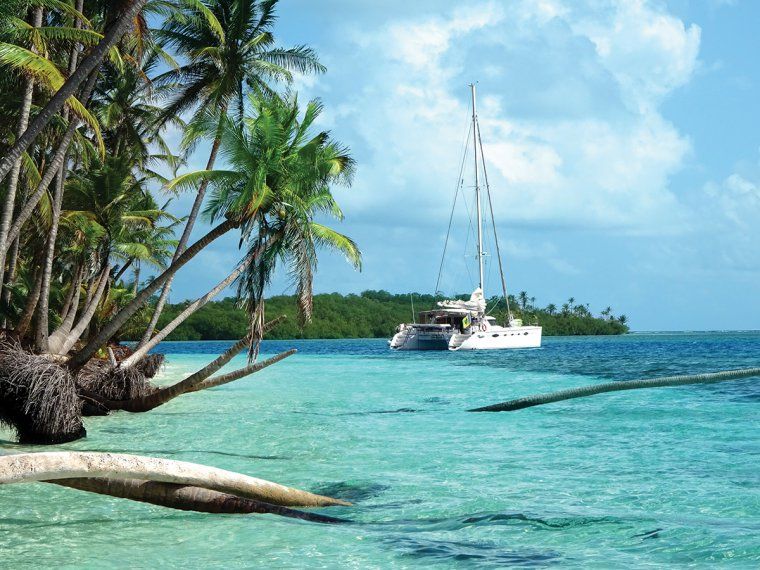 Luxury Sailing In The San Blas Islands
Our private catamaran was fully-staffed with an attentive captain, chef and steward; all of the crew were members of the Guna community and were available 24/7 to assist with our every need.
With so much natural beauty waiting to be explored in this region, having the catamaran as our base gave us the flexibility to see what we wanted, when we wanted. We journeyed from island to island at a pace suitable for us, anchoring down in the best spots for swimming, watching sunsets and other activities we wanted to partake in.
Luxury Travel in Panama

Start planning your once-in-a-lifetime journey to Panama with Blue Parallel
Waking up with the sunrise and going to sleep, staring at the stars was also a welcomed change from the hustle and bustle of everyday life and encouraged us to slow down and connect with one another during this memorable, once-in-a-lifetime journey.
As well as providing us with a comfortable means of transportation and accommodation while touring this iconic archipelago, having members of the local community onboard our private catamaran with us meant we were able to visit secluded, less-visited areas of the archipelago.
Two of our favorite hidden treasures were the remote Cayos Holandes and Coco Bandero.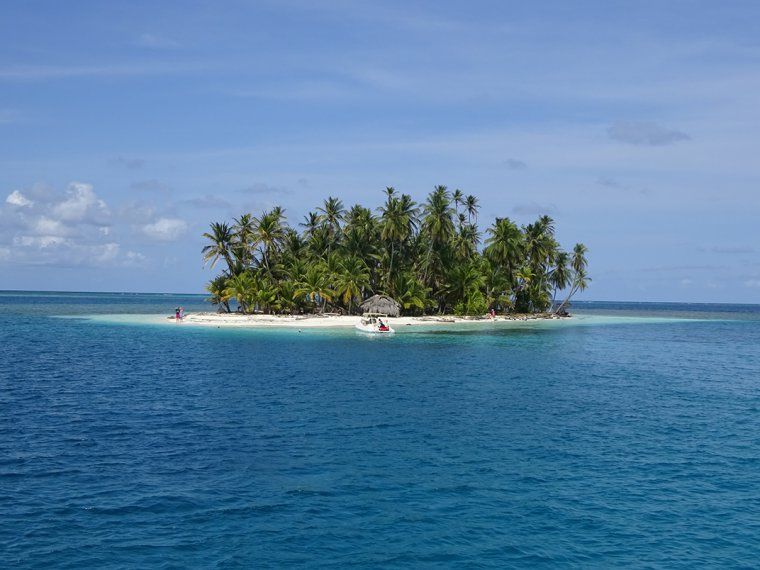 Cayos Holandes: The Highlights
The Cayos Holandes are a group of seven idyllic islands also known as the Dutch Keys. As some of the most untouched and least visited islands in the whole archipelago, they make the perfect stop for travelers seeking peace and tranquility.
Only three of these islands are inhabited by the Guna people who take it in turns to care for the coconut trees that line the beaches.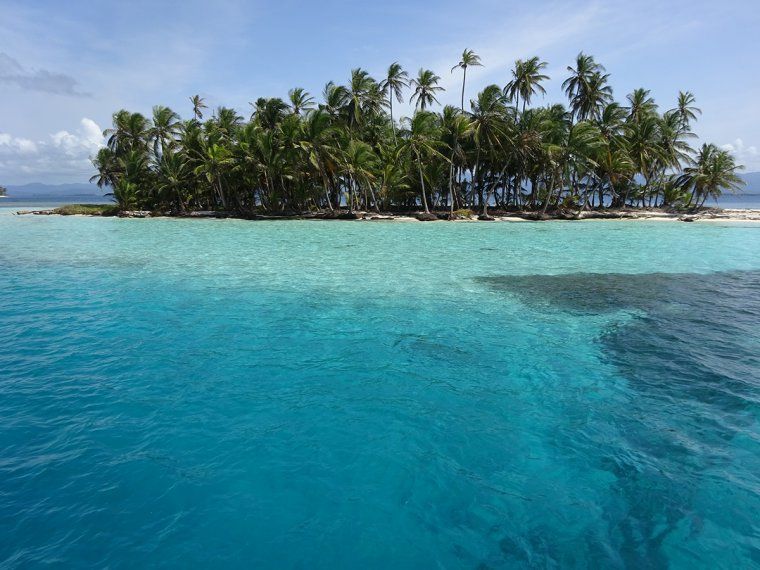 All of these islands are surrounded by the iconic white sand beaches synonymous with the San Blas and are encompassed by a coral reef that is excellent for snorkeling in. Our captain built a unique itinerary based on our preferences which included a range of water-based activities that allowed us to get a closer look at the sealife that call these crystal-clear waters home.
While we were exploring this cluster of secluded islands, our crew were preparing plates of fresh tropical fruits and a delicious meal of fresh fish and lobster that they bought from a local fisherman passing by our catamaran.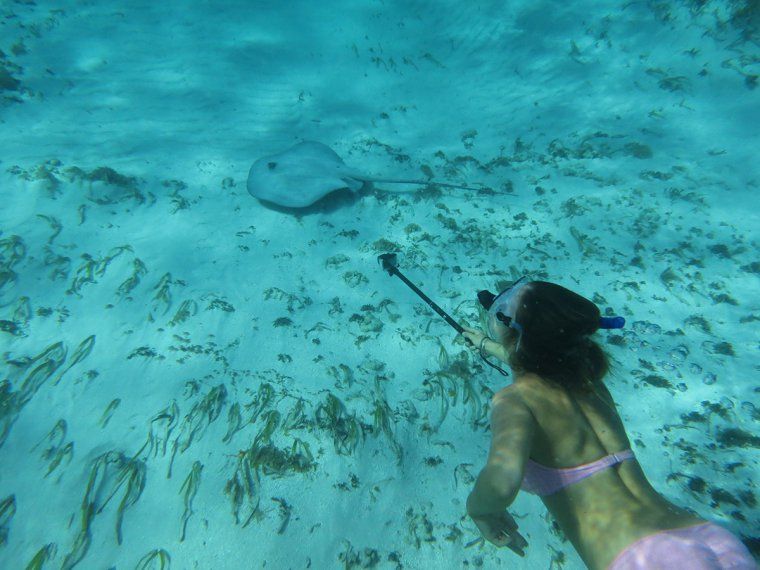 Coco Bandero: The Highlights
Coco Bandero is another mesmerizing and secluded natural wonder of the San Blas Islands. Here, we spent the morning kayaking, paddle boarding and snorkeling between the pristine beaches, enjoying the tranquil waters while on the lookout for various fish, dolphins, sharks and giant mantaray.
The abundance of coral reefs and healthy waters make San Blas an excellent area to spot dozens of species of barracuda, snapper, mackerel, amber jack, snook and more.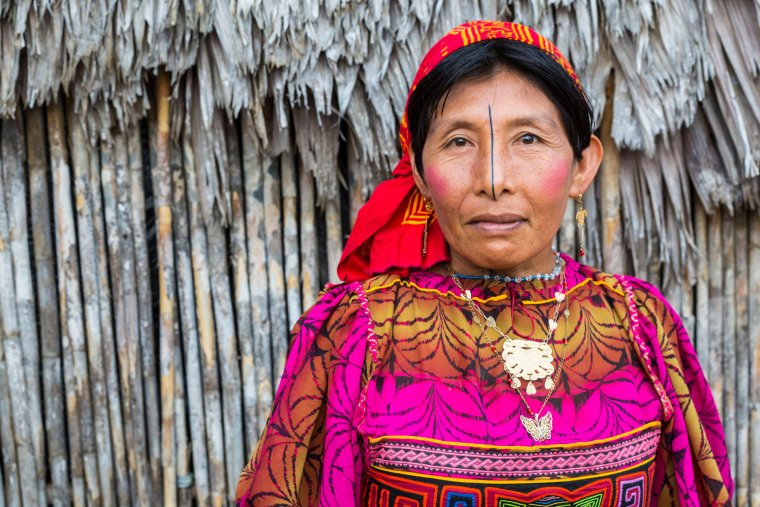 Cultural Immersion With The Guna People
One of the highlights of my bespoke San Blas Islands tour was the complete cultural immersion with the local Guna people.
The Guna people are known for embracing a deep connection with their customs, culture and independence and maintain one of the most well-preserved indigenous cultures in all of Latin America.
Being able to integrate into this culture and interact with locals provided an incredible insight into the traditions of the community. As well as learning the history and politics of the islands, we witnessed age-old artisanal work in practice in the form of molas. Molas are bright, textile arts where the fabrics are worked backwards with ancient embroidery techniques.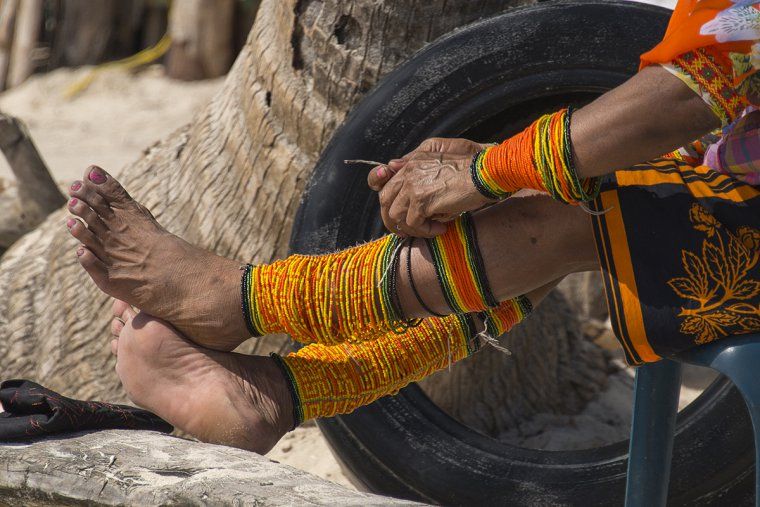 Panama City
My family returned home after the San Blas Islands, but I continued my luxury Panama tour in Panama City. Home to man-made wonders, like the astonishing Panama Canal, and offering easy access to the country's diverse natural landscapes, Panama City makes a great base from which you can explore nearby areas of interest.
Luxury Accommodation in Panama City
There are several 5-star luxury accommodations available in Panama City, particularly in Casco Viejo (the Old Quarter) which was built following the near-total destruction of the original Panama City (Panama Viejo) in 1671. Home to quaint streets, colorful architecture and charming restaurants, Casco Viejo was named a UNESCO World Heritage Site in 1997.
I stayed at the Sofitel Legend Casco Viejo Hotel, a new accommodation located in the heart of the Historic District of Casco Viejo. Behind its historic facade is a simple yet sophisticated contemporary design with all the desired amenities for a luxury experience, including a spa that embraces the art of wellness holistically and a collection of superb restaurants that offer unique dining experiences.
Luxury Travel in Panama

Start planning your once-in-a-lifetime journey to Panama with Blue Parallel
Private Tours of Panama Canal
One of the major highlights of any trip to Panama City is visiting the impressive Panama Canal.
This lock-style canal is owned and administered by the Republic of Panama and connects the Atlantic and Pacific oceans. Completed in 1914, 401 years after the idea was initially born, the Panama Canal is one of the two most strategic artificial waterways in the world.
Blue Parallel has developed invaluable relationships with expert guides in Latin America, the Mediterranean and the Polar Regions and specializes in opening doors to unique, insider experiences, including private, VIP tours of Panama Canal. After being introduced to the canal's history and engineering brilliance while touring the head administrative building and the old barracks, I enjoyed a private tour of the canal at the Miraflores Lock. Part of this included exclusive access to view the ships up close as they changed levels via the locks.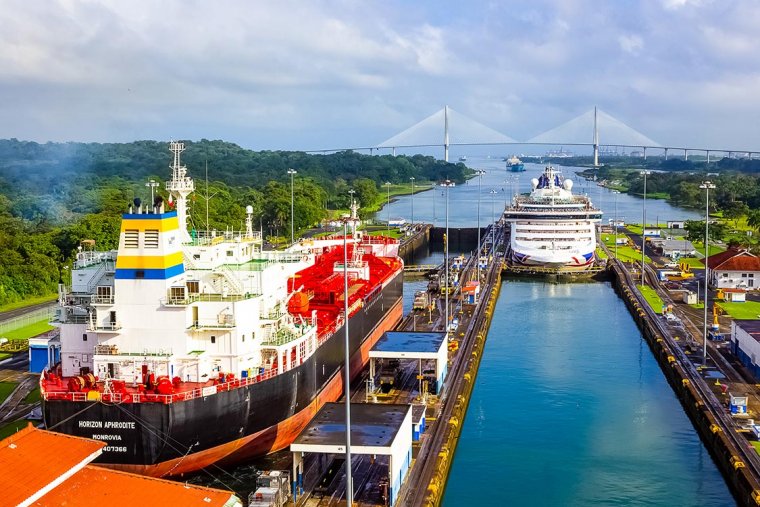 For a different perspective of the canal, I embarked on a tour of the fascinating BioMuseo, an innovative biodiversity museum designed by acclaimed American architect, Frank Gehry. Here, I gained an insight into the importance of the isthmus from a biological perspective while being able to admire the colorful origami-like canopies that were inspired by Panama's diverse flora and fauna.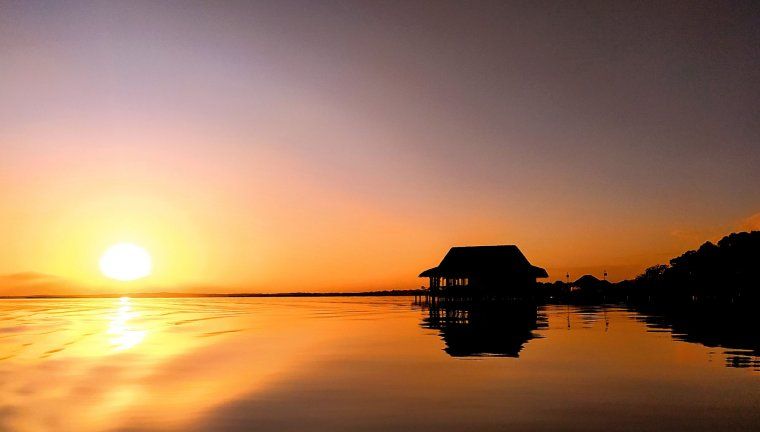 Bocas del Toro
The Bocas del Toro archipelago is made up of 9 islands, 52 keys and around 200 islets. Bocas del Toro town is located on the southeastern tip of the largest island, Isla Colon, which lines the northwest Caribbean coast. The area is known for its breathtaking natural beauty, from luscious forests and picturesque islands, to crystal-clear waters and unique wildlife.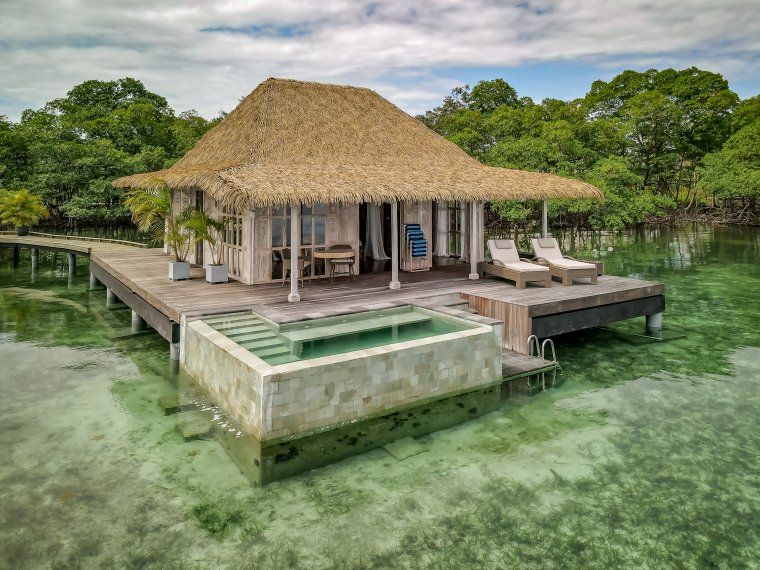 Luxury Accommodation in Bocas del Toro
During my time in Bocas del Toro, I stayed at the Nayara resort, a collection of on-the-water villas, with plunge pools or glass floor windows, and private treehouses. Although the property is perched on a mangrove island, each villa benefits from its own stairway to the water where private boats can collect you and transport you to an area of crystal clear water.
I witnessed some lovely sunrises from my villa, enjoyed fine dining experiences at the onsite restaurant and relaxed at the spa. However, the highlights of my time in Bocas del Toro were the private day-trips to nearby natural wonders.
Bocas del Toro: The Highlights
Nayara is located on Frangipani Island which is just a short boat ride from some of Bocas del Toro's clearest waters, secluded coral reefs and dreamlike islands.
We recommend taking private boat tours to explore less visited areas around the islands that are teeming with diverse flora and fauna. Go swimming and snorkeling around the hidden treasure that is Cayo Coral, an emerald green key with azure waters and vibrant coral gardens; embark on a private, sunset tour to Dolphin Bay which is tucked away behind a series of mangrove islets; or visit Cayos Zapatillas, two uninhabited islands within the Bastimentos National Marine Park that boast golden sand, crystal clear waters and busy coral reefs.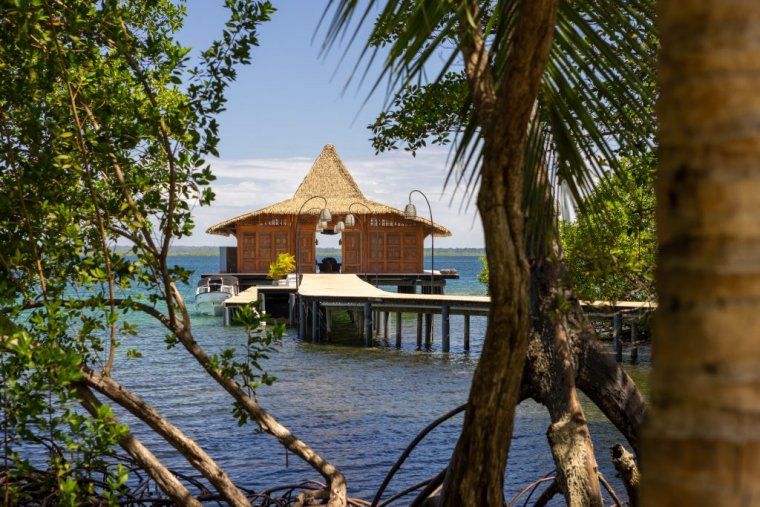 Private Insider Tours in Panama
Privacy is always a priority for our travelers and therefore, an important aspect of every Blue Parallel journey. From private air charters and catamarans, to exclusive accommodations, secluded regions and insider experiences, Panama is a fantastic option for travelers looking to enjoy some of the world's most spectacular sights without the crowds.
For more information on our Panama tours, contact one of our Travel Experts today.
Tailor-Made Itineraries to Panama

Contact us to start planning your next once-in-a-lifetime journey