Easter Island Luxury Tours, Chile
Explore the mysterious land of the Moais
LUXURY TRAVEL EASTER ISLAND
Begin your luxury Easter Island tour in the picturesque Chilean Wine Country. After your international arrival into Santiago, you'll take a private transfer to the exclusive Vik Chile property. Here, embark on gentle active excursions through the scenic valley on foot, bike, or horseback, then attend exclusive private tastings at handpicked vineyards. Return to Santiago to visit the cultural and historic highlights of Chile's modern capital. These include La Chascona, Pablo Neruda's house, the central Plaza de Armas, and the trendy Lastarria neighborhood. Finally, your luxury tour of Chile will take you deep in the South Pacific. There, you will embark on hiking excursions to explore the legendary Easter Island, also a UNESCO World Heritage site. You will see the famous Maori statues up close, visit the quarry where the stone was mined, and hike along the island's breathtaking volcanic craters. Head to the windswept northern coast of the island to truly appreciate the immense landscape before taking a dip in the South Pacific for swimming and snorkeling in sparkling waters and isolated beaches.
A Taste of Blue Parallel's Insider Access
Explore the island's treasures with your own specialist guide
Go fishing with a local fisherman and learn about ancient techniques
Enjoy a private fish barbecue by the beach
Gourmet picnic with an elegant set up in the heart of the wine country
Helicopter transfers to Vik Chile upon request
Visit the private kitchen of a local chef in Santiago for a unique culinary experience
The Discovery
Chilean Wine Country
Santiago
Easter Island
The Adventure
Hiking
Horseback riding
Mountain biking
Swimming
Snorkeling
PRIVATE TOUR EASTER ISLAND
Note: This private Chile tour is an example, as all of our luxury journeys are custom-made.
Note: This private Chile tour is an example, as all of our luxury journeys are custom-made.
Chilean Wine Country, Millahue Valley (3 nights)
Following your arrival into Santiago, embark on a two hour drive to unwind in Chile's spectacular wine country. Arrive at Vik Chile in the Millahue Valley, owned by Alexander Vik whose aim was to produce the best wines in South America. Enjoy lunch at the restaurant terrace, overlooking the beautiful infinity pool and the green valley. In the late afternoon, enjoy a gentle hike or mountain biking excursion in the picturesque valley with your expert guide.
During your time in this region, head into the famed Colchagua Valley for a full day of wine tasting at Chile's top vineyards. Here, you'll learn about the rich history of Chilean wine-making, which began in the 16th century by Spanish conquistadors and developed in the 19th century as French varietals were produced, including the iconic Carménère. As guests of Blue Parallel, you will have exclusive access to some of the region's best vineyards. Among the highlights is lunch at the restaurant of famed South American chef, Francis Mallmann, set in the Viña Montes vineyards.
Explore the expansive vineyards of Vik Chile with the estate's hosts. Then tour beautiful La Cruz hill on horseback for panoramic views of the property before sitting down for a delicious private picnic. For moments of relaxation during your luxury Chile tour, head to the infinity pool or request a rejuvenating spa treatment. Later, tour the state-of-the-art Vik winery, where you'll learn about the estate's different grape varieties.
Read less
Read more
Santiago (2 nights)
From Vik, head north to the capital city of Santiago. Along the way, stop for a private tour and wine tasting at the renowned vineyard Concha Y Toro. The modern metropolis of Santiago offers fantastic restaurants and is home to bohemian neighborhoods. Your tailor-made Santiago tour can include any or all of the following: the Plaza de Armas with its 18th century cathedral in the heart of the city, Constitution Plaza and La Moneda Palace (the seat of executive power), the Chilean Museum of Pre-Columbian Art, and the attractive neighborhoods of París-Londres and Santa Lucía. You'll also get to visit La Chascona, the private home of Pablo Neruda, Chile's most celebrated writer.
The San Cristóbal lookout point is a popular hangout spot for locals with breathtaking views over Santiago. We will recommend top Chilean restaurants for local seafood paired with fantastic regional wines. For food lovers, we can arrange a unique culinary experience at the private kitchen of a local chef who will teach you about Chilean culture through the country's typical dishes.
Read less
Read more
Easter Island (3 nights)
Next, you will embark on your luxury tour of Easter Island which starts with a 5.5 hour flight from Santiago. Upon arrival at your lodge, Explora Rapa Nui, marvel at the dramatic open landscape and Pacific Ocean views. Begin your first afternoon with a hike to Pui Rano Raraku (in private or in a small group) to explore the lower slopes of the volcano, then visit the Moai quarry. This quarry once supplied the island's stone that the Rapa Nui used to create the mysterious Moai statues that have perplexed visitors ever since Dutch explorers came across the island on Easter Sunday in 1722.
During the next two days, explore spectacular volcanic craters with an expert guide. You'll also visit the Tongariki, home to the island's iconic row of Moai statues. Enjoy a full-day hike of the remote northern coast, characterized by its rugged landscape.
Afterwards, visit Anakena Beach to swim in crystal clear waters, then snorkel at beautiful Ovahe beach. Explore Orongo, the ancient ceremonial village that hosted the Tangata Manu (birdman) competition. You'll get to witness exciting contests of strength that celebrate the unique Rapa Nui culture. In the evenings, enjoy panoramic sunset views and take in the magnetic energy of Easter Island during delicious dinners at your lodge.
Read less
Read more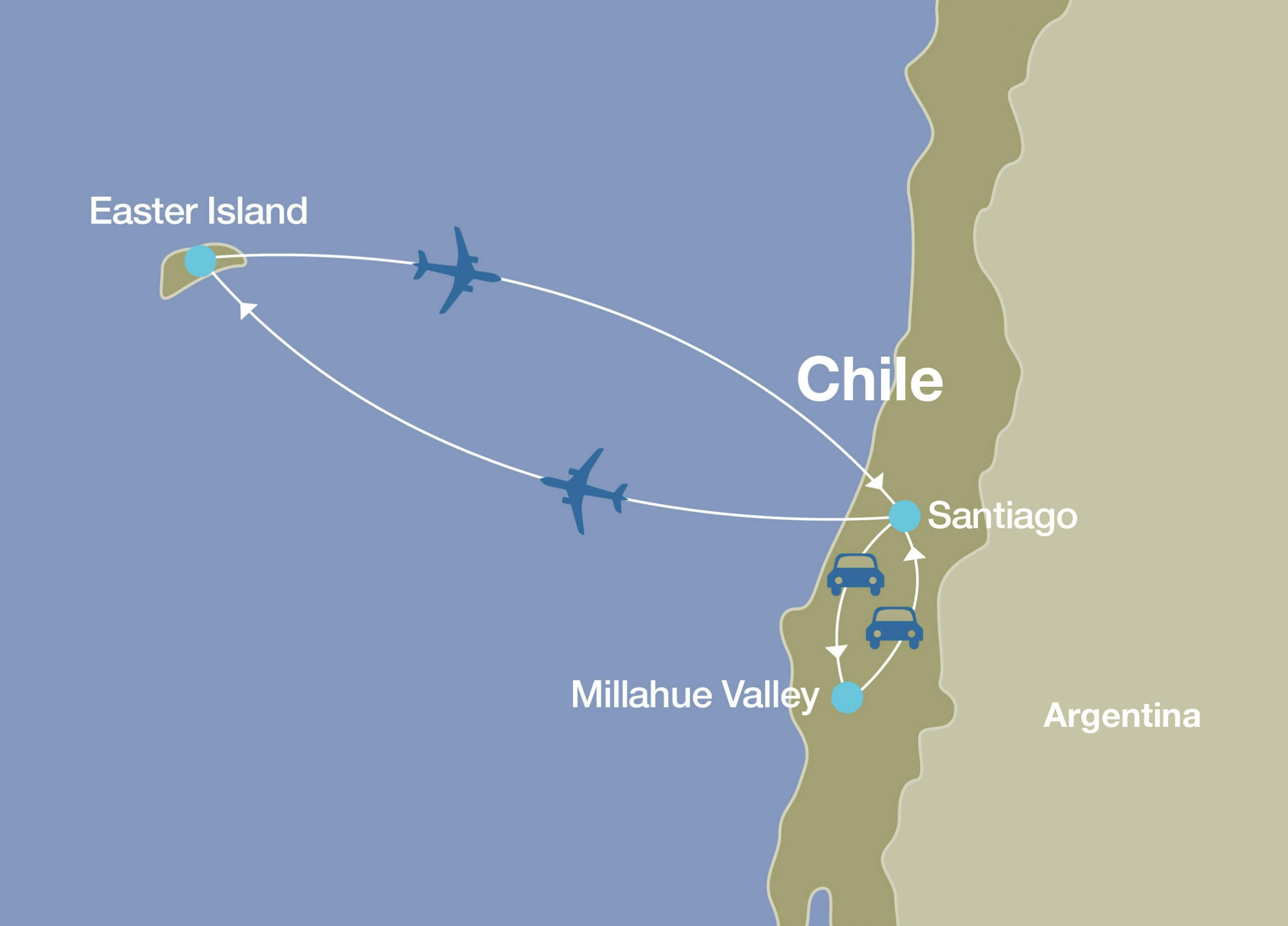 DESTINATIONS
TRAVEL TIME
SANTIAGO
CHILEAN WINE COUNTRY
2 hrs
CHILEAN WINE COUNTRY
SANTIAGO
2 hrs
SANTIAGO
EASTER ISLAND
5 hrs 30min
EASTER ISLAND
SANTIAGO
5 hrs 30min
MAKE THIS ITINERARY YOURS
Contact us to tell us more about your preferences and your ideal trip to Easter Island.
We will create a tailor-made itinerary for your review.
START PLANNING
PRICE REFERENCE
Recommended stay
8-10 days
Price reference


(9 days, private party of 2)

Starting at $15,000 per passenger
Price reference


(9 days, private party of 4)

Starting at $13,500 per passenger
Price reference


(9 days, private party of 6)

Starting at $13,000 per passenger
Note: Prices will vary based on the specifics of your itinerary and the number of passengers in your party.
What is included in your private Chile tour:
Luxury accommodations at

Vik Chile (Millahue Valley, Chilean Wine Country)
Singular Santiago or The Ritz-Carlton (Santiago)
Explora Rapa Nui (Easter Island)

Internal flights
Services of Blue Parallel hosts and expert guides throughout the journey
All special events, guided tours, excursions, outdoor activities, entrance fees
A Blue Parallel team composed of a personal travel expert, private hosts in each destination, and a "behind the scenes" logistical expert who monitors every step of your luxury Chile tour. The team is on call 24-hours a day during a trip
All internal transportation
Some meals
A Blue Parallel customized travel kit that you will receive prior to departure