Corsica Luxury Tours, France
Sea and land adventures by "The Pearl of the Mediterranean"
TAILOR-MADE TOURS CORSICA
Your luxury tour of Corsica will showcase the island's diverse landscapes and unique cultural heritage. Start your journey in Porto Vecchio, located in the southeastern part of the island. Enjoy a private boating excursion along the coastline to Bonifacio, stopping to dip your toes in the water at some of Europe's most beautiful beaches, such as Plage de Palombaggia and the Bay of Rondinara. Dock in Bonifacio, where you will visit the town's historical citadel and bustling marina. The following day, depart Porto Vecchio, stopping in the Alta Rocca Mountains for lunch, with the opportunity for hikes or meetings with local artisans, before arriving at your personal cottage at Domaine de Murtoli. Spend the remainder of your time in the Sartene region exploring the estate's expansive grounds and beach, or learning more about traditional agricultural or fishing techniques. Your private tour of Corsica continues with a helicopter transfer to Calvi, located on the northern coast of the country. Head to nearby La Balagne to explore the ancient Roman and Medieval villages before taking a private boating excursion to Scandola Nature Reserve, a striking area characterized by red cliffs that contrast with the Mediterranean's turquoise waters.
A Taste of Blue Parallel's Insider Access
Meet artisans at work in remote villages
Enjoy the privacy of a 5,000 acre seafront estate
Semi-rigid boat at your disposal for sea excursions
Private helicopter services
The Discovery
Porto Vecchio
Alta Rocca Mountain Range
Calvi
Scandola Nature Reserve
The Adventure
Hiking
Private boating
Horseback riding
Fishing
Snorkeling
Swimming
PRIVATE TOUR CORSICA
Note: This private Corsica tour is an example, as all of our luxury journeys are custom-made.
Note: This private Corsica tour is an example, as all of our luxury journeys are custom-made.
Porto Vecchio (2 nights)
Your luxury Corsica trip starts with your international flight arrival at Figari, where you will be greeted by your personal host and taken by private transfer to your luxury hotel, Casa del Mar. This beautiful property is located on the bay of Porto Vecchio, and features exceptional views of the Mediterranean. Enjoy an exquisite dinner at its 2-starred Michelin restaurant – the best in Corsica.
The next day, enjoy a private boating experience along the southern coast with your personal guide. You will visit several beaches and bays where you can swim and snorkel. Later, have lunch at the spectacular Bonifacio marina, followed by a tour of its citadel and famous caves. The extraordinary coastline of Bonifacio is known for the dramatic sight of the citadel and town perched on the cliffs. In the evening, enjoy your luxury travel experience with soothing spa treatments and delicious French cuisine.
Read less
Read more
Domaine de Murtoli (3 nights)
Your luxury Corsica tour continues with a private transfer to A Pignata, a beautiful property facing the Alta Rocca mountain range. On the way, visit the town of Levie where you will meet cutlery artisans and learn about the forgery of different art pieces. Enjoy an authentic "menu du jour" made with fresh ingredients overlooking the Alta Rocca Mountain Range. In the afternoon, choose from different private outdoor activities: walk through the prehistoric Cucuruzzu ruins or a horseback riding excursion surrounded by spectacular views and dramatic shifts in landscapes.
Later, continue onto Domaine de Murtoli, your property in the Sartene region, passing by the charming villages of Sainte Lucie de Tallano and Sartene. Domaine de Murtoli is a group of 13 chic cottages on a private beach-fringed estate in the southwest corner of the Mediterranean island. The private villas are refurbished shepherd homes with vast verdant spaces between each home, providing ultimate privacy. The almost 5,000-acre estate has soaring mountains behind it and a river – the Ortolo – running through it. It boasts pastoral lands, agricultural fields, and an extensive vegetable garden. You will have your own 4×4 vehicle during your stay to explore the vast grounds of Domaine de Murtoli.
There's a wide variety of outdoor activities to choose from at this property, including horseback riding, walking tours, a fishing excursion with your expert guide on board your private traditional fishing boat, and a visit to the property's farming grounds to learn about its rich agricultural traditions. You will also have time at leisure to enjoy the property's 6 mile-long (10km) private beach. Dine on delicious meals made with homegrown ingredients at the property's two gourmet restaurants.
Read less
Read more
Calvi (2 nights)
No luxury Corsica tour is complete without a private helicopter transfer to Calvi. You will land at the helipad nearby Hotel La Villa where you will enjoy lunch on the property with spectacular views. This Relais & Châteaux property dominates the bay of Calvi as it proudly perches on the hillside above. Later, visit La Balagne, a coastal area located between Calvi and L'Ile Rousse, with a backdrop of the hills overlooking the sea. It is also known for its picturesque mountain villages that date back to Roman and medieval times. The road of artisans at La Balagne is an invitation to the discovery of traditions and Corsica's artistic expertise. In the evening, enjoy a delicious seafood dinner at Calvi's harbor.
The following day, embark on a private boating excursion to Scandola Nature Reserve, a spectacular UNESCO World Heritage Site. The coastline is also noted for its red cliffs, some 900 meters high, sand beaches, and headlands. End your luxury tour of Corsica with a private transfer to the airport for your international flight departure.
Read less
Read more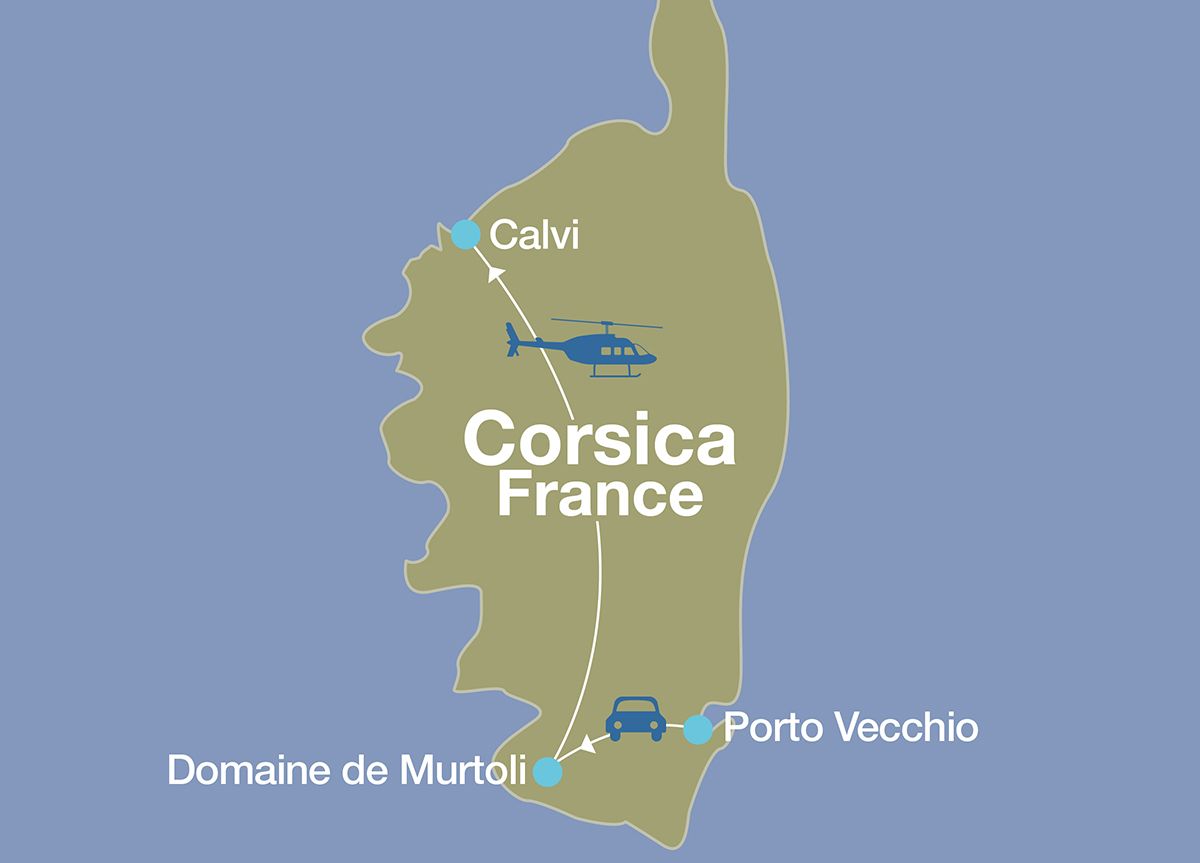 DESTINATIONS
TRAVEL TIME
PORTO VECCHIO
DOMAINE DE MURTOLI
2 hrs
DOMAINE DE MURTOLI
CALVI
40 min
MAKE THIS ITINERARY YOURS
Contact us to tell us more about your preferences and your ideal trip to Corsica.
We will create a tailor-made itinerary for your review.
START PLANNING
PRICE REFERENCE
Recommended stay
7-9 days
Price reference


(8 days, private party of 2)

Starting at $29,000 per passenger
Price reference


(8 days, private party of 4)

Starting at $19,000 per passenger
Price reference


(8 days, private party of 6)

Starting at $14,500 per passenger
Note: Prices will vary based on the specifics of your itinerary and the number of passengers in your party.
What is included in your private Corsica tour:
Luxury accommodations at

Casa del Mar (Porto Vecchio)
Domaine de Murtoli (Sartene)
Hotel La Villa (Calvi)

Private helicopter transfer from Domaine de Murtoli to Calvi
Services of Blue Parallel hosts and private specialized guides throughout the journey
All special events, private guided tours, private excursions, private outdoor activities, entrance fees
A Blue Parallel team composed of a personal travel expert, private hosts in each destination, and a "behind the scenes" logistical expert who monitors every step of your luxury Corsica tour. The team is on call 24-hours a day during a trip
All internal transportation
Some meals
A Blue Parallel customized travel kit that you will receive prior to departure