Buenos Aires & Jose Ignacio Luxury Vacations, Argentina & Uruguay
Insider journey to Uruguay's untouched coastline
LUXURY TRAVEL BUENOS AIRES & JOSE IGNACIO
Your vacation in Buenos Aires and Jose Ignacio, Uruguay combines the cultural experience of cosmopolitan-city sightseeing with the serenity of an exclusive beach destination. Begin your private tour by exploring the highlights of Buenos Aires, from the sophisticated Recoleta neighborhood, to charming San Telmo and trendy Palermo. After experiencing everything this dynamic city has to offer, you will take a short flight to Uruguay, where your tailor-made tour will continue in the upscale fishing village of Jose Ignacio. Enjoy a sunset horseback ride followed by a barbecue dinner before spending the following day biking on local roads or canoeing in peaceful coastal lagoons. Then, venture inland during a day trip to the village of Garzón. After a private tasting at a local bodega, hike on tranquil country roads towards the town's main square, where you will arrive at Francis Mallman's sophisticated restaurant in time for lunch. Of course, during your luxury vacation in Jose Ignacio, there will also be ample time to relax at the area's white-sand beaches, while the adventurous may opt for a private kitesurfing lesson. In the evenings, browse the village's elegant galleries and boutiques before a delicious dinner at a gourmet restaurant.
A Taste of Blue Parallel's Insider Access
Exclusive access to Buenos Aires' iconic opera house
Private polo lessons with professional players
Private wine and cheese tasting at an exclusive estate
Horseback ride to a private BBQ in a moonlit forest prepared by a personal chef
The Discovery
Buenos Aires
Jose Ignacio
The Adventure
Polo
Horseback riding
Kayaking
Kite-surfing
Mountain biking
PRIVATE TOUR BUENOS AIRES & JOSE IGNACIO
Note: This private tour to Argentina & Uruguay is an example, as all of our luxury journeys are custom-made.
Note: This private tour to Argentina & Uruguay is an example, as all of our luxury journeys are custom-made.
Buenos Aires (2 nights)
Upon arrival in the cosmopolitan city of Buenos Aires, your personal host will take you by private transfer to your 5-star hotel of choice. On the first day of your luxury Argentina tour, with your expert guide, you will discover the chic neighborhood of Recoleta home to the world-renowned Recoleta cemetery. In the evening, dine at an authentic "parilla" to savor some of the world's best steak and malbec wine.
Begin the following day with a private tour of the magnificent Teatro Colón (with exclusive access to the theater's backstage studios and dressing rooms). Visit the Plaza de Mayo with your private guide before continuing to the cobblestone streets of San Telmo with its artisans and antique shops. Alternatively, we can also organize a private biking tour through the gorgeous parks of the Palermo neighborhood, a personal shopper for insider access to the high-end Argentine shopping scene, or even a private tango lesson with a professional dancer. Following dinner, we will take you to the best tango show in town to watch this iconic dance firsthand.
Read less
Read more
Jose Ignacio (4 nights)
After a 50-minute flight to Punta del Este, Uruguay, you will be greeted by your host and taken by private transfer to your accommodation near Jose Ignacio. This small village is a sophisticated retreat for families seeking a tranquil escape. You will stay at one of three luxury properties, all part of the celebrated Vik collection: Bahía Vik, Playa Vik, or Estancia Vik. On your first evening, enjoy a horseback riding excursion across lagoons, over the sandy dunes of the coast, passing a fisherman's village, and finally through a secluded forest to arrive at a private BBQ for you and your party to enjoy under the stars.
The following day, you will be taken to a special bodega for a tasting of some of Uruguay's best wines and olive oils. From there, hike through the region's rolling green hills and expansive ranchlands before arriving at the sleepy village of Garzón, a picturesque settlement with a tiny population. The acclaimed chef Francis Mallmann chose to establish his small yet elegant restaurant in Garzón, and here you can savor a taste of Uruguay's traditional roots.
To begin the next day, enjoy a biking excursion through the beautiful Uruguayan countryside before arriving at a lagoon by a large private estate. Savor a delicious private BBQ lunch, featuring the local catch on the grill, prepared especially for you by a personal chef and assistant. Following lunch, enjoy the option to go kayaking on the lagoon and enjoy the grasslands around the property.
The following morning, visit the long white sand beaches at La Brava beach with a private beach set up. In the afternoon, enjoy shopping in the surrounding villages, such as La Barra and Manantiales, to browse the boutiques and galleries of local designers according to your interests. From there, stop to enjoy the notable artwork of the Fundacion Pablo Atchugarry before continuing to a private estate for a special wine and cheese tasting session in the kitchen with the chef and sommelier.
On the last day of your luxury trip to Uruguay, drive to the airport to catch your connection for your international flight home.
Read less
Read more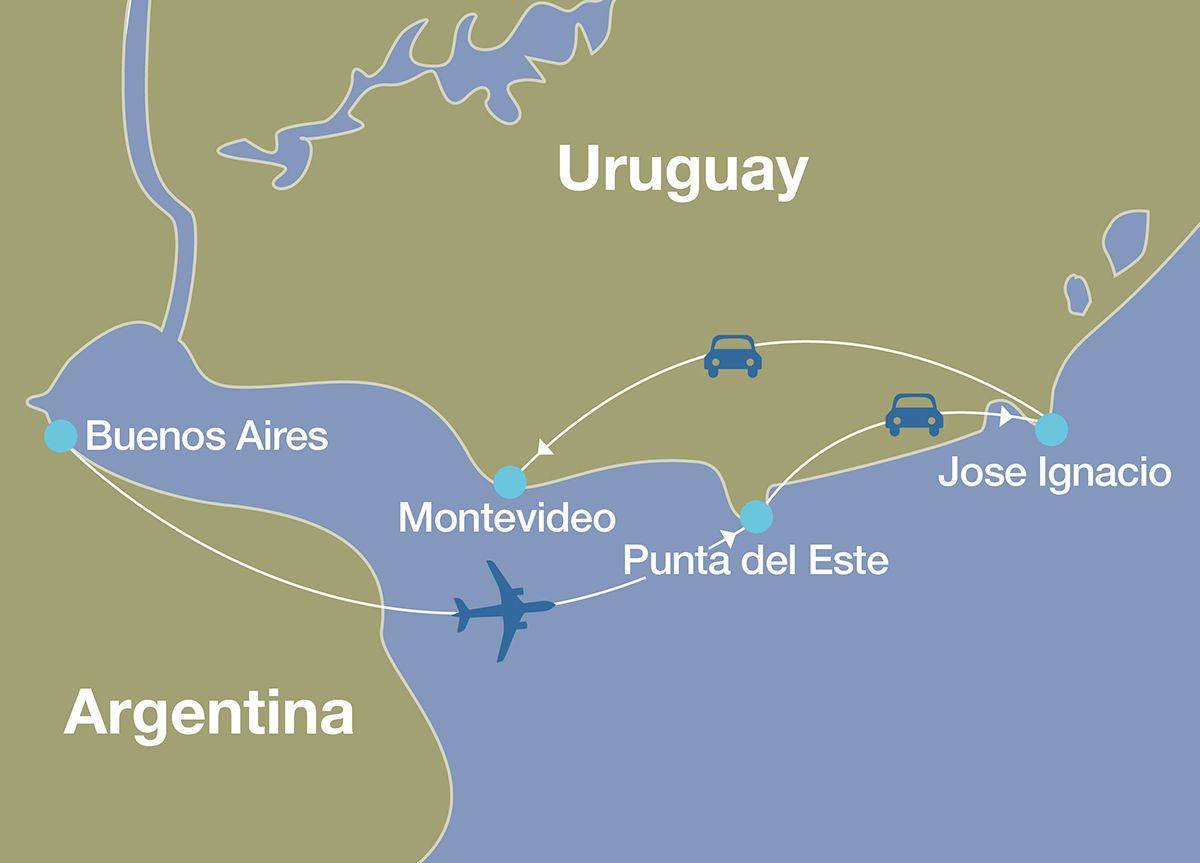 DESTINATIONS
TRAVEL TIME
BUENOS AIRES
PUNTA DEL ESTE
50 min
PUNTA DEL ESTE
JOSE IGNACIO
1 hr
JOSE IGNACIO
MONTEVIDEO
2 hrs 30 min
MAKE THIS ITINERARY YOURS
Contact us to tell us more about your preferences and your ideal trip to Buenos Aires & Jose Ignacio.
We will create a tailor-made itinerary for your review.
START PLANNING
PRICE REFERENCE
Recommended stay
5-8 days
Price reference


(7 days, private party of 2)

Starting at $13,000 per passenger
Price reference


(7 days, private party of 4)

Starting at $10,500 per passenger
Price reference


(7 days, private party of 6)

Starting at $9,500 per passenger
Note: Prices will vary based on the specifics of your itinerary and the number of passengers in your party.
What is included in your private tour to Argentina & Uruguay:
Luxury accommodations at

A 5-star hotel of your choice in Buenos Aires
Bahía Vik, Playa Vik, Estancia Vik, or the Fasano Las Piedras

Internal flights
Services of Blue Parallel hosts and private specialized guides throughout the journey
All special events, private guided tours, private excursions, private outdoor activities, entrance fees
A Blue Parallel team composed of a personal travel expert, private hosts in each destination, and a "behind the scenes" logistical expert who monitors every step of your luxury tour of Argentina and Uruguay. The team is on call 24-hours a day during a trip
All internal transportation
Most meals
A Blue Parallel customized travel kit that you will receive prior to departure
Weather
Buenos Aires Average Temperatures
| | ° F HIGHS | ° F LOWS | PRECIP (IN) |
| --- | --- | --- | --- |
| JAN | 86 | 62 | 3.6 |
| FEB | 83 | 61 | 4 |
| MAR | 79 | 57 | 4.4 |
| APR | 72 | 51 | 3.3 |
| MAY | 66 | 45 | 2.8 |
| JUN | 59 | 41 | 1.9 |
| JUL | 59 | 41 | 2.2 |
| AUG | 62 | 41 | 2.3 |
| SEP | 66 | 45 | 2.4 |
| OCT | 71 | 50 | 4.3 |
| NOV | 77 | 54 | 3.9 |
| DEC | 83 | 59 | 3.7 |
Uruguay Average Temperatures
| | ° F HIGHS | ° F LOWS | PRECIP (IN) |
| --- | --- | --- | --- |
| JAN | 77 | 63 | 2.8 |
| FEB | 75 | 61 | 2.5 |
| MAR | 72 | 57 | 3.9 |
| APR | 64 | 52 | 3.9 |
| MAY | 59 | 48 | 3.2 |
| JUN | 55 | 45 | 3.1 |
| JUL | 59 | 46 | 2.9 |
| AUG | 61 | 46 | 3.1 |
| SEP | 64 | 50 | 3.0 |
| OCT | 70 | 54 | 2.6 |
| NOV | 73 | 57 | 2.9 |
| DEC | 77 | 61 | 3.1 |