Yucatan Peninsula Luxury Tours, Mexico
Colonial architecture, Mayan heritage, and untouched natural beauty
LUXURY TRAVEL YUCATAN PENINSULA
Your luxury Mexico tour begins with your international arrival into Mexico City, the country's capital and largest city. Experience luxury travel in Mexico as your expert guide introduces you to the country's history, vibrant culture, and diverse cuisine, including the must-see pyramids at Teotihuacan, one of the most important pre-Aztec sites. From there, arrive in the Yucatan Peninsula following a domestic flight to Campeche, where your private tour of the Yucatan continues. There, you will get a glimpse of a juxtaposition that characterizes Mexico: the combination of ancient indigenous ruins with colonial European architecture and city planning. Explore the Mayan ruins of Edzná in the morning, and the colonial plaza at the center of Campeche in the afternoon. The next destination of your luxury Yucatan Peninsula tour is Merida, where you will visit the impressive Mayan ruins at Uxmal and Kabah before touring the charming colonial highlights of the state's capital city. Luxury travel in Mexico incorporates the best lodging, such as Next, you will head to your beachfront accommodations in the iconic Riviera Maya. On the way, stop for a dip in a private and secluded sinkhole. While in the Riviera Maya, take an after-hours tour of the UNESCO World Heritage sites of Chichén Itzá before spending the following days snorkeling among teeming reefs, lounging on postcard-worthy Caribbean white sand beaches, or exploring the Sian Ka'an Biosphere, a unique ecosystem that incorporates ancient Mayan canals.
A Taste of Blue Parallel's Insider Access
Exclusive access to art collections of famous local artists and curators
Private lunches in exclusive colonial haciendas
Exclusive access to secret sinkholes to enjoy with a gourmet picnic lunch
Meet with a local community of fishermen
After-hour access to Maya ruins such as Chichen Itza
Meet with renowned scholars
The Discovery
Mexico City
Teotihuacan pyramids
Colonial towns
Mayan sites of Edzná, Uxmal,
Kabah, Chichén Itzá, Tulum
Sinkholes
Complex reef system
Sian Ka'an Biosphere
The Adventure
Rainforest excursions
Snorkeling
Scuba diving
Hiking
Private boating
PRIVATE TOUR YUCATAN
Note: This private Mexico tour is an example, as all of our luxury journeys are custom-made.
Note: This private Mexico tour is an example, as all of our luxury journeys are custom-made.
Mexico City (2 nights)
Begin your luxury Mexico tour in the capital city, where your personal host will take you by private transfer to a 5-star hotel. Discover Mexico City's many museums and enjoy exclusive access to the private homes and ateliers of esteemed local curators. Along the way, you'll take in the city's fascinating architecture which reflects Pre-Columbian and Spanish influences.
On your luxury Mexico tour, you'll also explore the Teotihuacan Pyramids, established in 100 BCE and considered one of the most important Mesoamerican sites in the Americas. Dine on authentic gourmet meals in the city's finest restaurants and sample cocktails in the capital's chic bars and lounges in the evenings.
Read less
Read more
Campeche (2 nights)
Depart for the Yucatan Peninsula where your luxury travel experience in Mexico continues. Your personal host will greet you as you arrive in Campeche, and take you to the enchanting colonial-style Hacienda Uayamon. This hacienda seamlessly combines the colonial grandeur of the past with modern luxury amenities. On your first day, enjoy a delicious lunch and then relax on the centuries-old property, a destination in its own right.
The next morning, tour the ancient ruins of Edzná (also a UNESCO Site) with an expert guide. Continue to Campeche to enjoy lunch and a tour of the city of Campeche.
In the afternoon, take in the colonial charm of the region through a guided tour of the main attractions of the historical city of Campeche. The city remains the most pristine example of Spanish Baroque colonial architecture and urban design.
Read less
Read more
Merida (2 nights)
Your private Mexico tour continues at the Chablé Yucatan, a luxury wellness resort located on the outskirts of the city of Merida, in the midst of the jungle. Renowned for its modern spa located adjacent to a cenote, Chable combines elements of the past – including a painstakingly restored 19th-century hacienda – with all the amenities of a 5-star resort. Indulge in traditional healing treatments, including temazcal and Mayan rebirth massage. In the evenings, sip on aged local spirits as you discover the world's largest private tequila collection.
Along the way, visit the impressive Uxmal and Kabah ruins with your personal expert guide. Afterwards, stop at a private hacienda for a delicious lunch served amongst ruins of an old chapel. At its zenith, this hacienda produced cattle and henequen, a form of agave or "green gold" that was instrumental in bringing immense wealth to the Yucatan in the late 19th and early 20th centuries.
The following day, visit the city of Merida, the vibrant capital of the Mexican state of the Yucatan. Here, remnants of colonial history and modern influence fuse together.
Your expert guide will take you to the city's highlights, including the Plaza de Independencia. This is the city's main focal point, along with the twin churches of the Merida Cathedral and the Iglesia de la Tercera Orden, constructed entirely of white limestone. Both colonial-era churches include relics from ancient Mayan temples. Visit the Casa de Montejo, a 16th-century mansion that is a testament to colonial plateresque architecture. In the evenings, enjoy delicious food and indulge in tequila tastings and spa treatments.
Read less
Read more
Mayan Riviera (3 nights)
Your luxury Yucatan Peninsula tour continues with a private transfer east towards the beautiful Mayan Riviera on the Caribbean coast. You'll stop along the way to visit the town of Izamal, a UNESCO World Heritage Site where almost every structure is egg-yolk yellow. Discover Izamal's principal sites and learn about the intriguing blend of Mayan, Spanish, and modern cultures. You will also visit Mayan artisans' homes and workshops and witness the creation of their magnificent crafts. Then, enjoy exclusive access to one of the sinkholes which famously dot the Yucatan's forests. You'll have the clear waters of the natural pools all to yourself, and a gourmet picnic will be prepared for your private party.
Continue to the Mayan ruins of Chichén Itzá where you will enjoy an exclusive after-hours tour. An esteemed archaeologist will provide you with a greater understanding of this man-made wonder and UNESCO World Heritage Site.
In the evening, arrive at the exclusive Chablé Maroma or Belmond Maroma Resort & Spa, located on the Caribbean Sea near Playa del Carmen. Spend your first day unwinding on the most stunning white sand beaches right off the shores of your resort. This area is home to a Caribbean reef system that teems with diverse marine life; therefore, it's the perfect place to go snorkeling. Swim and relax on picture-perfect beaches located steps away from your private suite as you take in views of the turquoise waters.
On the final day of your luxury Mexico tour, you'll visit the pristine tropical forests at the Sian Ka'An Biosphere. Here you can float on canals and relax next to beautiful freshwater lagoons. Next, visit the stunning coastal ruins of Tulum with your expert guide. In the evening, enjoy an intimate candlelit dinner on the beach.
Read less
Read more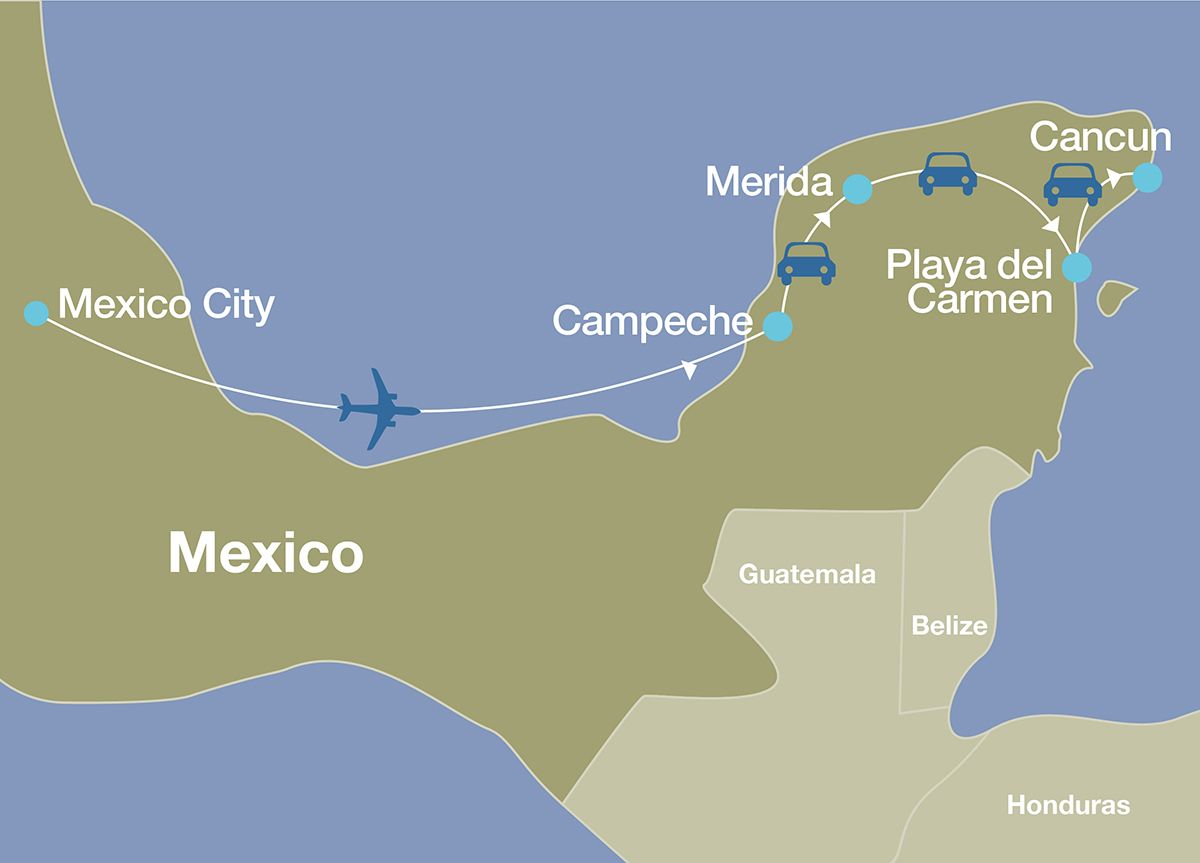 DESTINATIONS
TRAVEL TIME
MEXICO CITY
CAMPECHE
1 hr 35 min
CAMPECHE
MERIDA
3 hrs
MERIDA
PLAYA DEL CARMEN
5 hrs 30 min
PLAYA DEL CARMEN
CANCUN
25 min
MAKE THIS ITINERARY YOURS
Contact us to tell us more about your preferences and your ideal trip to Mexico's Yucatan Peninsula.
We will create a tailor-made itinerary for your review.
START PLANNING
PRICE REFERENCE
Recommended stay
9-11 days
Price reference


(10 days, private party of 2)

Starting at $17,500 per passenger
Price reference


(10 days, private party of 4)

Starting at $14,500 per passenger
Price reference


(10 days, private party of 6)

Starting at $14,000 per passenger
Note: Prices will vary based on the specifics of your itinerary and the number of passengers in your party.
What is included in your private Mexico tour:
Luxury accommodations at

Four Seasons Hotel (Mexico City)
Hacienda Uayamon (Campeche)
Chablé Yucatan (Mérida)
Chablé Maroma or Belmond Maroma Resort & Spa (Playa del Carmen)

Services of Blue Parallel hosts and private specialized guides throughout the journey
All special events, private guided tours, private excursions, private outdoor activities, entrance fees
A Blue Parallel team composed of a personal travel expert, private hosts in each destination, and a "behind the scenes" logistical expert who monitors every step of your luxury Mexico tour. The team is on call 24-hours a day during a trip
All internal transportation and private transfers
Some meals
A Blue Parallel customized travel kit that you will receive prior to departure