Guatemala Luxury Tours
A fascinating private journey through sacred lands
TAILOR-MADE TOURS GUATEMALA
Your Guatemala luxury tour begins in Antigua, the perfect introduction to this colorful country. Accompanied by your expert guide, learn about the fascinating colonial history of Guatemala as you wander through the town's charming and historic streets and explore the surrounding countryside. Next, venture into the highlands as your tailor-made tour of Guatemala continues at Lake Atitlan. The area's striking volcanoes serve as a memorable backdrop for outdoor adventures such as kayaking on the lake, hiking between Mayan villages, or visiting shrines to local deities. Departing directly from the property's helipad, you will be transferred to Petén by a private helicopter. En route, touch down at El Mirador, a remote, little-visited site. Nicknamed "the lost city of the Maya," at El Mirador, you will find the largest pyramid the Mayans ever built. The following day in Petén, explore the famous Mayan ruins at Tikal. This ancient site once housed an estimated 100,000 people. Your private tour of Guatemala comes to a close the following day, with a domestic flight from Flores connecting with your international departing flight from Guatemala City.
A Taste of Blue Parallel's Insider Access
Access to a private villa overlooking Lake Atitlan

Private helicopter transfer and exclusive visit to El Mirador, the lost city of the Mayans

Introduction to the unique Mayan culture from an esteemed scholar
The Discovery
Antigua

Lake Atitlan

Tikal and El Mirador
The Adventure
Private boating

Kayaking

Hiking

Aerial sightseeing
PRIVATE TOUR GUATEMALA
Note: This private tour to Guatemala is an example, as all of our luxury journeys are custom-made.
Note: This private tour to Guatemala is an example, as all of our luxury journeys are custom-made.
Antigua (2 nights)
Following your arrival in Guatemala City, enjoy a private transfer to Antigua. Cobblestone streets and colorful houses characterize this charming colonial city. Your expert guide will show you the historical center with exquisite architecture, a grand Cathedral, and buildings dating back to the colonial era. 
The following day, witness Guatemala's natural beauty during an active outdoor excursion of your choosing. Hike to the top of Pacaya Volcano for incredible views of the surrounding volcanoes and lagoons, or head to the hills around Antigua for a mountain biking adventure in the Almolonga Valley, passing through macadamia nut farms and coffee plantations along the way. 
Read less
Read more
Lake Atitlan (2 nights)
Drive to Casa Palopó hotel, overlooking the beautiful Lake Atitlan. Along the road of the volcanoes, you will stop by quaint Mayan villages where residents still wear typical Mayan dress, which varies from town to town. Upon your arrival, relax by the pool of your hotel, enjoying views of the lake and volcanoes. Alternatively, we can arrange for a private kayaking excursion with a local guide along Lake Atitlan. Then, in the early evening, enjoy cocktails as the sun sets while you learn about Mayan astrology from an esteemed scholar who has been living among the Mayan community for more than 20 years.
At Lake Atitlan, travel by private motorboat with your personal guide to hike and explore the local villages of Jaibalito de Santa Cruz – a route that features dazzling views of the San Pedro Volcano. While in one of the villages, meet with a master textile artist to learn about their efforts to recuperate traditional weaving techniques. Later, stop to see spiritual sights such as the shrine to the Mayan deity, Maximon.
Read less
Read more
Tikal (2 nights)
At Casa Palopó's helipad, board your private helicopter to fly to the Petén region via Flores. Along the way, stop at the Mirador archaeological complex, known for its abundance of Mayan pyramids. Upon arrival, hike to the ancient complex with your personal guide. Later, head to Las Lagunas Boutique Hotel by helicopter. 
The next day, enjoy a private tour of Tikal. Here, you'll learn about the Mayan civilization and the archaeological importance of the impressive ruins. Located in the heart of the jungle and boasting over 3,000 structures, Tikal was declared a UNESCO Cultural and Natural World Heritage Site in 1979. Listen to howler monkeys, spot toucans, and enjoy the jungle atmosphere as you explore the temples, palaces, and public squares with your personal guide.
While staying at Las Lagunas, spot wildlife as you kayak across the Quexil Lagoon. You will also meet with a scholar from the local university to learn about Mayan history. This expert background to the ancient Mayan culture brings the ruins to life. During your final morning in the country, a private transfer will take you to the nearby airport in Flores for your flight to Guatemala City. There, connect with your international departing flight back home.
Read less
Read more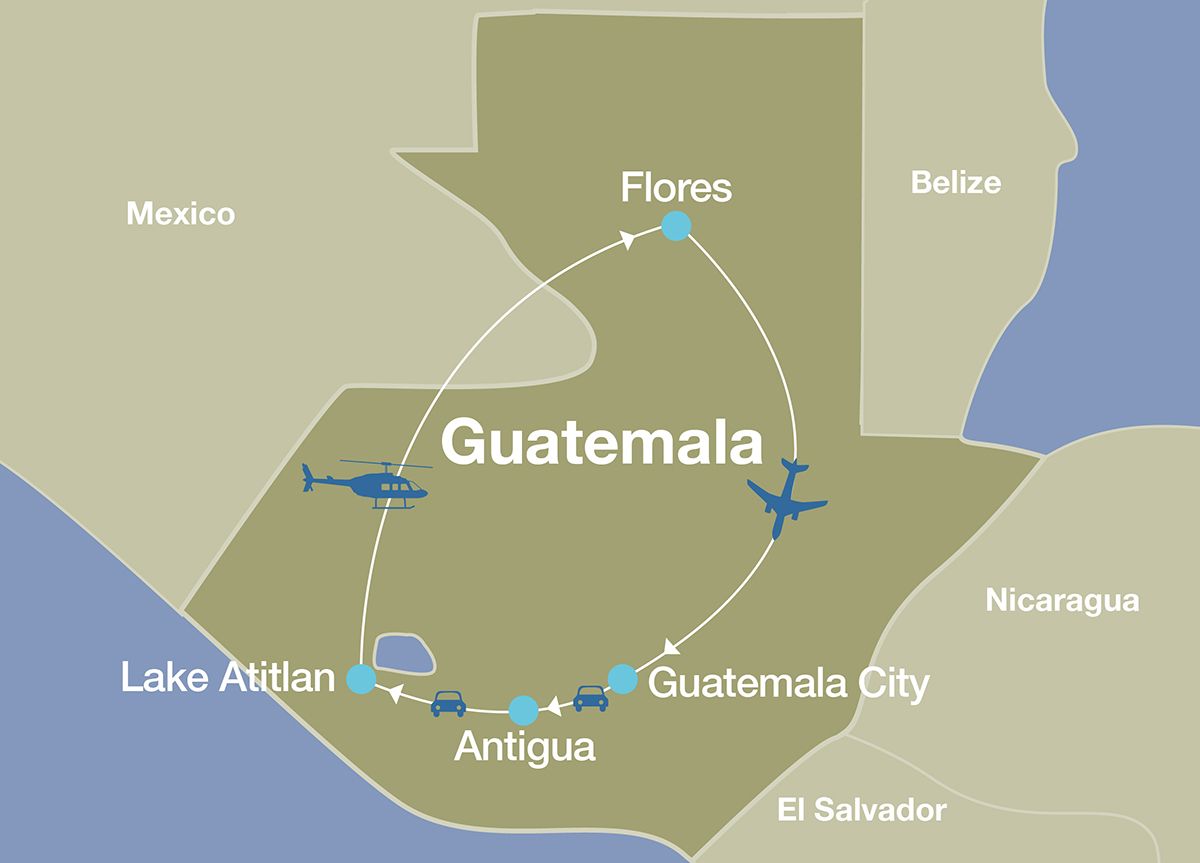 DESTINATIONS
TRAVEL TIME
GUATEMALA CITY
ANTIGUA
1 hr
ANTIGUA
LAKE ATITLAN
2 hrs 20 min
LAKE ATITLAN
FLORES
2 hrs
FLORES
GUATEMALA CITY
1 hr
MAKE THIS ITINERARY YOURS
Contact us to tell us more about your preferences and your ideal trip to Guatemala.
We will create a tailor-made itinerary for your review.
START PLANNING
PRICE REFERENCE
Recommended stay
7-9 days
Price reference


(7 days, private party of 2)

Starting at $16,000 per passenger
Price reference


(7 days, private party of 4)

Starting at $11,000 per passenger
Price reference


(7 days, private party of 6)

Starting at $11,000 per passenger
Note: Prices will vary based on the specifics of your itinerary and the number of passengers in your party.
What is included in your private Guatemala tour:
Luxury accommodations at

El Convento Boutique Hotel (Antigua)

Casa Palopó (Lake Atitlan)

Las Lagunas Boutique Hotel (Tikal)

Private plane and helicopter services for all internal travel

Services of Blue Parallel hosts and private specialized guides throughout the journey

All special events, private guided tours, private excursions, private outdoor activities, entrance fees

A Blue Parallel team composed of a personal travel expert, private hosts in each destination, and a "behind the scenes" logistical expert who monitors every step of your luxury tour. The team is on call 24-hours a day during a trip

All internal transportation

Some meals

A Blue Parallel customized travel kit that you will receive prior to departure