March 09, 2023 — By

Scott Peterson
BP On The Ground
Insider Experiences In Belize And Guatemala
As part of our mission to open doors to unique opportunities that match the interests of our travelers, our team of travel experts travel year-round to seek out the most intriguing and up-to-date insider experiences so that we can deliver the very best luxury travel experiences in Latin America, the Mediterranean and the Polar regions.
In February, two of our Travel Experts embarked on an action-packed research trip to Belize and Guatemala. Here, they offer an insight into the different insider experiences they are looking forward to sharing with our travelers.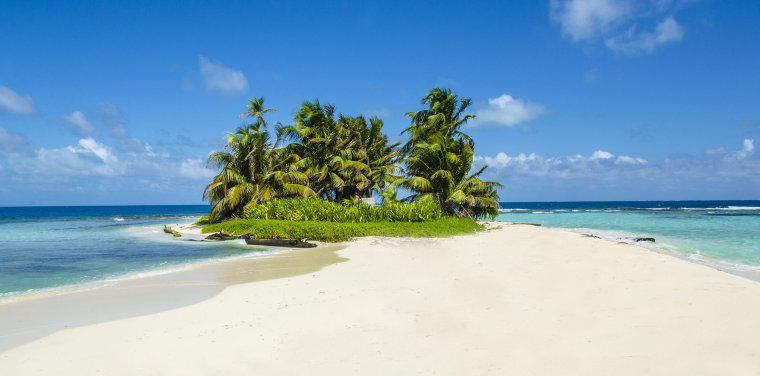 Placencia, Belize
Our journey began in Placencia in Belize, a charming beach destination located on the Southern Caribbean coast. White sand beaches, swaying palm trees and turquoise waters which, together with the laid-back, island atmosphere, make Placencia the perfect place to escape your everyday, hectic schedule.
Private Air Charter: The Blue Hole
To get to Placencia from Belize City, we took a private flight over the mesmerizing Blue Hole. This almost perfectly circular body of water is the largest sea hole in the world and is a popular site for avid scuba divers. As well as being recognized as the "most remarkable coral reefs" in the entire Caribbean by Charles Darwin in 1863, Belize's Blue Hole has since been named a UNESCO World Heritage Site.
Admiring the aerial views of this iconic landmark, along with Belize's incredible barrier reef system, cannot be missed during our luxury Belize tours.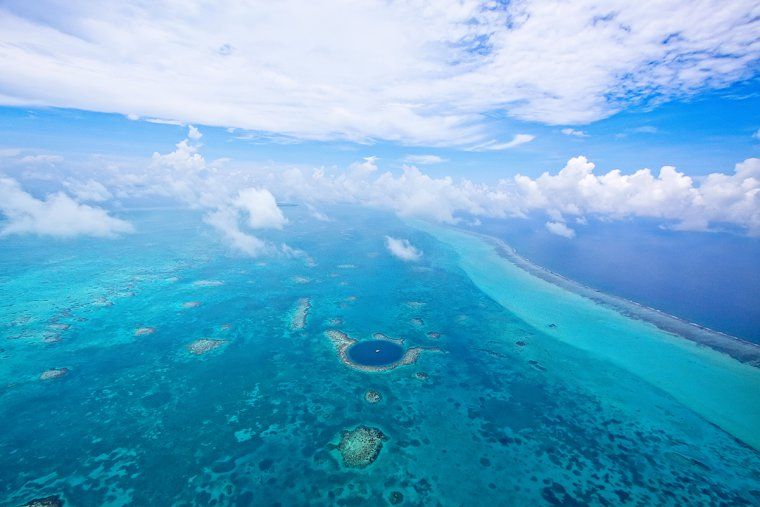 Outdoor Adventures: The Belize Barrier Reef
Home to impressive barrier reefs, dense jungle and lush rainforests, Belize is a playground for adventure travelers and nature enthusiasts. As lovers of the great outdoors, we thrived in the array of outdoor activities available to us during our stay in Placencia – and all were easily accessible from the Itz'ana Resort.
A visit to Belize would not be complete without exploring the world's second largest barrier reef which is home to some of the best snorkeling and diving in the Caribbean sea. As well as opening a door to a gem of aquatic wildlife, the Belize Barrier Reef is a significant part of the country's history…
Evidence shows the Mayan civilization fished from and traded near to the reef, while in the 17th century, European pirates visited the area and were the only ones who knew how to navigate it safely.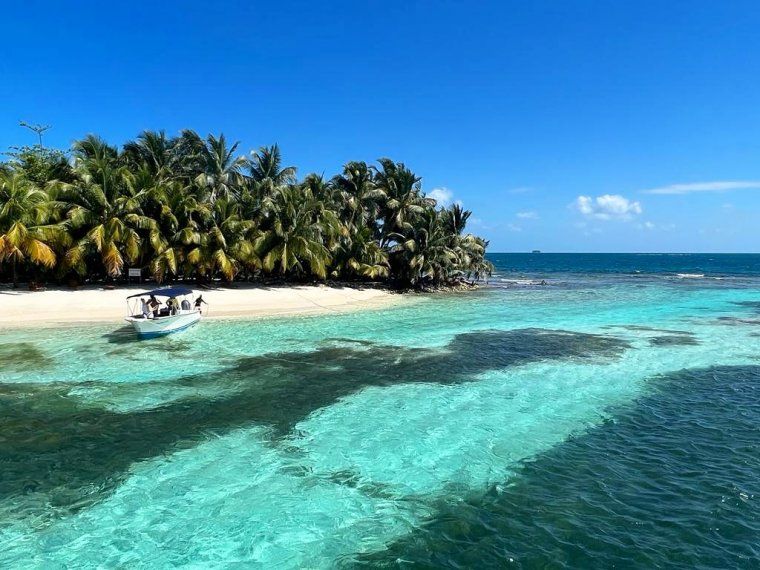 We thoroughly enjoyed our private tour of the impressive reef system where we were invited to swim, dive or snorkel under the guidance of our expert guide.
One of the highlights was island hopping the cayes, including a stop at a breathtaking, uninhabited caye. Blue Parallel has inspected and vetted a number of cayes around Belize, including Moho, Ambergris Silk. We also offer insider access to more well known cayes.
Our guide helped us find hidden wildlife within the coral reef and introduced us to a vast range of colorful fish that stood out in the crystal clear water. Then, we spent time relaxing on a stunning beach while enjoying a barbecue lunch, including freshly caught lobster and conch that our guide went diving for.

Outdoor Adventures: Monkey River Tour
Southern Belize boasts a plethora of flora and fauna which we were able to get up close and personal with on our private wildlife spotting tour along the Monkey River. With so much experience touring in this area, our guide was able to help us see and identify different tropical birds, butterflies, and camouflaged animals like crocodiles and iguanas.
Our river tour was combined with an exciting jungle walk where we encountered the second loudest animal in the world: Belizean howler monkeys!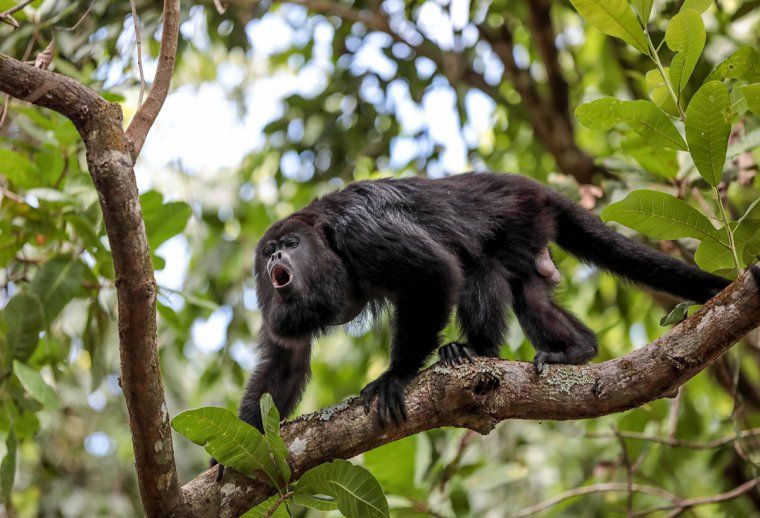 Cayo District, Belize
Our next stop was the Cayo District which is Belize's largest district, covering two thousand square miles of verdant landscape. Home to rolling hills, tropical forests, thundering waterfalls, meandering rivers and caves, Cayo is a haven for nature lovers and wildlife enthusiasts. Venture outside on a night walk and catch nature's orchestra coming alive after the sunsets.
What's more, it also houses the most important Mayan ruins in Belize, making it a perfect destination for history buffs.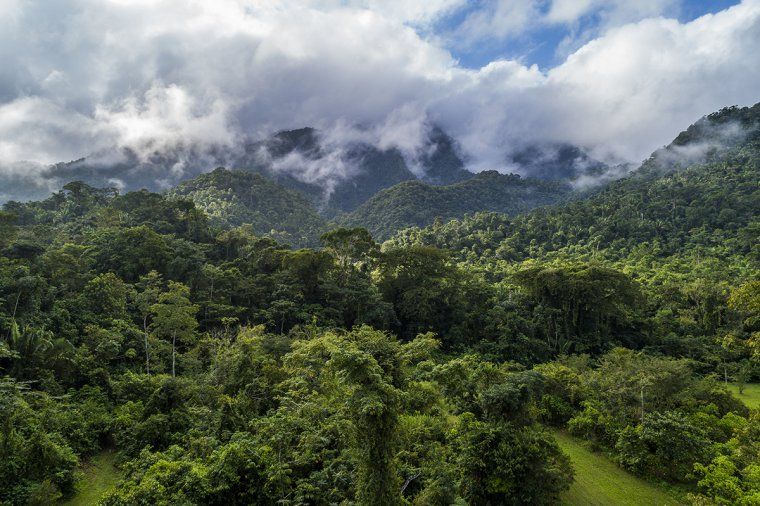 Private Car Transfer: Hummingbird Highway
As we made our way along Hummingbird Highway, we were in awe of the striking green vistas – of which this region has in abundance. We got a real sense of the incredible geographic and cultural diversity this small country has to offer.
The scenic drive along Hummingbird Highway is considered one of the most enjoyable ways to admire the country's different landscapes and diverse fauna.
Cultural Wonders: Xunantunich
Xunantunich – which translates as "Maiden of the Rock" or "Stone Woman" in the Maya language – is a relatively un-touristed archaeological site that is believed to have housed 200,000 people. Xunantunich is most known for its large temple, El Castillo, which is over 130 feet tall. This is the second-tallest building in Belize. We climbed the stone face of El Castillo and were rewarded with spectacular, panoramic views.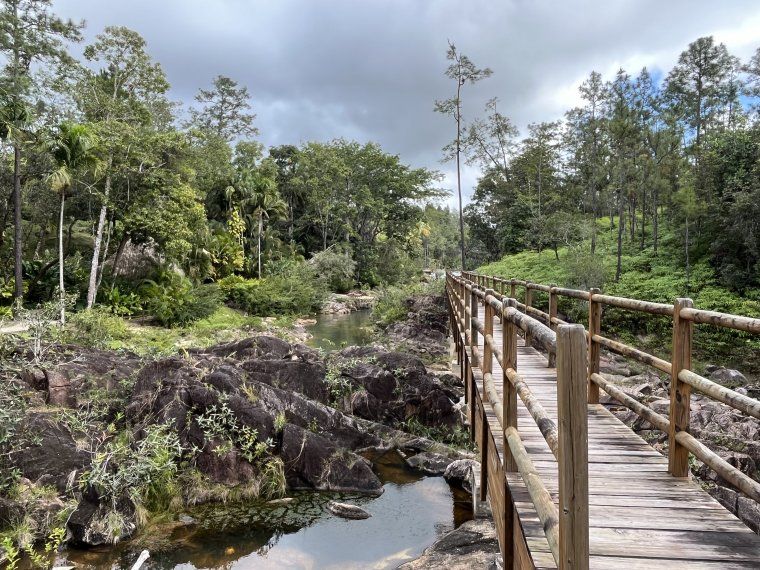 Outdoor Adventures: Actun Tunichil Muknal
One of the highlights of our trip was our private tour of the Actun Tunichil Muknal, also known as the Cave of the Stone Sepulcher, which was used by Mayas for various ceremonies and is only accessible via water.
We were up bright and early to discover the cave with our expert guide, before the crowds arrived. Our private tour saw us following an ancient Mayan route into Xibalba, the Underworld, which involved hiking through the jungle and crossing the river three times.
Blue Parallel specializes in journeys featuring breathtaking outdoor adventures led by expert guides and it was wonderful to be able to witness one of our experts in action. After crossing the river three times and swimming into the cave, he directed our footsteps as we swam and waded upstream, helped us avoid stalactites and guided us as we scrambled over boulders. We had a truly memorable experience, particularly as he made time for us to enjoy the preserved Mayan pottery in the cave and the different animals in the jungle that we encountered along the way.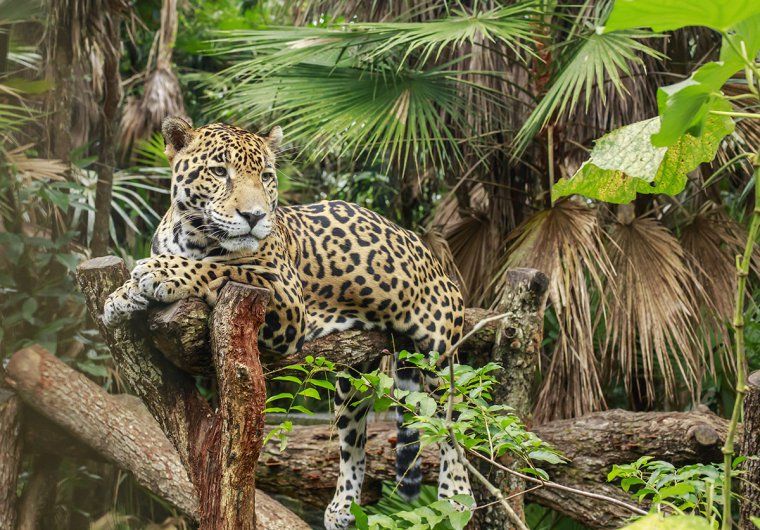 As we climbed up the cliff wall into the ceremonial chamber and bouldered our way to the back chamber of the cave, we witnessed the preserved full skeletal remains of a Mayan sacrificial victim which have an almost glittering appearance due to the decades of calcification.
This activity offered a fascinating look into Maya history while giving us the chance to embark on an unforgettable outdoor adventure. The route to the cave has been relatively unmodified, meaning visitors get to take on a set of unique challenges.
Outdoor Adventures: Canoeing Excursions
Travelers looking for a less adventurous activity in this region can enjoy gentle canoe excursions down through the intriguing Barton Creek Cave or along the Macal River near to Chaa Creek where there are opportunities to swim and cool off in the water.
Luxury Travel in Belize

Start planning your once-in-a-lifetime journey to Belize with Blue Parallel
Lake Atitlan, Guatemala
Our journey in Guatemala began in Lake Atitlan. Many of our travelers speak highly of their time at Lake Atitlan, so we were excited to witness the magic for ourselves. Recognized as one of the most beautiful lakes and nominated as one of the seven wonders of the world, Lake Atitlan's vast, crystal blue waters sit in front of a dreamlike backdrop of surrounding volcanoes.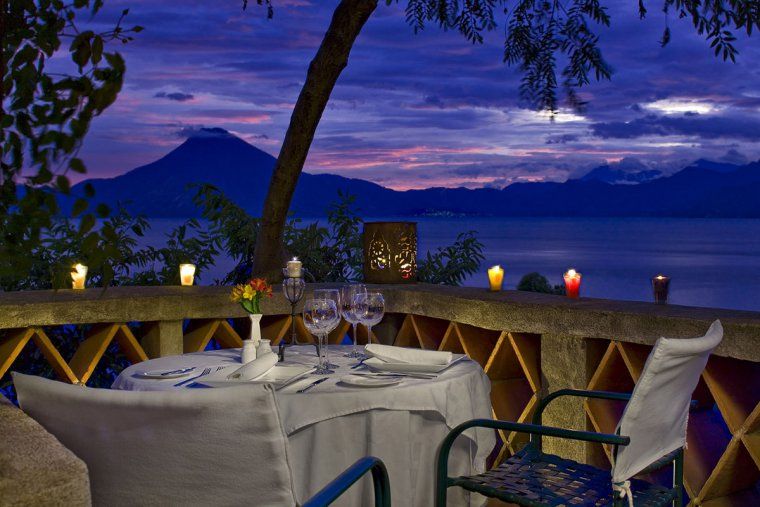 Outdoor Adventure: Kayaking Tour
It was difficult to draw ourselves away from the stunning lake views at the Casa Palopó hotel, but our private kayaking excursion with one of Blue Parallel's local guides was worth it.
The lake is around 1,115 feet deep, 12 miles long and 6 miles wide; an incredible feat if you're traveling by kayak. However, our guide took us to his favorite areas of the lake and we were gifted with unique views of the local villages and striking volcanoes.
It was a highlight to be able to return to the hotel for sunset where we enjoyed unobstructed views of the sun lighting up the skies behind the Volcan Atitlán, Volcan Tolimán and Volcan San Pedro. We were also joined by an esteemed scholar who taught us about Mayan astrology. Before departing, he read us our own Mayan horoscope.
Cultural Wonders: Traditional Weaving
As well as boasting endless natural beauty, the lake – which is the deepest in Central America – is home to prevalent indigenous culture found in the traditional lakeside villages.
On our second day here, we traveled by private motorboat to explore the local villages, including San Juan la Laguna where we were introduced to a master textile artist who recuperates and preserves traditional Mayan weaving techniques. We were able to meet the locals keeping this authentic technique alive and were shown the different natural sources of dyes used to create the various traditional products, such as colorants from plants, trees and insects all found around the lake.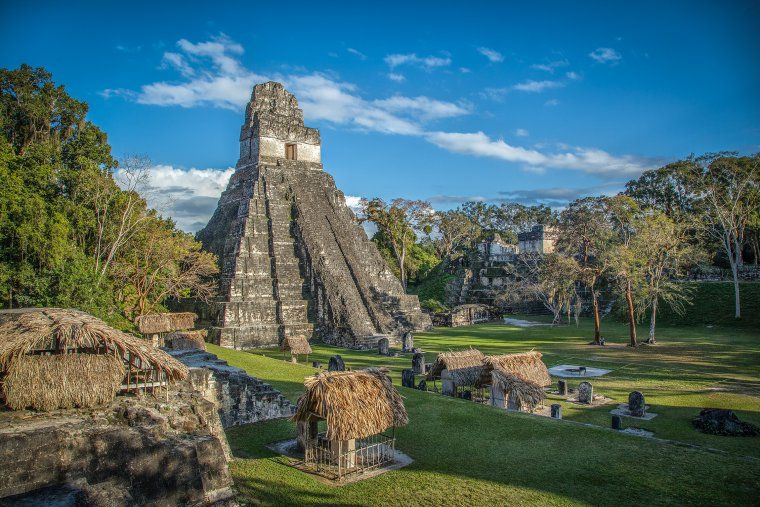 Peten, Guatemala
Peten is considered the birthplace of Guatemala's ancient Mayan civilization; the country's history and culture can be easily discovered here. Nestled within vast tropical rainforests, hundreds of historical temples and palaces can be explored in this area and diverse wildlife can be spotted.
Private Helicopter: El Mirador
To get to Peten from Lake Atitlan, we took a private helicopter ride via Flores and the famous El Mirador. As well as unique aerial views of Guatemala's imposing volcanoes and mountains, we were able to take in the size of the ancient ruins and remote Mayan sites.
El Mirador is the largest ancient site in Guatemala and has been named by some as "The Cradle of Maya Civilization". Constructed between 500 BC and 150 AD, this vast archeological site is hidden deep in the jungle and is known for its abundance of Mayan pyramids. Upon arrival, we hiked to the ancient complex with our personal guide.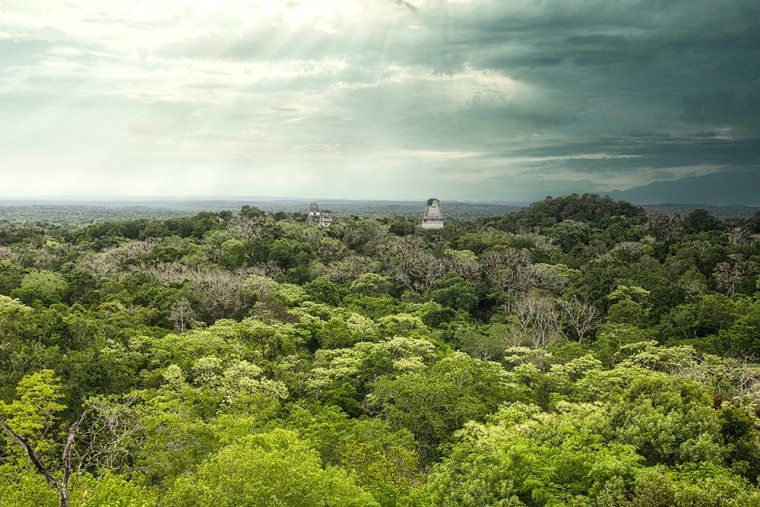 Cultural Wonders: Tikal
Peten is home to one of Guatemala's other UNESCO World Heritage Sites: Tikal. Located deep within the Guatemalan jungle, the pyramids of Tikal are remarkable examples of ceremonial architecture from the Mayan civilization. Now ruled by toucans, parrots, and monkeys, we got to see some of Guatemala's most colorful wildlife while enjoying an insightful private tour of the ruins during which we learned all about the Mayan civilization.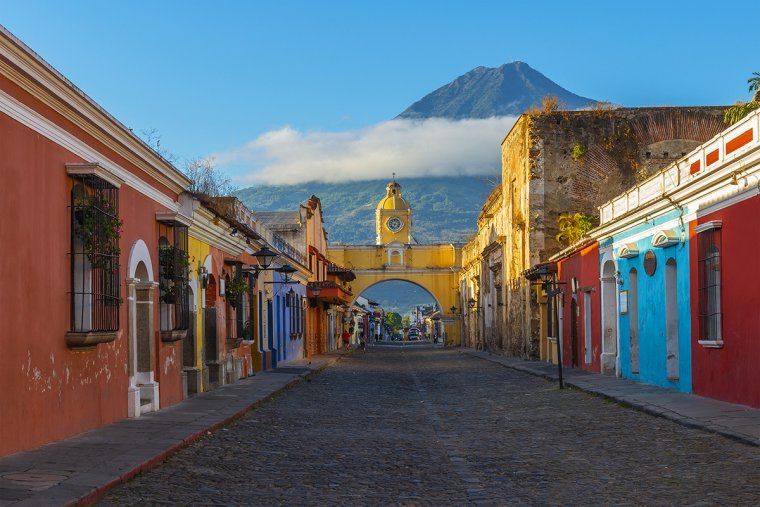 Antigua, Guatemala
Then we visited Antigua, an endearing colonial city dotted with colorful houses and striking buildings. Antigua was the capital of the Kingdom of Guatemala, part of the Spanish Empire, for some 200 years until the devastating earthquake damaged most of the city, and the Spanish crown ordered the capital moved to what is now the modern Guatemala City.
Blue Parallel specializes in luxury trips to UNESCO World Heritage Sites, and Antigua's well-preserved Guatemalan Baroque style architecture was something we were both eager to see.
Luxury Travel in Guatemala

Start planning your once-in-a-lifetime journey to Guatemala with Blue Parallel
Private Walking Tour: Historical Center
Our local, expert guide showed us Antigua's exquisite architecture, pointing out several important buildings that dated back to the colonial era as we toured the charming historical center. Being able to explore the colorful cobblestone streets on foot allowed us to feel the true rhythms of the city while seeing firsthand why the city was awarded UNESCO status in 1979.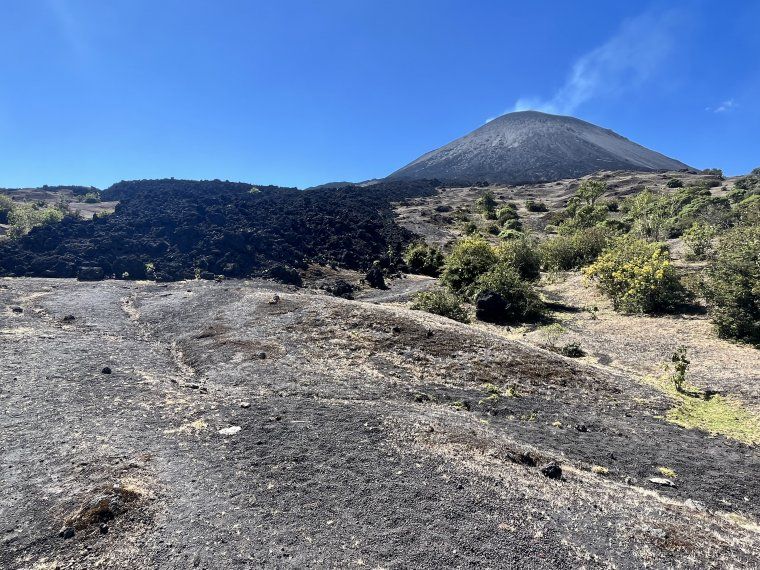 Outdoor Adventure: Pacaya Volcano
Guatemala boasts 37 volcanoes, of which 3 are active, making Guatemala one of the best destinations to visit when it comes to witnessing volcanic eruptions. Their striking silhouettes can be seen as you travel through Guatemala and provide many opportunities for outdoor enthusiasts to enjoy an adventurous challenge.
During our second day in Guatemala, we embarked on an exciting hiking excursion up Pacaya. Despite standing tall at an impressive 8,373 feet with an elevation gain of around 1,500 feet, Pacaya is one of Guatemala's more accessible volcanoes due to its attainable level of hiking. However, it remains one of Central America's most active volcanoes, having erupted 23 times since the Spanish conquest.
As you can imagine, the views from the peak were breathtaking.
Enjoy Bespoke Insider Experiences
With each research trip we embark upon, we broaden our expertise in the countries we operate. Our research process allows us to keep up-to-date with the latest, unique experiences and allows us to establish and build strong relationships with our team of guides, experts, locals and scholars on the ground.
For more information on our Belize and Guatemala tours, contact one of our travel experts today.
Tailor-Made Itineraries to Belize & Guatemala

Contact us to start planning your next once-in-a-lifetime journey